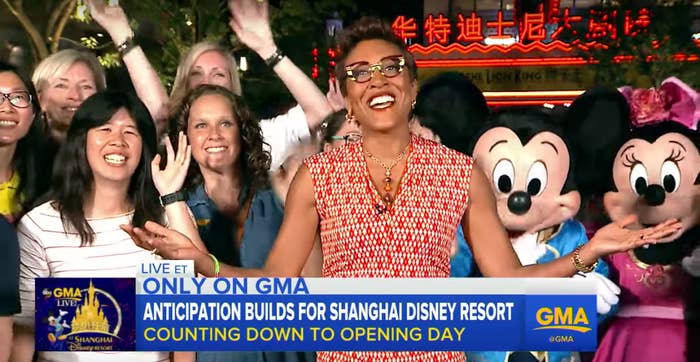 As the New York Times and Bloomberg published reports detailing the level of control China's Communist Party has over the new Shanghai Disney Resort, one news outlet gave the new theme park glowing coverage: Disney-owned ABC News.
Good Morning America co-anchor Robin Roberts was in Shanghai for the park's grand opening, filing a five-and-a-half minute segment on Tuesday in which she described the $5.5 billion venture as "groundbreaking," "unbelievable," a "magical new world," and a "sparkling reality."
"Disney mania is taking the world's most populous country by storm," Roberts said.
In the report, which aired in the 8 a.m. hour of America's most-watched morning news show, Roberts asked Disney CEO Bob Iger if the opening was "everything that you anticipated it to be?"
"It's everything I anticipated it to be and more," Iger answered. "What our people have managed to accomplish here is well beyond what I ever imagined possible."
Roberts also interviewed Yao Ming, the retired basketball star and honorary ambassador of the new Disney resort. Disney's ownership of ABC News was not disclosed during the segment (it was disclosed in an earlier segment about the Disney and Pixar film, Finding Dory).
Roberts also teased a behind-the-scenes look at the new theme park, to air on Wednesday morning. Despite Roberts' tease and promotions by ABC affiliate networks, that report did not air. A network spokesperson said breaking news pre-empted the Shanghai coverage on Wednesday; GMA led the show with coverage of the alligator attack at the Walt Disney World Resort in Orlando.
All three network news divisions run segments that tie-in with their respective corporate parent's objectives, promoting movies made by sister companies and landing exclusives with stars of their network's entertainment programs. However, the tone of ABC News' coverage of Shanghai Disney, of which the Communist Party of China has a stake, was particularly enthusiastic.
As reported by New York Times, Disney allowed the Chinese government to have say in the admission price and attractions in the park. Chinese authorities also evicted hundreds of residents in Shanghai to reduce pollution ahead of the park's grand opening. ABC News' coverage of the grand opening did not include any details of the Chinese government's involvement in the resort.
Full disclosure: This reporter worked for ABC News from 2013 to October 2014.