Republican presidential candidate Ben Carson on Friday fought back against a Politico report that he fabricated his story of being offered a full "scholarship" to West Point military academy.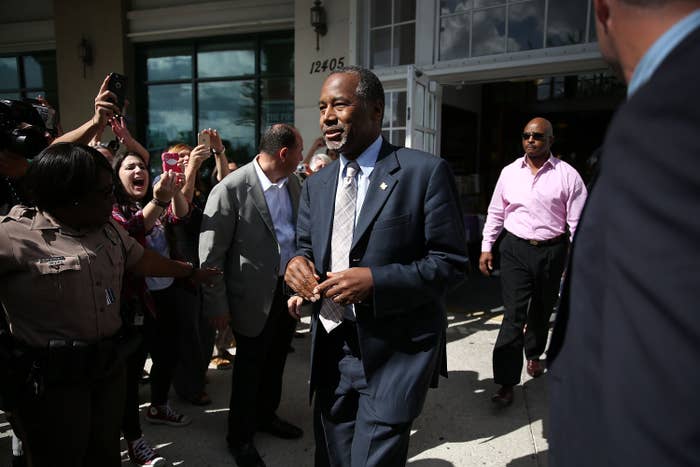 For years, Carson has contended that he met the famed Gen. William Westmoreland and was offered a full scholarship to West Point, a story that he tells at great length in his memoir, Gifted Hands.

"He was introduced to folks from West Point by his ROTC Supervisors," Carson campaign manager Barry Bennett wrote in an email to Politico. "They told him they could help him get an appointment based on his grades and performance in ROTC. He considered it but in the end did not seek admission."

On the meeting with Westmoreland, Bennett concedes Carson "can't remember with specificity their brief conversation."

Politico had checked Carson's story against the records at West Point. The academy has no record of Carson ever applying to the school.

On Friday, Carson told the New York Times, "It was, you know, an informal 'with a record like yours we could easily get you a scholarship to West Point.'"
Carson wrote that on Facebook last month and in his book that he had not applied to West Point, though he has repeated that he was offered a full scholarship to West Point at various points.
In Gifted Hands, Carson recounts meeting Gen. Westmoreland at a Memorial Day parade in Detroit in 1969 and being offered a scholarship to West Point after having dinner with him.

West Point does not have tuition. Cadets attend the school, then serve in the military.
When the news broke on Friday, Donald Trump, who has been aggressively attacking Carson since the former neurosurgeon overtook him in the polls, took to Twitter to call out Carson's "many lies."

At an evening news conference, Carson once again defended his recollection of events, and pushed back hard against the media for piling onto what he said was an opposition smear campaign.
"I think what it shows, and these kinds of things show, is there is a desperation on behalf of some to try to find a way to tarnish me," Carson said. "Because they have been looking through everything. They have been talking to everyone I have ever known and everybody I have ever seen. There has got to be a scandal."
The public, he said, understands that "this is a witch hunt."
"All you guys trying to pile on is actually going to help me," Carson said.
UPDATE
This story's headline has been updated to reflect how the Carson campaign has characterized Carson's story about the scholarship.