Why Howard University Students Took This Photo In Solidarity With Ferguson And Michael Brown
"This country is not post-racial, this country is not just, this country is not free."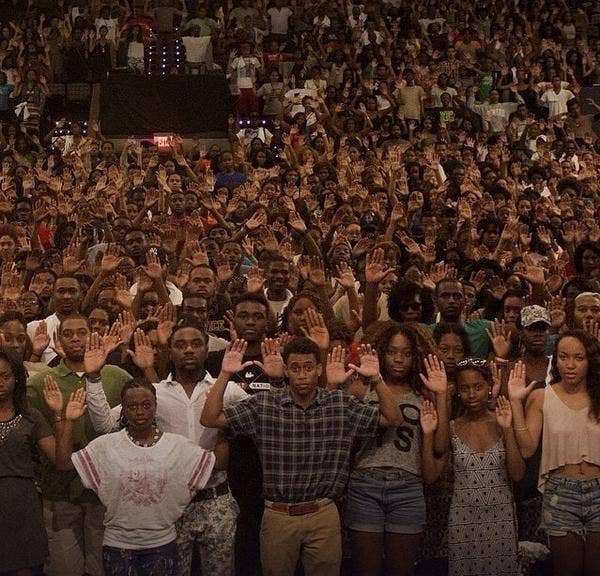 On Saturday, Aug. 9, police in Ferguson, Mo., shot and killed unarmed 18-year-old Michael Brown. The town has since been in chaos, with racial tensions running high and police clashing with protesters.
Students at Howard University in Washington, D.C., decided to show their solidarity with Brown and those who are protesting in Ferguson by taking a photo with their hands raised in the air. According to some witnesses, Brown raised his hands in the air before he was shot by an officer to show that he was unarmed.
"We had the option to opt out of the picture, but I chose to get involved because this is a very close issue to my heart," Megan Sims, a junior at Howard, told BuzzFeed. "Police brutality has got to stop, and the number of young black men killed by trigger-happy police is rising, which breaks my heart."
Sims tweeted the photo on Aug. 13 at about 8:30 p.m. EST, and it now has almost 7,000 retweets and over 4,000 favorites.
The fall semester at the university officially begins Aug. 25, but Sims explained that she volunteered to help freshmen move in to the dorms. At the volunteers' mandatory meeting on Aug. 13, the Howard University Student Association said they believed the university should respond to what was going on.
Khalil Saadiq, a student on the Howard Student Association's advocacy committee, is being credited as the organizer behind the photo. "It was his idea to do the picture," Sims said. BuzzFeed reached out to Saadiq but didn't hear back.
Sims told BuzzFeed the student association wanted everyone who was on campus to take a picture with their hands up in solidarity for both Brown and also Mya White. She said that White, a protester in Ferguson who was apparently shot in the head by police, is also a Howard alumna.
"I hope people look at the picture and see that the issue is bigger than Mike Brown, bigger than Eric Garner, bigger than so many other young blacks killed by the police," Sims said. "This issue is about the fact that this country is not post-racial, this country is not just, this country is not free."