Robin Wright Said She Was "Surprised" By Sexual Abuse Allegations Against Kevin Spacey
"I think we were all surprised, of course, and ultimately saddened," Wright said.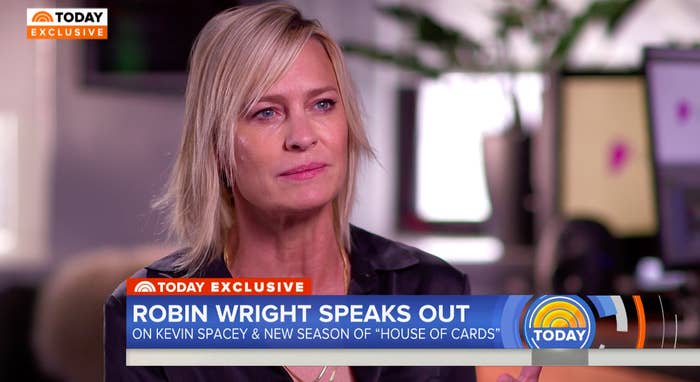 Robin Wright on Monday spoke out about Kevin Spacey's firing from Netflix's House of Cards for the first time since a number of sexual assault and misconduct allegations were made against her former costar.
"I think we were all surprised, of course, and ultimately saddened," Wright said on Today.
In October 2017, Anthony Rapp accused Spacey of making a sexual advance toward him when he was 14 years old, and in the days after, multiple men told BuzzFeed News that they had been targets of inappropriate sexual conduct after meeting Spacey in a professional setting.
On Dec. 4, Netflix announced that House of Cards would continue without Spacey, who played the role of Frank Underwood for five seasons.

Wright, who plays Claire Underwood on the show, said she hasn't heard from Spacey since the allegations were made public and that she "doesn't even know how to reach him."
The actor also said she wasn't aware of Spacey's behavior off set.
"I didn't know the man. I knew the incredible craftsman that he is," she said.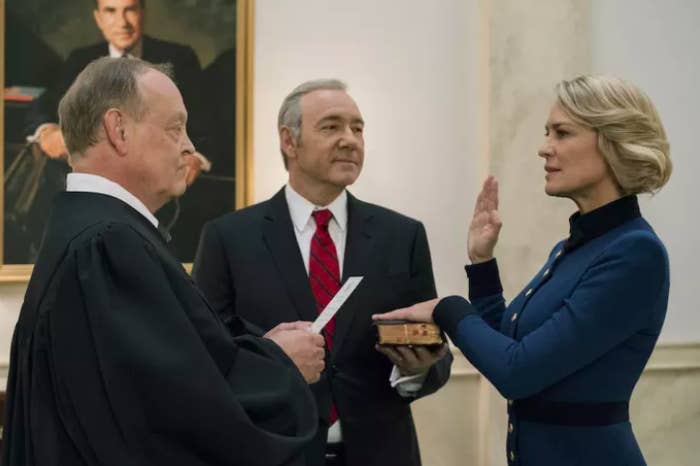 When asked if she thinks Netflix did the right thing by cutting ties with Spacey, Wright said she didn't "know how to comment on that."
"But at that time, the shock was so intense all over the nation for many reasons, many stories, many people, I think that everybody felt that it was respectful to back off," Wright said.
She added that she too has experienced harassment while working in Hollywood.
"This is a bigger, broader issue, I think, which is seduction," she said. "I don't care who you are. It's about power, and once you overpower someone, that person then becomes vulnerable. And this last year I think has shined a light in a new way to allow us to start a new conversation. So we just need to shift the paradigm."
The Today interview comes ahead of the sixth and final season of House of Cards, which will premiere on Netflix this fall.