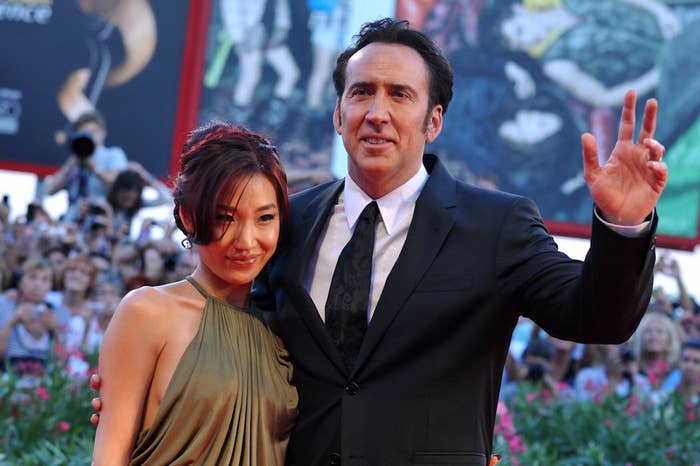 Nicolas Cage's ex-girlfriend, Vickie Park, has filed a petition for a temporary restraining order in Los Angeles, alleging the actor was abusive when they were together and that his wife has cyberstalked her.
Park — who was with Cage while he was still married — alleges the 54-year-old actor "abused" her while the two were in Vienna for the Slash Film Festival on Sept. 20 and that he was "severely intoxicated."
According to court documents, his wife, Alice Cage, sent her husband screenshots of Park's Instagram along with text messages that said "She is too young for you" and "This is going to hurt our son, Kal."
"Her intentions were to subject him into more alcohol abuse and anger towards me while I was alone with him in our hotel room in London, England — right after the abuse incident in Vienna, Austria," Park wrote of Alice. "For my safety and protection of my life, a restraining order against her is more than necessary."
Park said she started dating Cage in June 2017 and broke up "a few days ago." Her request for a temporary restraining order was denied by the courts, but there's an upcoming court hearing set for Oct. 24.
A representative for Cage told BuzzFeed News that the allegations were "absurd."
"Nicolas and Alice Cage categorically deny the absurd allegations listed in the filing of a temporary restraining order against Alice Cage, which was denied by the court," the rep said.
Park also wrote in the petition that she was afraid Cage's wife would try to steal her dog, Werewolf, that Cage had gifted to her.
"I am afraid and distressed from their toxic relationship being projected onto me, physically and mentally," Park wrote. "I am aware that Nicolas is mentally ill and depressed — as long as I continue not responding to him — I believe he will not hurt me ever again."
Cage's estranged wife, on the other hand, is thought to be a major threat by Park.
"I am deathly afraid she will continue to harass and stalk me and it may become even worse from here," she wrote in the petition.