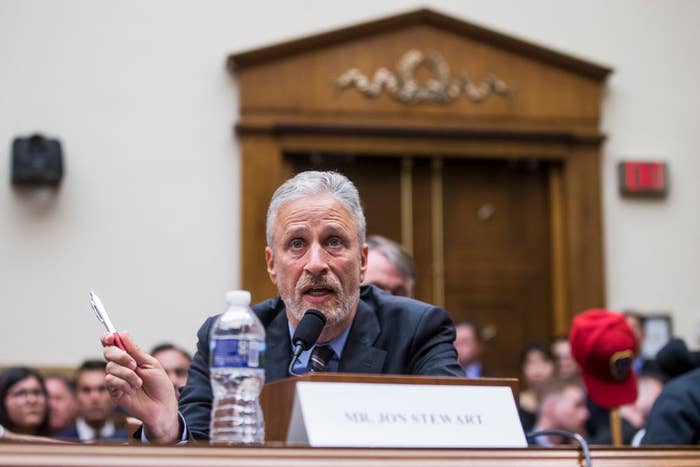 Comedian and former Daily Show host Jon Stewart called Congress "shameful" in Washington, DC, on Tuesday, noting that many lawmakers didn't sit through a hearing about a bill that would protect benefits for 9/11 first responders.
"As I sit here today, I can't help but think what an incredible metaphor this room is for the entire process that getting health care and benefits for 9/11 first responders has come to," Stewart said. "Behind me, a filled room of 9/11 first responders, and in front of me, a nearly empty Congress. Sick and dying, they brought themselves down here to speak to no one."
Stewart faced the House Judiciary Subcommittee on the Constitution, Civil Rights, and Civil Liberties on behalf of first responders and other survivors of the Sept. 11, 2001, attacks on the World Trade Center in New York City.
In his speech to lawmakers, Stewart commented on how about half of the 14-member subcommittee members were present for the hearing, calling it "an embarrassment to the country" and "a stain on this institution."
Stewart was appealing to Congress to pass a bill reauthorizing the 9/11 Victim Compensation Fund (VCF), which helps provide benefits and health care to 9/11 survivors, for the next 70 years.
The separate James Zadroga 9/11 Health and Compensation Act was originally passed in 2010 and then renewed in 2015 for 90 years, but the VCF ran out of funding in 2010.
"None of these people want to be here," Stewart said to Congress, explaining that the first responders who showed up to the hearing in DC "are not here for themselves" but are fighting for their peers' access to health care coverage, who suffer from cancer and other medical issues.
"More of these men and women are going to get sick and they're going to die, and I'm awfully tired of hearing this is a 'New York issue,'" Stewart said. "Al-Qaeda didn't shout 'death to Tribeca.' They attacked America."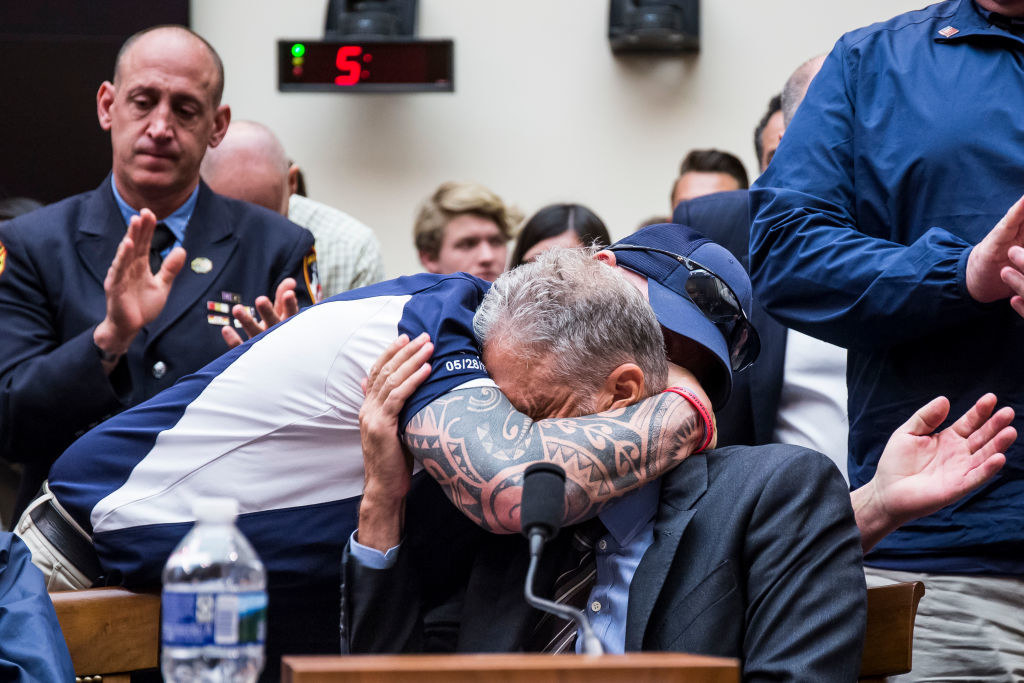 Louisiana Rep. Mike Johnson, a Republican, said the members of Congress didn't mean to be disrespectful, adding he thought the bill would pass. He said the lawmakers were moving in and out of the hearing, which is normal procedure.
Stewart, who has long been an advocate for 9/11 first responders, earned a standing ovation at the end of his remarks.

"You should be ashamed of yourselves for those that aren't here, but you won't be," Stewart said on Tuesday. "Because accountability doesn't appear to be something that occurs in this chamber."