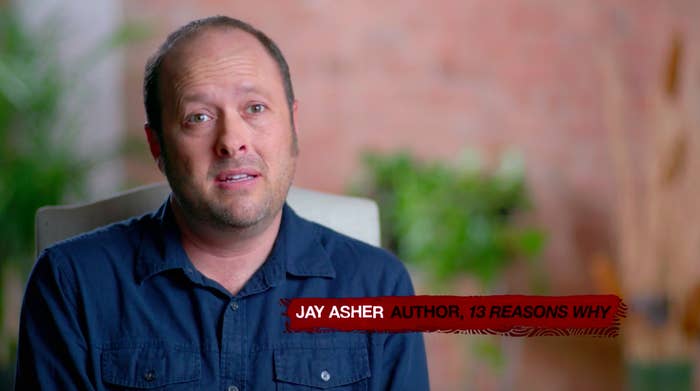 Author Jay Asher, best known for writing the novel Thirteen Reasons Why before it was adapted into the hit Netflix series, was expelled from the Society of Children's Book Writers and Illustrators last year after allegations of sexual harassment, the group's executive director told BuzzFeed News.
"After we investigated, we felt that terminating his membership was the proper course of action," SCBWI executive director Lin Oliver told BuzzFeed News on Monday. "We have always been really sensitive to sexual harassment issues and have a zero tolerance policy, but clearly our policies haven't prevented violations, so we're taking this opportunity to take another look at our guidelines."
Asher told BuzzFeed News on Monday he wasn't pushed out, but left on his own accord.
"It's very scary when you know people are just not going to believe you once you open your mouth," Asher told BuzzFeed News. "I feel very conflicted about it just because of what's going on in the culture and who's supposed to be believed and who's not."
The SCBWI is a nonprofit literary organization that supports authors and illustrators of children's and young adult books by giving awards, hosting events, and publishing resources. Oliver said Asher was expelled from the SCBWI after the organization received anonymous complaints by email, though she would not specify how many or when specifically he was removed.
Asher said he feels "thrown under the bus" because he was told by the SCBWI at the time that "the emails showed nothing."
The author said Oliver forwarded the anonymous email to his agent, read it for himself, and then spoke on the phone with Oliver about how he decided to leave the SCBWI.
"I understand the predicament they're in with everything going on and to want to protect themselves," Asher said. "I love the organization, but they didn't decide to push me out. It was my decision, even though [Oliver] said the email contained nothing that their organization should have anything to do with."
Oliver said Asher won't appear at any of the group's conferences or events in the future. The author confirmed this to BuzzFeed News, also saying it was a decision he made for himself.
"The truth is that I had been harassed by these people for close to 10 years," Asher said of the anonymous people who reported him to the SCBWI. "And I just could not deal with it anymore."
Asher's Thirteen Reasons Why tells the story of a fictional high schooler Hannah Baker who kills herself after being sexually harassed and sexually assaulted by her classmates.
His removal came to light on Sunday evening in the comments section of an article published in the School Library Journal titled "Children's Publishing Reckons With Sexual Harassment in Its Ranks." The article was published on Jan. 3, but many people took to the comments section in February to anonymously accuse a number of children's authors of sexual harassment and misconduct, Jay Asher being one of them, following the publication of author Anne Ursu's survey results about sexual harassment in children's publishing.
On Feb. 7, Ursu wrote that she received about 90 responses, and in her article she does not identify anyone. Instead, she details stories that were written in her survey responses from women who work in children's publishing about being harassed in their offices, at bars after work, at conferences, and also at book festivals. Ursu's report sparked a conversation online about sexual harassment and misconduct in the children's publishing industry.
Oliver said she felt compelled to respond in the comments section of the School Library Journal article on Sunday night in an effort to clarify some false assumptions and misinformation.
"We appreciate people expressing solidarity to the victims," Oliver said. "There's also an atmosphere where anybody can be named, and those claims should generally be investigated … I think for all of us, it's important to hear the facts."
The executive director said there have always been systems in place for people to report harassment to the SCBWI, but that the organization will also be updating their code of conduct for all of their events. They have also instituted an email address designated for members to report specific instances "in light of the current revelations about sexual harassment." Oliver said a committee made up of board members will then review and respond to the reports.
"Every single industry in America, including children's books, is made up of primarily excellent people with excellent values and exemplary moral codes," Oliver said. "But no industry is exempt from taking a look at themselves and seeing what they can do better."