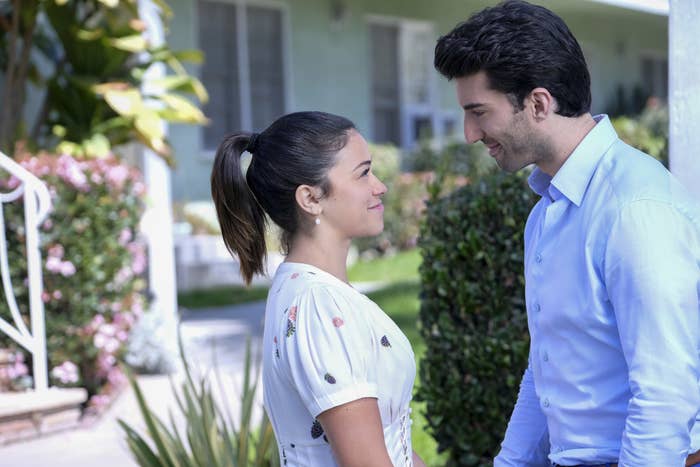 It's not uncommon for the CW's Jane the Virgin to end its episodes in unexpected twists, but none have ever been as shocking as the show's Season 4 finale.
After watching an excited Jane Villanueva (Gina Rodriguez) prepare to say "yes" to an upcoming proposal from Rafael Solano (Justin Baldoni) and commit to spending the rest of their lives together, the last seconds of the finale end with a quick glimpse of the once-dead Michael Cordero (Brett Dier). That's right, Jane's beloved Michael is back from the dead!
"I didn't always know it was going to happen, but I knew there was a possibility because it's a telenovela," Jane the Virgin creator Jennie Snyder Urman told BuzzFeed News.
Fans originally said goodbye to Michael halfway through Season 3 when he collapsed and died because of undetected health effects from a gunshot wound. Then in "Chapter Eighty-One" (Season 4, Episode 17), evil villain Rose, aka Sin Rostro (Bridget Regan), tells Rafael that she knows who his biological parents are. His attitude shifts throughout the episode because he learns something mysterious that he keeps from Jane, as well as the viewers. At the end of the episode, Jane goes over to Rafael's apartment thinking he's about to propose to her, but when Rafael opens the door, Michael is standing there.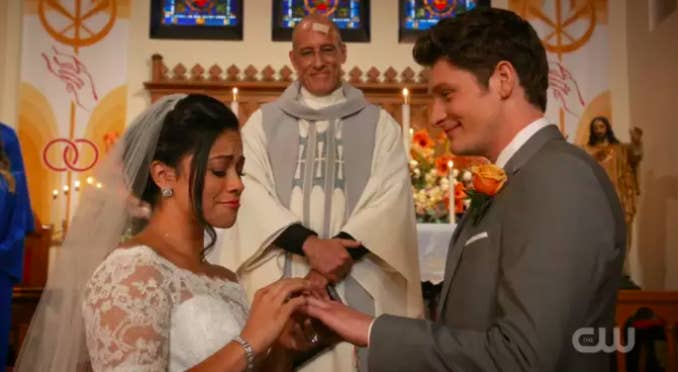 "It's Rafael's greatest fear — 'If Michael was still here would I be a second choice?'" Urman said. "It was a very heroic moment for Rafael's character to bring him back knowing that it could risk Jane, if this is indeed Michael." Urman noted that since Rose is involved in Rafael finding Michael, "you never know" what could be true and what's being manipulated.
Urman told Dier and Rodriguez that she wanted to bring Michael's character back about a year ago when she started to envision what Season 4 would look like, but the actors were sworn to secrecy. The rest of the cast found out while reading the script for the Season 4 finale at the last table read of the season.
"I redacted the last page from the script and then during the last table read, Brett came halfway through and hid behind a door," Urman said. "When we got to the scene, I opened the door and he dramatically came out. It was very exciting, and there was a lot of screaming."
When Dier was back on set for the first time filming the last scene of the finale, Urman said the rest of the cast gathered around the monitors, describing the moment as "a really great homecoming." She also said the last scene was shot two different ways: The way it aired tonight, and then a separate take with a short line of dialogue. Ultimately, Urman decided it was better to leave the audience guessing than answer any possible questions.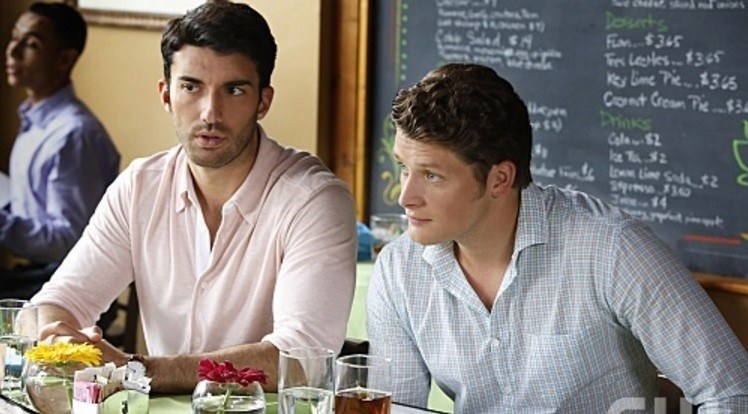 "I'm interested in these giant telenovela twists but then grounding our responses in human emotions, and we always like to put our characters into very difficult emotional situations but then have them navigate through that," Urman said. "And what's a bigger navigation than having mourned someone and said goodbye and then being confronted with them, or someone who looks exactly like that? It complicates everything."
Urman said the Season 5 premiere won't involve a time jump and will pick up where Season 4 left off, but the writers will fill in gaps throughout the season. She also said that every question fans have about the circumstances around Michael's sudden reappearance in Jane's life will be answered.
"As we move into our final chapters, it sort of sets things up in an interesting way for things to come full circle, feeling how things have changed, how things have not changed," she said.
When explicitly asked if Season 5 will be the show's last, Urman said she would not confirm or deny the rumor. "I will say that the CW has always let the creatives dictate how many seasons a show is, and they've told me to tell the story until the ending and they're honoring that, which I'm grateful and thankful for."