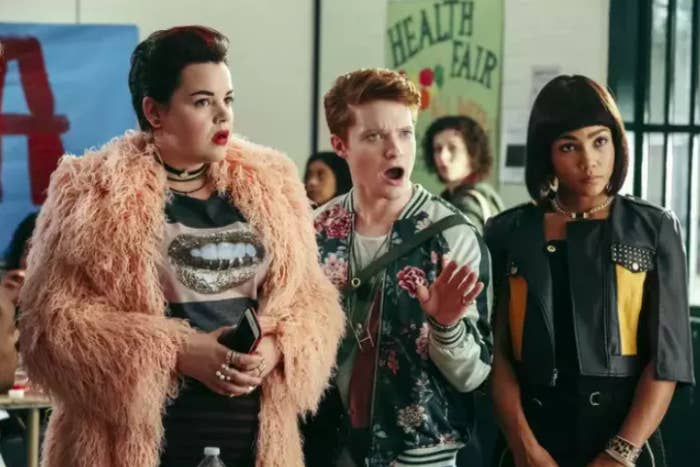 After postponing the Heathers reboot for months, the Paramount Network confirmed on Thursday it will now run the controversial show as a marathon starting on Oct. 25.
Heathers was originally supposed to premiere on March 7 but was canceled after the Parkland School shooting, which left 17 high schoolers dead.
The show — a satirical reimagining of the 1989 cult classic film that addresses suicide, guns, and violence in high school — was indefinitely postponed in June amid criticism that it would be insensitive to air it during such a contentious time. The network instead said it would shop the show to other channels.
"This is a high school show, we're blowing up the school, there are guns in the school, it's a satire, and there are moments of teachers having guns. It's hitting on so many hot topics," Keith Cox, Paramount Network's president of development and production, told the Hollywood Reporter at the time. "This company can't be speaking out of both sides of its mouth, saying the youth movement is important for us and we've done all these wonderful things to support that, and at the same time, we're putting on a show that we're not comfortable with."
According to the Hollywood Reporter, the show has now been edited to omit certain scenes that were concerning for the Viacom-owned network.
Heathers was originally supposed to be 10 episodes, and now will consist of 9, airing for two hours a night from Oct. 25 to 29.
"I am beyond excited that American audiences will finally get to see Heathers. Obviously, I wish fans could see the 10th episode, but the producers and I felt strongly about not changing anything in it, and so it's been considered too controversial for US audiences," Jason Micallef, Heathers' showrunner, told the Hollywood Reporter.
Heathers will also reportedly be available on Paramount Network's websites and streaming apps starting on Oct. 22.

Representatives for Paramount Network didn't immediately return BuzzFeed News' request for comment.