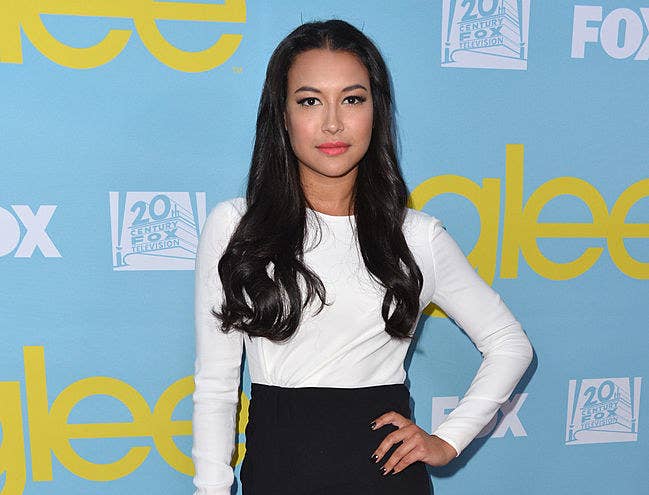 Naya Rivera, best known for playing the character Santana Lopez on Glee, was found dead on Monday after she went missing from a boat on Lake Piru outside of Los Angeles.
Rivera was on the boat last Wednesday with her 4-year-old son, Josey. According to Ventura County Sheriff Bill Ayub, Josey told investigators he was swimming with his mother when she boosted him back into the boat. The child then saw her disappear into the water.
Glee cast members initially shared messages of hope on social media during the search for Rivera. Now that her body has been recovered, they are paying tribute by sharing photos and memories in honor of her life.
Jane Lynch, who starred as cheer coach Sue Sylvester on the Fox musical comedy, tweeted, "Rest sweet, Naya. What a force you were. Love and peace to your family."
Chris Colfer, who played Kurt Hummel on Glee, shared a photo of himself with Rivera on Instagram alongside the caption, "How can you convey all your love and respect for someone in one post? How can you summarize a decade of friendship and laughter with words alone? If you were friends with Naya Rivera, you simply can't. Her brilliance and humor were unmatched. Her beauty and talent were otherworldly."
"She spoke truth to power with poise and fearlessness," Colfer continued. "She could turn a bad day into a great day with a single remark. She inspired and uplifted people without even trying. Being close to her was both a badge of honor and a suit of armor. Naya was truly one of a kind, and she always will be."
Joshua Sussman, who played Jacob Ben Israel on the show, tweeted, "Naya, you will be missed so much."
Kevin McHale, who played Artie Abrams on the series, shared a photo with Rivera along with a Twitter thread, explaining how the two of them were together seven years ago today when they found out Cory Monteith had died.

"I'm thankful for all the ways in which she made me a better person," McHale wrote. "She taught me how to advocate for myself and to speak up for the things and people that were important to me, always. I'm thankful for the times I grew an ab muscle from laughing so hard at something she said.

Alex Newell, who was Unique Adams on Glee, tweeted, "Now more than ever we must lift her family and friends up especially Josey! My heart is sent to them... Josey you are truly loved by every single person who loves your mommy! I love you Naya!"
Fans also shared on social media what Rivera and her Glee character meant to them. Twitter user @IssyFields wrote, "Naya was a powerhouse not just on Glee, but in life. Her portrayal of Santana gave me the confidence to be unapologetically myself and made millions of voices heard. Glee has memorialised her beautiful talents forever because she is, and always will be, a hero."
People also posted videos of Rivera's beloved performances, from "Smooth Criminal" and "Girl on Fire" to "Valerie" and "Here Comes the Sun."
A lot of people shared how much they appreciate the representation Rivera gave people as a lesbian Latina character onscreen.
The Voice's Bryana Salaz said she "didn't realize the impact" Rivera had on her life growing up as "the first POC, LGBTQ character I saw on screen. I grew up listening to you sing, being inspired by the girl on Glee who looks like me & is unapologetically herself. You changed so many lives. Rest easy angel."
YA author Robbie Couch wrote, "Naya Rivera helped countless queer kids feel more comfortable in this world. What a legacy."
Twitter user Luke Birch wrote that he's "devastated" about Rivera's death because she helped give him "the strength I needed to come to terms with my sexuality."

"Seeing characters like Santana gave me so much hope & courage," he said. "You helped an entire generation of LGBTQ+ people, Naya."