Rick Singer, the 58-year-old life coach who was indicted in a nationwide college admissions scam on Tuesday, left a little-viewed internet footprint with a series of YouTube videos in 2013 in which he explained how he helped young people get into college.
Two of the three videos only accrued a few hundred views, combined, but they give a glimpse into how Singer marketed his brand of "help me help you" services that would eventually turn into the largest college admissions fraud case ever filed by federal authorities.
In a video titled "Rick Singer Getting In / The Right Fit," Singer talked about a woman named Whitney who he says was told by her high school counselors that she was going to attend community college, leaving her mom "despondent." But according to Singer, he helped Whitney "create an amazing game plan so that she could have success," and the woman went on to a four-year college.
"Look at her today. She's not a Harvard grad, she's not a Stanford grad. She's running a major ad agency in New York City," Singer said in the video.
He went on to boast that "when we finally got her through the SATs she had about 1,000 on the SAT, 'cause it was out of 1,600 at that time, and we found an amazing school for her that would work for her socially, would allow her to be creative...and what happened was, she got into 15 schools."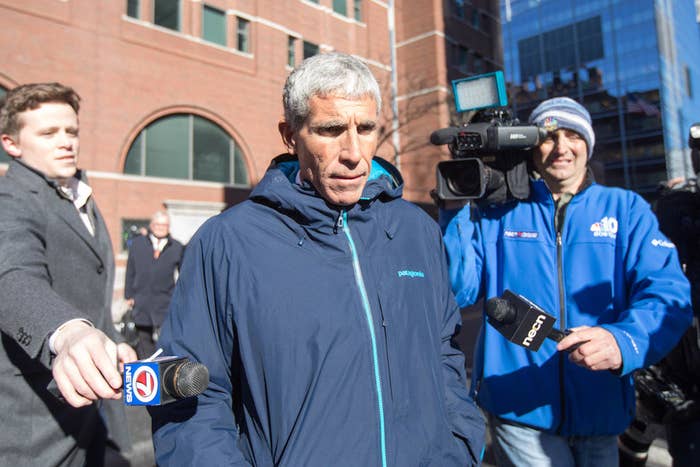 Prosecutors say Singer, who pleaded guilty to racketeering, money laundering, conspiracy to commit fraud, and other charges this week, boosted SAT and ACT scores for a fee of $10,000 to $75,000. Desperate Housewives' Felicity Huffman allegedly paid Singer $15,000 to fraudulently boost her oldest daughter's college entrance exam.
Singer also used bribes to get students in through the so-called side door. Combined, authorities say the rich and powerful paid Singer about $25 million to get their children into elite universities. Fifty people, including Lori Loughlin of Full House fame, were indicted.
Another video posted to YouTube, titled "Rick Singer / Personal Best," shows Singer talking about how he worked with a young woman to create an effort to raise awareness about global warming among young people.
"So of course the movie came out, An Inconvenient Truth, so we led with that movie and Al Gore was frankly very very helpful in allowing us to use his slideshow," Singer said. "She got totally engaged in her story and her brand and her passion."
"Now that she's at college, that brand is continued and the university loves the fact that this young lady has a larger youth organization that is now spread to all the lives all around and based around global warming."
Personal branding was a common theme in Singer's pitch, but prosecutors say he took it to the extreme in order to convince college admissions officers that his client's application was legit.
According to prosecutors, one such client, Devin Sloane, agreed to Singer's plan to secure his son a spot at USC as a recruit to the water polo team by purchasing gear and using a graphic designer to create what looked like a photo of an aspiring athlete in action. After Singer's employee created an athletic profile, prosecutors said Sloane was directed to pay $50,000 directly to USC's women's athletics department, as well as $200,000 to the Key Worldwide Foundation, the nonprofit Singer used to funnel bribe payments.
A third YouTube video, titled "Rick Singer Getting In / Mastery," featured Singer discussing the importance of studying, seeking out tutors, and forming study groups.
"Everybody's doing it, everybody's getting extra help, and everybody's creating groups so that they can have success," Singer said. "Don't be afraid to find other people to help you."
Among those charged in the Singer case are two ACT/SAT administrators, an exam proctor, one college administrator, nine university coaches, and 33 parents.