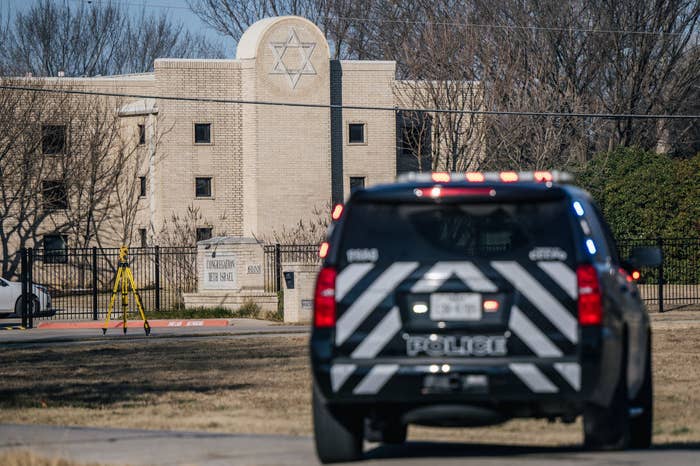 A 44-year-old British man has been identified as the suspect who took four people hostage in a Texas synagogue Saturday.
Malik Faisal Akram, 44, died in a "shooting incident" after an hourslong standoff with police at Congregation Beth Israel in Colleyville, Texas, authorities said. The hostages were rescued unharmed when FBI agents entered the synagogue around 9 p.m. local time Saturday. It wasn't immediately clear whether agents or the suspect himself fired the shot that killed him.
On Sunday, the FBI for the first time identified Akram and said they believed he had acted alone.
"The FBI's Evidence Response Team (ERT) will continue processing evidence at the synagogue. At this time, there is no indication that other individuals are involved," the FBI said in a statement. "The FBI's North Texas Joint Terrorism Task Force (NTJTTF), which includes member agencies from across the region, will continue to follow investigative leads."
Later on Sunday, the UK's Greater Manchester Police said two teenagers were in custody for questioning in connection with the incident.
Investigation is continuing about Akram's motive. On Saturday, FBI Dallas Special Agent in Charge Matthew DeSarno said in a press conference that authorities did not believe there was an ongoing threat after Akram's death.
"We obviously are investigating. We will continue to investigate the hostage taker; we will continue to investigate his contacts. Our investigation will have global reach," DeSarno said.
"We do believe from our engagement with this subject that he was singularly focused on one issue, and it was not specifically related to the Jewish community, but we will continue to work to find motive."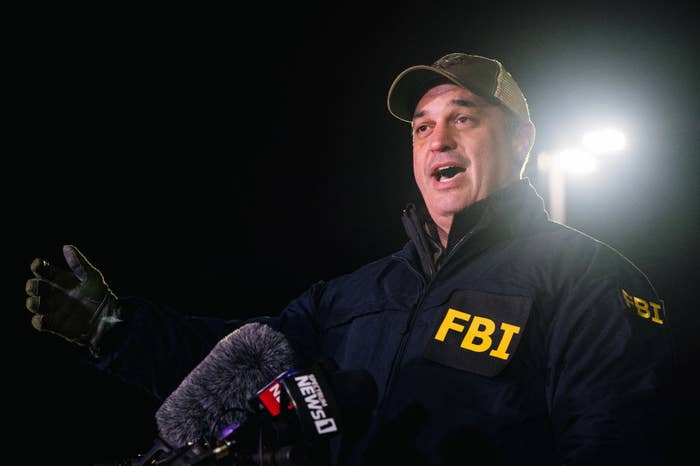 Multiple news outlets reported Saturday that authorities believe Akram was seeking the release of Aafia Siddiqui, a neuroscientist who was convicted of attempting to kill US soldiers and FBI agents and is currently serving an 86-year sentence at a nearby federal prison. According to US intelligence, she was suspected of being associated with al-Qaeda.
When asked about the hostage situation Sunday, President Joe Biden told reporters, "This was an act of terror."

The president said it remains unknown why the Colleyville synagogue was targeted, but he added he had plans on speaking with the rabbi and is also working with Attorney General Merrick Garland to "address these types of acts."
Biden told pool reporters that while he didn't have all the facts about the incident, he believed the hostage taker obtained a gun by buying it "on the street." Biden also suggested that Akram had spent a night in a homeless shelter before taking hostages Saturday.
"Guns are — the idea of background checks are critical, but you can't stop someone from buying something on the street," Biden said.
Akram was from the town of Blackburn, north of Manchester in the UK. His family in the UK is in communication with authorities, the Blackburn Muslim Community told BuzzFeed News in a statement via Facebook message. "Please respect their privacy and allow them to grieve privately."
Earlier on Sunday, the page had posted a message apparently from Akram's brother, which condemned his actions and said that Akram had mental health issues.
"We would also like to add that any attack on any human being be it a Jew, Christian, or Muslim etc is wrong and should always be condemned," the now-deleted message said, according to the Fort Worth Star-Telegram. "It is absolutely inexcusable for a Muslim to attack a Jew or for any Jew to attack a Muslim, Christian, Hindu, vice versa etc etc."
Police in the UK were also assisting US authorities in the investigation, Assistant Chief Constable Dominic Scally of Counter Terror Policing North West said in a statement. He asked the public to report to police anything that might be linked to terrorism.
The leader of the local government council, Mohammed Khan, also said his organization was assisting authorities.
"In Blackburn we firmly stand by the belief that no community should live in fear for its safety as they go about practicing their religious beliefs or identify," he said in a statement. "We stand in solidarity in condemning this act of hate, violence and terror."
Back in Texas, Congregation Beth Israel's rabbi, Charlie Cytron-Walker, thanked law enforcement, first responders, and his religious community in a Facebook post Sunday, saying he's also "thankful and filled with appreciation for all of the vigils and prayers and love and support."
"All of the law enforcement and first responders who cared for us, all of the security training that helped save us," Cytron-Walker wrote. "I am grateful for my family. I am grateful for the CBI Community, the Jewish Community, the Human Community. I am grateful that we made it out. I am grateful to be alive."
In Saturday's press conference, DeSarno said the negotiator who was in touch with Akram during the hostage situation had a "high frequency and duration of contact with him" for 10 hours, adding that the relationship between the two "ebbed and flowed a little bit and sometimes got intense." DeSarno also said there will be independent investigations into how Akram died, which he said was standard operating procedure.
Liz Truss, the UK's foreign secretary, tweeted Sunday, "My thoughts are with the Jewish community and all those affected by the appalling act in Texas. We condemn this act of terrorism and anti-semitism. We stand with US in defending the rights and freedoms of our citizens against those who spread hate."