Women Are Standing Up For Natural Hair With The Hashtag #SupportThePuff
The hashtag is in reaction to the suspension of a group of female students for their "unkempt" hair.
Last week, local media reported that a group of girls were allegedly suspended from CR Walker High School in Nassau, Bahamas, for having "untidy" hair.
School principal T. Nicola Mckay says it was due to the girls' hair for looking unkempt and like it hadn't been brushed for days, therefore against school rules.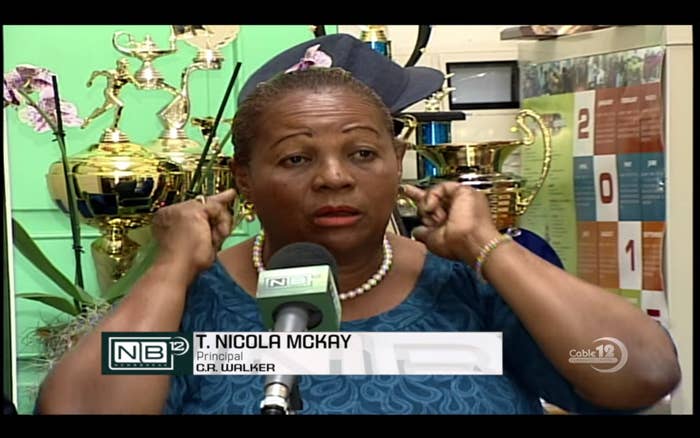 On Monday, the Bahamas Ministry of Education released a statement saying that they played no role in the school's decision to discipline the students.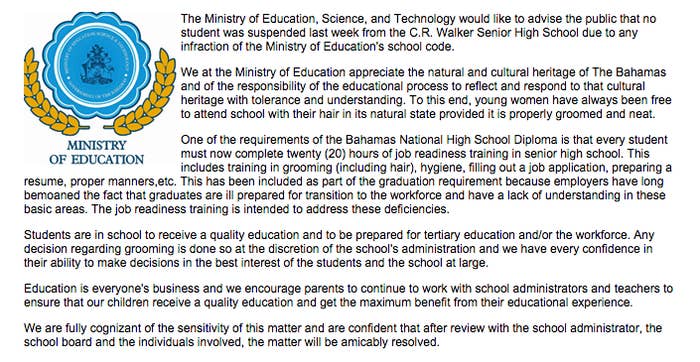 However, Turkessa Deleveaux, a mother of one of the girls involved posted to Facebook, saying she is "standing up" against "foolishness" and protecting her daughter's right to have natural hair.
The next day, Deleveaux said children at the school had begun standing up for their natural hair, telling teachers they were supporting "the puff".
The phrase caught on and inspired social media users to defend natural hair with the hashtags #ISupportthepuff and #Supportthepuff
Many people are also sharing photos of their own natural hair to support the girls.
A petition has also been created in support of the students and any other people who wish to wear their hair natural.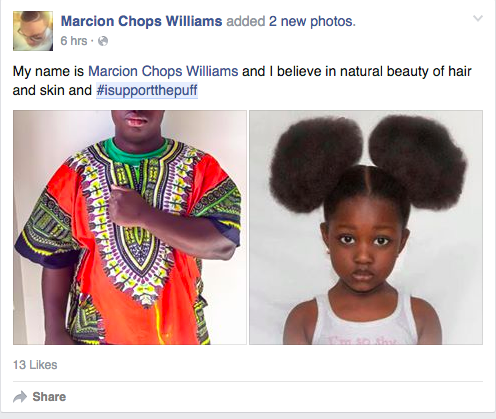 Some accounts are also sharing photos of the hair of one of the girls caught up in the controversy.
On Monday Deleveaux updated her Facebook, saying she "ain't backing down" and will keep fighting for natural hair.