This viral photo of a girl scout facing off against a far-right protester was taken at a May Day protest in the city of Brno in the Czech Republic.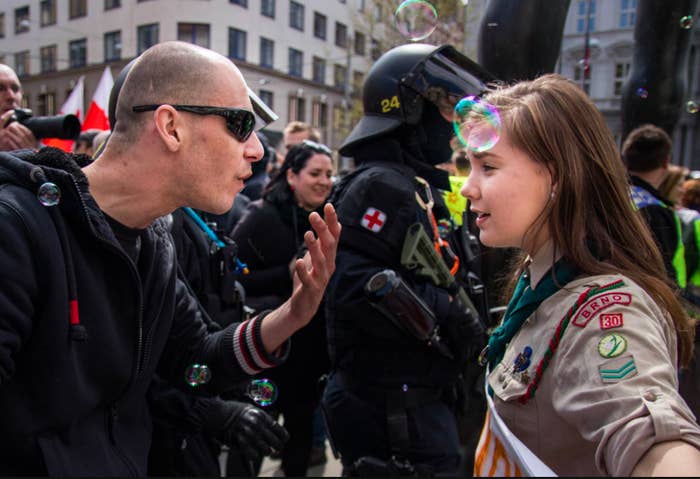 The photo was taken by photographer Vladimír Čičmanec. The man in the photo is wearing a Thor Steinar sweatshirt — an item of clothing typically worn by European neo-Nazis.
The photo quickly spread, being shared across several social platforms. Others who attended the gathering contributed more images of the girl's face off with the protester.
People around the world loved the girl's calm approach to the situation.
The girl was later identified as 16-year-old Lucie "Lala" Myslíková.
She ended up commenting on the original photo soon after it was put on Facebook, thanking everyone for their support.
"Thank you all for your support!" she wrote. "I believe that dialogue is, like other non-violent expression, the best way to combat evil."
She later told Czech radio that she talked to the man about migration and immigrants, and that she participated in the counter-march because "it makes sense. It makes sense to be seen and heard and stand up against what we do not like."
BuzzFeed News has reached out to Čičmanec to get more details about the moment he captured in the photo.