Sky Brown is an 8-year-old from Miyazaki, Japan. She lives there with her parents and her 5-year-old brother, Ocean.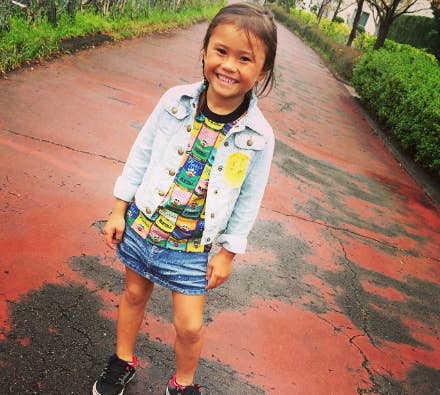 Despite her young age, Sky has made a name for herself on the international skate scene. Last month, she became the youngest girl ever to skate at the Vans US Open Pro Series.
Sky's parents document her and her brother's insane talent on a joint Instagram page.
Her father, Stu, told BuzzFeed News that Sky has been skating since before she could walk. Last year, she began competing after she asked her parents if she could go to California to compete at Exposure, the biggest women-focused skate festival.
And she did. She came third in the bowl competition and shared the podium with some of her heroes.
Stu said that despite Sky's success she's had to get used to people treating her differently because she's a young girl.
Thanks to her social media accounts, which have over 110,000 followers combined, Sky is inspiring people all over the world to take up skateboarding and her other love, surfing.
"I'm proud of the children when I get messages from men and women about how they have been inspired by them," Stu said. "She's got a huge following from girls old and young all around the world that she had inspired, and as it grew and as she improved we got a lot of men skaters."
But her biggest fan will always be her little brother, Ocean.
"As far Ocean goes he grew up with a sister that is gnarly. We spend most of our time telling Ocean to slow down, or be careful. If Sky can do it so can he. We have to keep a close eye on him."