On Sunday, Marvel announced at San Diego Comic-Con that the smartest hero in the Marvel Universe is now Lunella Lafayette, a 9-year-old black girl from Manhattan, New York, and star of the Moon Girl and Devil Dinosaur comics.
The comic's writers Brandon Montclare and Amy Reeder tweeted the good news, as well as sharing a sneak peek of the upcoming story arc.
The series is a reboot of the classic Devil Dinosaur stories, transporting the T. rex to modern-day New York and replacing his caveman friend Moon Boy with Lunella, a super genius and carrier of the Inhuman gene.
Fans of the comic celebrated the news on social media. Prior to the announcement, the title of smartest hero had been held by Reed Richards, aka the Fantastic Four's Mister Fantastic.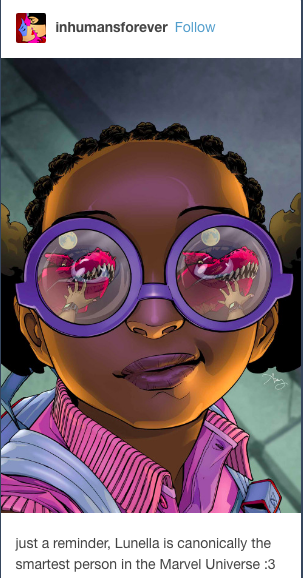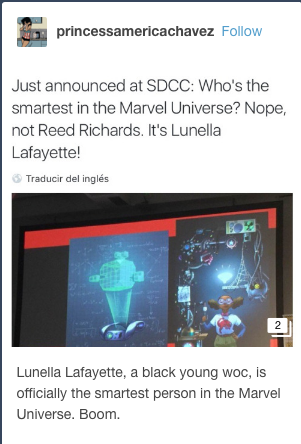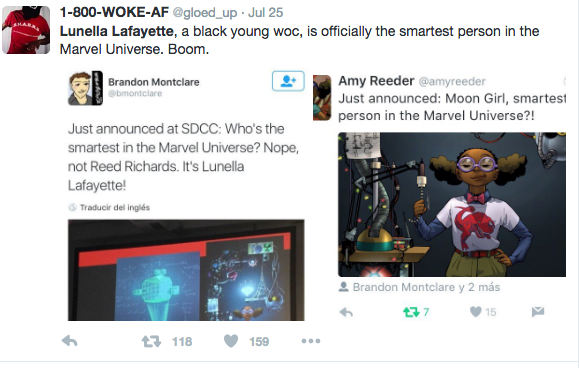 Mark Paniccia, a senior editor at Marvel, confirmed to BuzzFeed News that the return of the series in October will reveal Lunella's title as well as challenging her in her new role.
"There's always been a healthy debate about which super-genius is the smartest. Is it Tony Stark? Reed Richards? Victor Von Doom? Hank Pym? Amadeus Cho? The answer is gonna shock the Marvel Universe when it's revealed to be 9-year-old Inhuman Lunella Lafayette," said Paniccia.
"In the third arc of Moon Girl and Devil Dinosaur, Lunella faces an impossible half-dozen science-challenges that might not only prove her smarts, but also save the world. It's also going to guest star some of Marvel's biggest names, too. Hulk, Dr. Strange, the X-Men, The Thing and more."
Shine on, Lunella.