Last week, Warner Brothers released the DC animated film Batman and Harley Quinn in cinemas for one night only.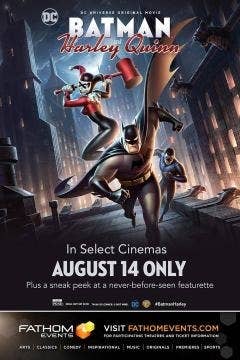 Following the screening, fans expressed a mixed response to the film, with criticism specifically for writer Bruce Timm.
For context, Timm also produced the animated version of The Killing Joke, a controversial story by Alan Moore that implied the sexual assault of character Barbara Gordon by the Joker.
With the release of Batman and Harley Quinn, there was new wave of criticism over the sexualization of DC's female characters.
And a scene in which the character of Nightwing is tied to a bed and forcibly kissed by Harley Quinn.
Beth Elderkin, a writer for io9, made a thread on Twitter of a number of highly sexualized points in the film, such a scene with a bar staffed by women characters dressed in revealing versions of their normal costume.
And the drawing of Quinn's body, which went viral, being retweeted over 20,000 times.
The film has received some praise, and people have argued that as Timm created Quinn he is allowed to shape her narrative. But overwhelmingly, fans seem to feel the characters deserved better.
BuzzFeed News has reached out to Warner Bros for comment.