On Tuesday, Agents of S.H.I.E.L.D. star Chloe Bennet took to Instagram to praise actor Ed Skrein for pulling out of the Hellboy reboot after he was accused of whitewashing a role.
Bennet wrote:
"DAMN, that's a man. Thank you @edskrein for standing up against hollywoods continuous insensitivity and flippant behavior towards the Asian American community. There is no way this decision came lightly on your part, so thank you for your bravery and genuinely impactful step forward. I hope this inspires other actors/film makers to do the same.👏🏼👏🏼👏🏼--Also, dayum cute af AND a pioneer for social injustice?! Fellas, take note. That's how it's done."
And in a now-deleted comment, Bennet was apparently questioned on her legitimacy to speak about Asian identity in Hollywood because she had stopped using Wang as her surname. Bennet responded.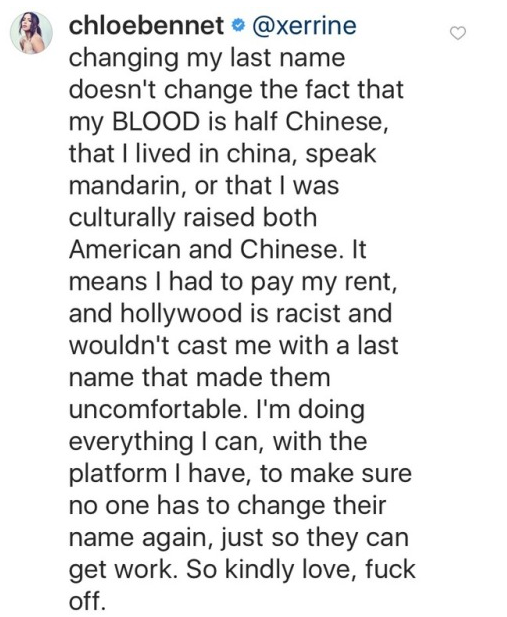 In the post, Bennet says that changing her surname from a Chinese one was because "I had to pay my rent and Hollywood is racist."
Bennet has addressed her name change before, but the Instagram post seemed to resonate with people. It was quickly shared across social media.
Numerous celebrities and figures in the media praised Bennet for speaking out against Hollywood's casting issues, as well as highlighting a problem many actors of color face.
Since the comment, Bennet hasn't said anything further on the matter but has liked Twitter posts about it.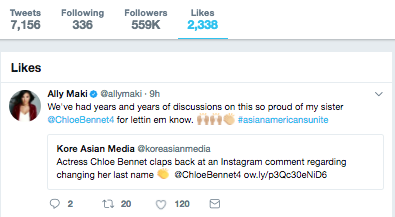 Her reps declined to comment when contacted by BuzzFeed News but pointed to Bennet's Asian and Pacific islander advocacy group RUN as evidence of her commitment to minority representation.