An Actor Has Received Death Threats For Her Involvement In A Bollywood Film
Padmavati has been accused by Hindu nationalist groups of distorting what they see as their group's history.
Deepika Padukone, one of Bollywood's top actors, has received death threats following a backlash from Hindu right-wing and caste groups against her role in her latest movie.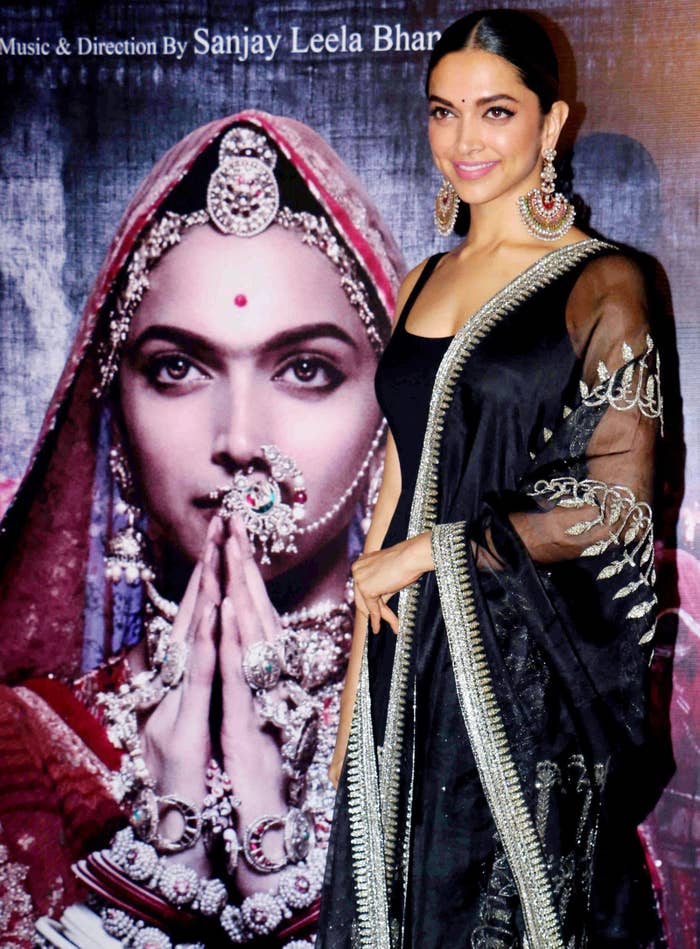 Padmavati, a film based on Padmavat, an epic poem from 1540, was due to be released on Dec. 1, with Padukone in the title role. However, the controversy has delayed the release of the film.
In the poem, a Muslim king, Alauddin Khalji, the Sultan of Delhi, hears of the beauty of Padmavati, a high Rajput caste Hindu — and travels across India to Chittorgarh, slaughtering thousands in his way, including Padmavati's husband, a Rajput king. She and other women perform mass immolation before the sultan can reach them. Because of this, Padmavati is seen as a symbol of a woman's commitment to her husband.
Early on in the film's production process, it was rumored that the film would include a romantic scene between Padmavati and Alauddin and feature scenes in which Padmavati's midriff is exposed. Rajput caste organizations like the Karni Sena were not happy, and claimed that it distorted Rajput history.
During the production of the movie earlier this year, protesters even attacked Bhansali.
Then, in the lead-up to the planned release of the film, people once again began protests. On Twitter, Rajput groups have been using hashtags to stir up controversy.
Movie theaters that show the trailer for the film have been vandalized. Earlier this week, a member of the ruling BJP party offered ₹10 crore — around $1.5 million — to anyone who beheads Padukone and Bhansali. He also threatened to break the legs of Ranveer Singh, the actor who plays Alauddin in the movie.
There are also fears that the film will glamorize sati — the act in which a woman kills herself at her husband's funeral. The sati tradition has been outlawed in India since 1861.
The protests have drawn a mixed response from people. Some have called the response overblown and asked for protesters to see the film before they complain.
Historians have been quick to point out that although the poem that inspired the film uses real people, it is a work of fiction.

Others have accused the media and politicians of drawing attention to the film to hide bigger stories.
Last week Padukone told news agency IANS that she feels "proud" of being part of the film and was critical of the protests.
"It's appalling, it's absolutely appalling," she said. "What have we gotten ourselves into? And where have we reached as a nation? We have regressed. The only people we are answerable to is the censor board, and I know and I believe that nothing can stop the release of this film."
Shahid Kapoor, who plays Padmavati's husband in the film, also commented on the backlash, saying people should watch the film before they judge it: "I don't think there is anything in the film that is unacceptable or that is not in good taste."
In a statement to BuzzFeed News, Rajput World News, an offshoot of one of the groups leading the protests in India, said the film does not accurately depict their community's history.
"The film Padmavati, based on our ancestors and Queen Padmini/Padmavati, is being made by director Sanjay Leela Bhansali," the statement said. "He had earlier also made a film based on a Hindu King Bajirao, who was a Maratha. But Bhansali did not show correct history in this film and caused uproar in the Maratha community. That is why we are objecting to his making of the film Padmavati."
BuzzFeed News has reached out to those close to Padukone for comment.