A Female TV Host Lost Her Job After Calling Out Her Colleague's Harassment
The video was initially deemed a viral stunt, but now the host is claiming she was forced to claim it was fake.
Mexican TV host Tania Reza has lost her job after openly criticizing a male co-host for molesting her during a live broadcast.
Enrique Tovar can be seen touching Reza's breast. When called out, Tovar responds, "If I grabbed you I would have done this," and proceeds to touch Reza again.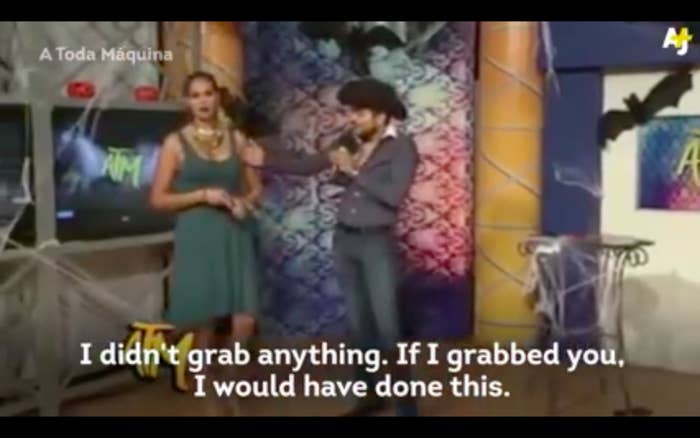 In response the TV channel issued a statement saying that the video was intended to go viral. However, it also said it refuses to condone harassment and that both Tovar and Reza have lost their jobs.
Last Saturday, during the live broadcast of 'full steam ahead' (ATM) program from Ciudad Juarez Chihuahua Televisa, host Enrique Tovar, harassed his co-host Tania Reza and showed improper behavior in a broadcast television.Following this incident, the Human Resources area of ​​Grupo Televisa conducted an investigation in which both have said the scene was acted with the purpose of creating a viral content, and that the hosts did not report to production would perform this offensive act.Televisa strongly condemns this and any kind of harassment. So provides our Code of Ethics which states:'Strictly forbidden, remains in declarative form but not limited to: threaten, insult, discrimination, intimidation, defamation, slander, harass, stalk sexually or at work, exercise any form of physical, psychological and / or financial abuse against any employee of the Group'.Consistent with this, we reported that both drivers have been separated from the company.Tania — We urge that if what happened in the program commented differs from his first statement to our Human Resources staff, please let us know to support and accompany the process of complaint.Televisa takes any inappropriate behavior very seriously.
However, Reza has since posted on her Facebook, stating that she was forced into saying that it wasn't harassment.
Reaction on social media has been mixed, with some supporting Reza's case and other's aggressively criticizing her using the hashtag #TaniaRezaCalientaHombres (Tania Reza sexual teaser).
According to a popular way of thinking, if I show my legs or my cleavage I can't complain if someone grabs me. Pitiful, #TaniaRezaCalientaHombres
At the same time, she didn't stand for her dignity and convincingly stopped her co-worker right away. #TaniaRezaCalientaHombres
This #TaniaRezaCalientaHombres doesn't surprise me coming from supid mongoloids that think they're super funny and irreverent. But, girls? Love yourselves.
#TaniaRezaCalientaHombres with that macho face, she should be thankful she turns on one.
BuzzFeed News has reached out to Televisa to clarify its statement in light of Reza's Facebook post.
UPDATE
The Latino Times is reporting that both hosts are having their positions reinstated.