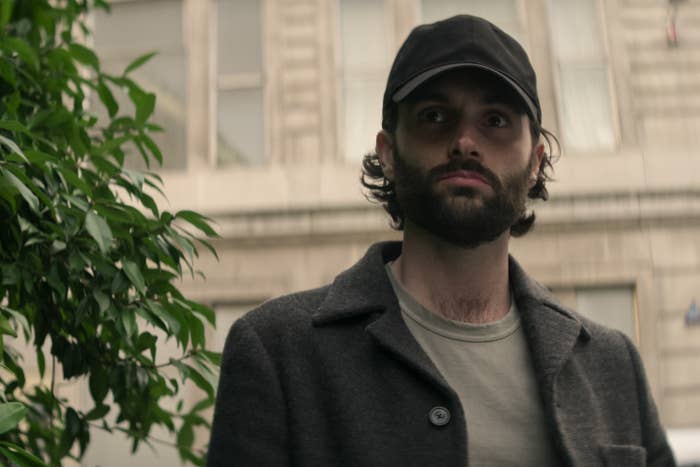 Thirty-five minutes into the premiere of You Season 4, Cardi B blasts in the background as Joe (Penn Badgley) feeds a body into a sawmill in the British countryside. If the internet's favorite serial killer is to be believed, up until this very moment, his new life as the mild-mannered literature professor Jonathan Moore was nothing but English roses. When Season 4 opens, Joe's been living in a flat straight out of a Richard Curtis rom-com, stuffed to the brim with sexy professor tweeds and first editions. Despite the potent combination of Badgley's long curls and lush beard, Joe's finally given up women for good (sure, Joe) and committed himself to his true love, books. It's such an easy new identity and lifestyle to maintain in the great city of London, where curious minds actually read the material cover to cover. Not bad for the guy who chopped off his own toes to fake a murder–suicide after killing his wife in the Season 3 finale. But unfortunately for Jonathan Moore, he's still Joe Goldberg and nothing good lasts for guys like Joe. As always, his downfall starts with a woman.
Despite the fact that Marienne (Tati Gabrielle), Joe's last obsession, is still out there somewhere, he can't help but notice his neighbor Kate (Charlotte Ritchie), a ruthless gallery owner dating Joe's Oxford colleague, Malcolm (Stephen Hagan). When he saves her from a mugging on campus, Joe unwittingly gets sucked into Malcolm and Kate's disgustingly elite circle of old-money socialites after a thank-you drink turns into a wild night out. These are the kind of people that have scandal-worthy boarding school stories about the future King and probably sold insider gossip about Meghan Markle's wedding to the tabloids. The very best of them, Lady Phoebe (Tilly Keeper), calls Joe a "sad baby tarsier" when she first meets him; the very worst of them, Adam (Lukas Gage), asks Joe's opinion on buying a $70,000 egg just to crack it open and see what's inside. For Joe, the evening is simply fodder for his ever-running commentary on the great plagues of modern society — until he wakes up from an absinthe-induced blackout to find a body on his kitchen table. Let the cursed cycle of Joe Goldberg begin again. From there, Part 1 of Season 4 only accelerates, bodies dropping nearly every episode, by using subtle twists on You's classic formula to ensure Joe won't ever be able to forget his past. To quote the poet laureate herself, I like it like that.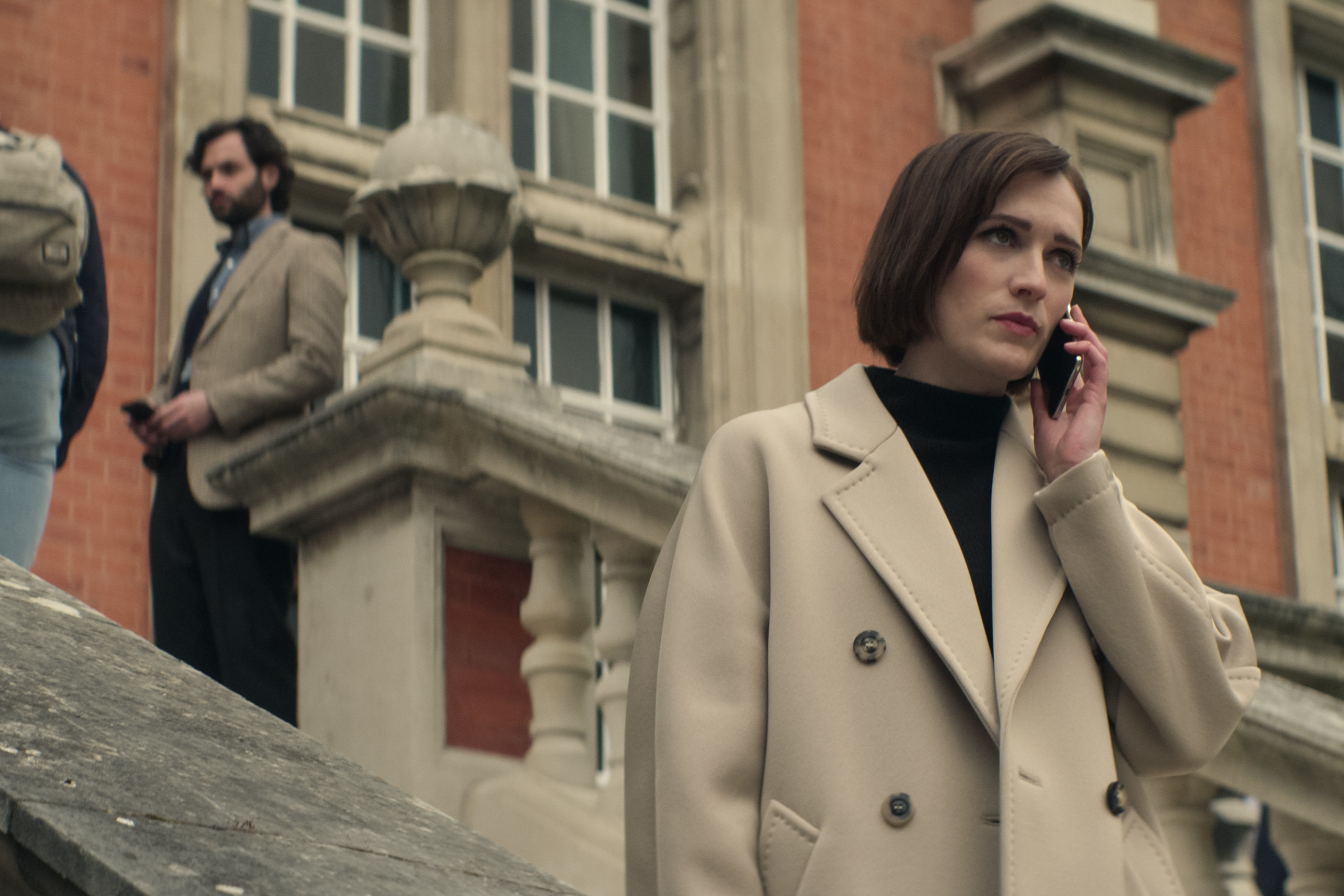 There are many standout performances among the new cast; the series delights in fracturing Joe's romanticized vision of the city with the crass lack of empathy exhibited by his new London besties after one of their own has fallen. The star of the season however is undoubtedly Charlotte Ritchie as Joe's new, "Hello, you." Despite the fact that Kate finds Joe's "Captain fucking America" act repulsive, Ritchie and Badgley have undeniable chemistry — the heated lingering gazes would make Jane Austen proud — and over the course of five episodes, Ritchie melts Kate's blistering iciness to reveal a thoughtful woman whose family history has earned her every right to put up walls. There's something about Ritchie and Badgley's connection that makes Joe and Kate feel on significantly more even footing than any of Joe's previous obsessions. They're drawn together by their darkness, much like Love (Victoria Pedretti) and Joe were. But unlike Joe's murdered wife, Kate's too much of a realist to pretend she's anything other than who she is. And yet she's still determined enough to change. It's giving Fleabag, and it's unfortunately wasted on Joe. Only time (Part 2 premieres on March 9) will tell if Kate's grounded enough to see through Joe's bullshit, but Ritchie wields Kate's bluntness with a precision that makes it feel like she'll get the truth one way or another.
The absolute best change of the season, however, is when You fully embraces a genre shift by diving headfirst into murder mystery tropes.
Kate isn't the only person who catches Joe's fancy this season though; it only took him four years, but Joe finally makes one (1) age-appropriate male friend. Joe meets Rhys (Ed Speleers) through Malcolm's society snobs, but unlike the rest of Malcolm's circle — with the exception of Kate — Rhys knows what growing up in shit circumstances is like. Partly because Joe admires Rhys's breakout memoir of a poor council boy who made it big, and partly because Rhys is the only normal person in London he's met, Joe opens up in a way he usually reserves for voiceover and the women he's stalking. To be clear, this is a nonsexual connection (sorry to the queers, I look forward to the fanfic), but there's an interesting mirror between Joe's relationship with Rhys and his relationship with Kate. The way Joe navigates the lies he has to tell as Jonathan Moore alongside the truths he wants to tell as Joe Goldberg to two very different people he wants to win approval from is fascinating. Without delving into spoilers, these two relationships allow Joe to torture himself with his own delusions of goodness in a multitude of comical new ways.
The absolute best change of the season, however, is when You fully embraces a genre shift by diving headfirst into murder mystery tropes. All of Joe's previous indiscretions (bodies) start to catch up to him when he's targeted by the hottest new serial killer on the block, the Eat the Rich Killer. Someone in London, someone he probably knows, has figured out his name isn't Jonathan Moore, and Joe quickly goes from allegedly reformed hunter to hunted. The pure comedy of Joe's inability to figure out an Agatha Christie plot and getting schooled by one of his students, Nadia (Amy-Leigh Hickman), cannot be understated. He's absolutely shit at putting together basic clues. But what this slight genre shift gives the show is more than just a comedic springboard; like all great mysteries, Season 4's pace feels amped up to 11. Everyone is a suspect. Each episode of Part 1 burns through believable red herrings, challenging viewers to not just keep up, but stay ahead of a serial killer who seems significantly more competent than Joe at this whole murder thing. And regardless of where you end up placing your bets, it's just straight-up satisfying to see Joe bested repeatedly, a loving reminder the noose is always tightening.
The genius of You has always been knowing when and how to subvert genre to make it exponentially more compelling. In that sense, the first half of Season 4 is firing on all cylinders. But the breakneck speed of this season — on an already marathonable show — does warrant some unease: This season feels like You is racing toward the emotional climax of Joe's story. Between Kate's painful honesty, fostering a friendship with Rhys, and Eat the Rich forcing Joe to confront his past, it seems inevitable that Joe's delusions of goodness will shatter. After all, who Joe Goldberg will be when the lies he tells himself dissipate is the only major question left for You to answer. Well, other than the obvious one of how he'll be punished for all the lives he's destroyed. But knowing the You writers, it'll be prolonged, comically painful, and hopefully the entirety of Season 5. ●
Krutika Mallikarjuna is an entertainment journalist with a deep love of pop culture and a healthy fear of horses. Catch her bylines at BuzzFeed, Teen Vogue, TV Guide, and more.