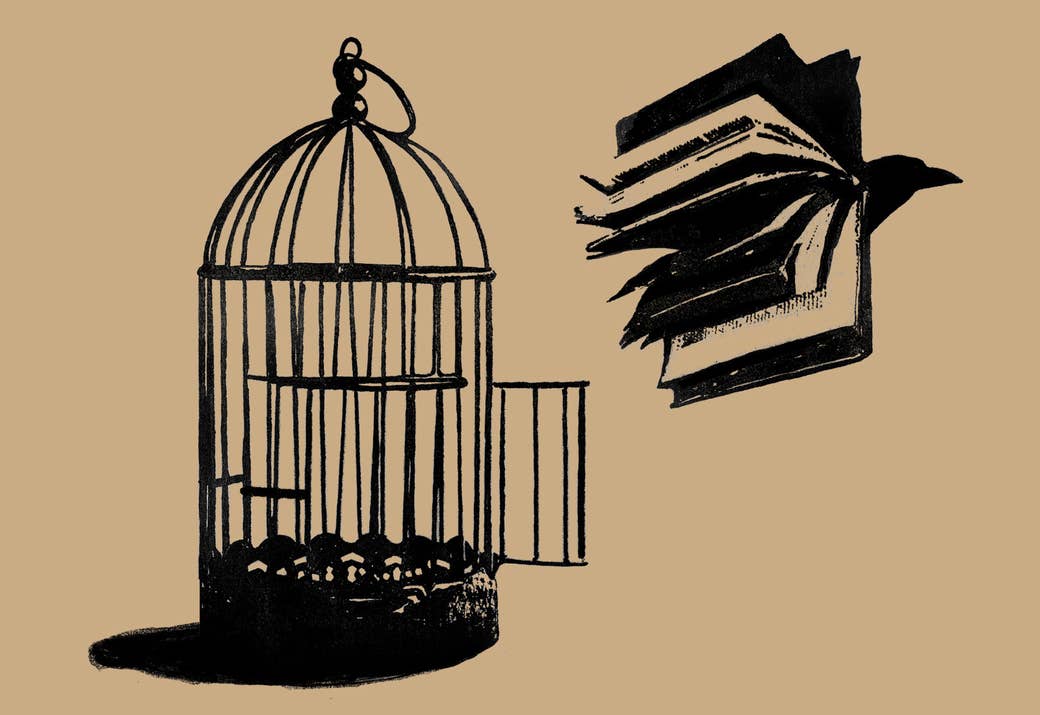 The day I met Brown Sanders, he asked if I could help him get rehired at a job he lost for being black, poor, scared, and desperate. I was a 26-year-old adjunct at Vassar College and Brown was the first person I met in Poughkeepsie, New York. On the ride home, Brown claimed we clicked not because of our bald heads or our love for midrange jump shots but because Brown "rocked gold teeth and Jordans, and people from the South love gold teeth and Jordans, ked."
I'm not sure anyone from my South loved Jordans as much as Brown, but I'm absolutely sure Brown never knew the correct pronunciation of my name. He never called me "Kiese." Sometimes he called me "Keece." Usually called me "ked," which was short — or long — for "kid."
While Brown Sanders worked at Vassar, he sold drugs to sad people inside and outside Vassar's gates. Like nearly every black dealer I've known, Brown wasn't lucky. In the mid-'90, Brown's initial sentence was six years. He did three. In 1999, while still on parole, Brown went to Maryland with his 16-year-old brother who had some weed in the car. Police stopped the car. For the parole violation Brown got sentenced to another seven months of boot camp. That's when he had to quit his job working building and grounds at Vassar.
For a few months, while on parole in Maryland, Brown worked two jobs and sent money back to his girlfriend, his mother, and his daughter in Poughkeepsie. Eventually Brown moved back to New York and traveled to Maryland once a week to meet with his PO. When money for bus rides got tight, Brown missed one week, then another week, and another. His PO told him he understood that Brown didn't want to leave his daughter and money was tight, but he'd have to arrest him when he reentered Maryland for unlawfully crossing state lines while on parole. A warrant was issued for Brown's arrest.
One winter night in 2004, I got a call from Brown's fiancé, Ella. Earlier that day, Brown called my office and told me he wouldn't make our City League basketball game because he had to take his daughter, Bria, to the carnival.
"Keece, they got Brown," she said. "Can you take me to see him? You're a professor. They'll listen to you. Can you talk to him?"
Ella explained how two officers stopped Brown as he was paying a toll on the Mid-Hudson Bridge. The officer claimed Brown didn't signal when changing lanes. Ella, who was in the car with Brown, says he didn't signal because at the last second, he
saw that the tollbooth in his lane was closed.

"The last time he got arrested in Maryland," Ella said, "they pulled him over 'cause they said he had too many air fresheners hanging from his front mirror."

Americans with the least access to healthy choice and second chances are given the harshest punishments.
After taking turns talking about how sick it was that Americans with the least access to healthy choice and second chances are given the harshest punishments, Ella said she was calling the Kingston jail on three-way to see what they decided to do. "If Brown picks up, tell him some good words, Keece. Make my man feel better."

We were on hold for about five minutes when we heard a lowtoned, gruff "Hello."

It was Brown.

Ella told Brown how much she loved him and wanted to marry him as soon as he got home.

"I love you, too," Brown said. "Where Bria?"

"She's in bed," Ella said. "You think you can come home tonight?"

"Probably not," he said. "Maybe. I'm saying, you never know."

"Stop lying," Ella said. "You know you ain't coming home. Bria wouldn't stop crying."

"Yo, you act like I'm dead," Brown said. "I just wanna get this behind me, you know?"

"Keece on the line," she told him.

"You on the line, ked?"

"Yeah," I said. "I'm here. You maintaining?"

"You already know," he said. "I'm strong, ked. You know what? You about to see how I used to looked back in the day when I was in shape. I always lose weight when I go to jail, don't I, Ella?"

Ella ignored his question and told him that I had some words for him.

I sat there hanging in silence. I had three degrees and Brown hadn't graduated from high school. I paid my own rent and Brown stayed illegally in Ella's Section 8 apartment. I earned $1,900 a month after taxes for talking to young people about something called black literary imagination and Brown was legally unemployed because no one in the Hudson Valley wanted to hire a black man with several felonies on his record.

"I'll bring you some books next week," I told him. "And I'ma put some money on your commissary. When you get out, I got you."

"That's all you got to say?" Ella asked me. "Ain't you a professor?"

I was the wealthiest, most powerful person Brown knew, and I had sixty-seven dollars in my banking account.
Brown had neither the money nor the power to fight his arrest. I was the wealthiest, most powerful person Brown knew, and I had $67 in my banking account, a living room set filled with furniture students threw out, and plenty of family, friends, and students doing time in federal prison for murder, racketeering, counterfeiting, and drug trafficking.

"Just bring me some books, ked," Brown said. "I know this shit is awkward but can you write a little note on the front page of all the books? A nigga been locked up a lot and I never had no one write notes in my books."

Before and after Brown got out, white colleagues routinely put their hands on my back and called me lucky. They meant that Southern black boys like me were more likely to end up incarcerated than working beside wonderful white faculty at so-called elite liberal arts colleges. I looked in the eyes of those colleagues and routinely shook my head. These colleagues were lucky, not simply because their students demanded less of them, nor because their identities were never threated by security or armed police officers; they were lucky that they got to share professional space with poor young black professors who materially never invested in notions of academic excellence being a stand-in for innocence.
Brown, the first person I met in Poughkeepsie, was a felon because he was black, scared, desperate, and guilty. I was black, scared, desperate, and guilty but I came from folks with a bit more money than Brown. Though I wasn't the grandchild of grandparents who passed money or land down to my parents, I was a child of what folks called "the black middle class." My mama was one paycheck away from asking Grandmama or me for money neither of us had the week before payday.
There was no wealth in my family of black middle class women. There were only paydays.
I knew that my student Cole, a dealer of everything from weed to cocaine, could be a college graduate, college professor, college trustee in spite of being scared, desperate, and guilty because he was a white child of wealthy parents. Cole could literally become president of all kinds of American things, or president of nothing. Either way, he'd be fine. He wouldn't be free, but materially, Cole would never suffer.
Cole's power necessitated that he was literally too white, too masculine, too rich to fail.
By my fourth semester at Vassar, I learned that it was fashionable to call Cole's predicament "privilege" and not "power." I had the privilege of being raised by a Grandmama who responsibly loved me in the blackest, most creative state in nation. Cole had the power to never be poor and never be a felon, the power to always have his failures treated as success no matter how mediocre he was. Cole's power necessitated that he was literally too white, too masculine, too rich to fail. George Bush was president because of Cole's power. Grandmama, the smartest, most responsible human being I knew, cut open chicken bellies and washed the shit out of white folks dirty underwear because of Cole's power. My job, I learned that first year, was to dutifully teach Cole to use this power less abusively. I was supposed to encourage Cole to understand that his power brought down buildings, destroyed countries, created prisons, and lathered itself in the blood and suffering. But if used for good, Cole's power could lay the foundation for liberation and some greater semblance of justice in our country. Cole's power, I was taught, could one day free Brown.
I just didn't buy it.
I loved my job. I loved going to work and I understood the first week of school that it was impossible to teach any student you despised. A teacher's job was to responsibly love the students in front of them. If I was doing my job, I had to find a way to love the wealthy white boys I taught with the same integrity I loved my black students, even if the constitution of that love differed. This wasn't easy because no matter how conscientious, radically curious, or politically active I encouraged Cole to be, teaching wealthy white boys like him meant that I was being paid to really fortify, and make more responsible, Cole's power.
Cole's power insisted that Brown, Grandmama, and me were uber disciplined, useful, thankful and never paid what we were worth. This was one of the ways Cole's power remained Cole's power. A part of my work on the inside at Vassar, truth be told, was to take care of Cole, as our family had taken care of white folks in trouble for decades. In return for this work, I'd get a monthly check, some semblance of security and moral certainty that we were helping white folk be better at being human. This was new to me, but it was old black work, and this old black work, in ways my Mama and Grandmama warned me about, was more than selling out; this old black work was morally side-hustling backward.
This old black work was how we ate, fixed raggedy cars, paid doctor bills, and filled friends' commissaries.
I made good on my promise to bring Brown a new book with a new note every week before they shipped him out to boot camp. Every once in a while, Brown returned the books with notes he'd written on the second pages. Brown said he shared the books and notes with COs and other incarcerated men and they started a reading group. The books didn't take any time off his sentence. They didn't free Brown's imagination. The books gave us more to talk about and feel through when he got out. One of the last notes Brown wrote me before being released was "It's hard to get right when the free folks out there are more trapped than the criminal folks in jail. I just want to be free." I wanted to tell Brown that those of us on the outside were working on getting free. I wanted to tell him that one day I knew he would get free too. But both of those sentences were the heaviest kind of lies we both needed believe. Instead of lying or telling the truth, I told Brown thank you for the note. I asked him if he was able to watch any of the NBA playoffs. I wished him good luck at boot camp.
And I got ready to go back to work. ●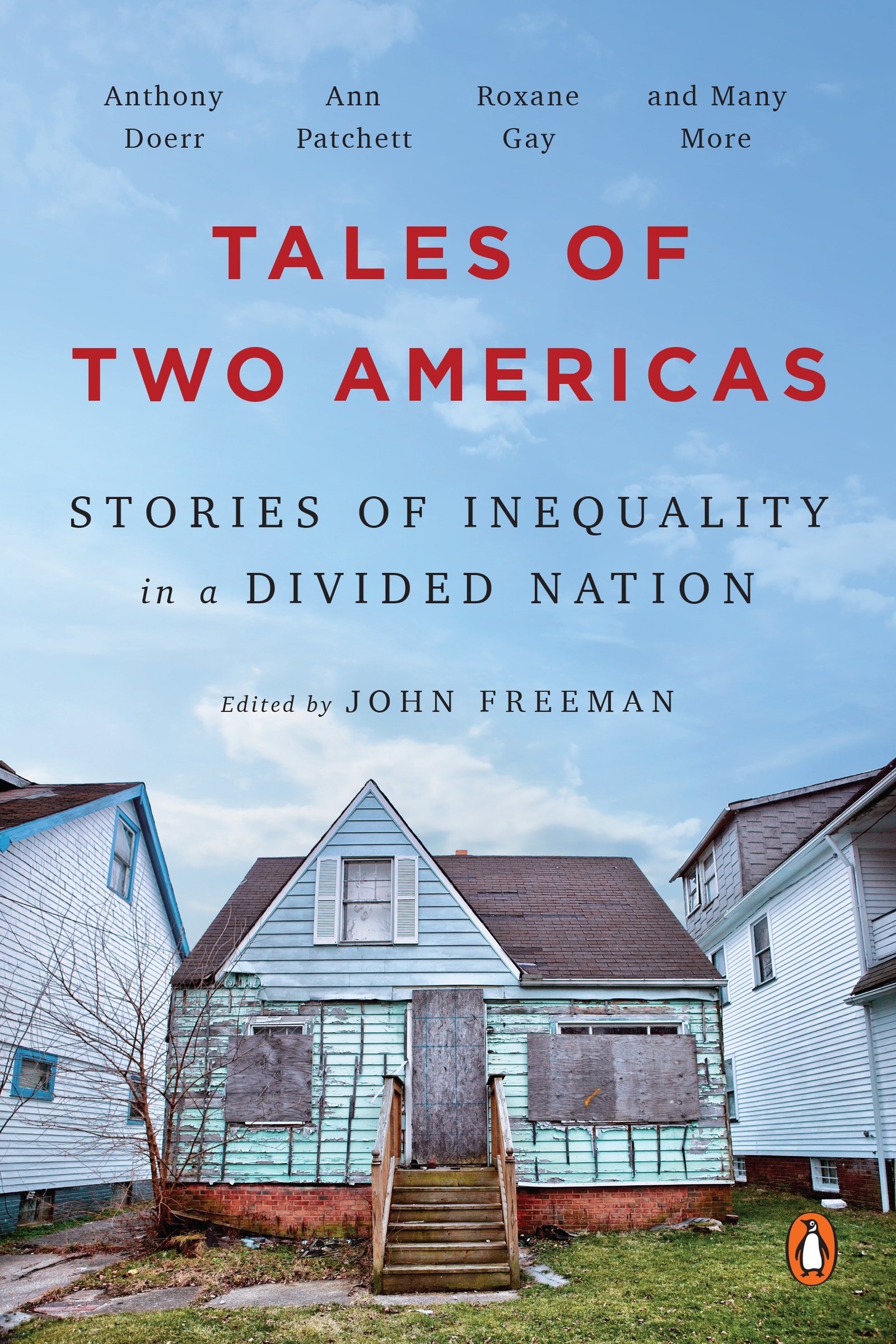 Kiese Laymon is a professor of English and creative writing at the University of Mississippi and Distinguished Visiting Professor of Nonfiction at University of Iowa. He is the author of the novel, Long Division, a book of essays, How to Slowly Kill Yourself and Others in America, and the forthcoming memoir Heavy: An American Memoir.
To learn more about John Freeman's Tales of Two Americas, click here.