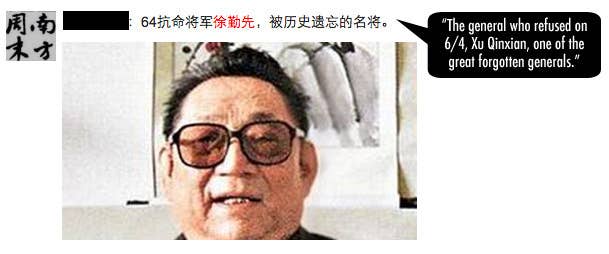 As Chinese netizens mark the 24th anniversary of the Tiananmen Square crackdown, many also celebrate Gen. Xu Qinxian as a voice of conscience in the military.
In 1989, Xu Qinxian refused to lead the 38th Grand Army against protestors in Tiananmen, and was subsequently stripped of party membership and jailed for five years. For two decades, no one knew what happened to him.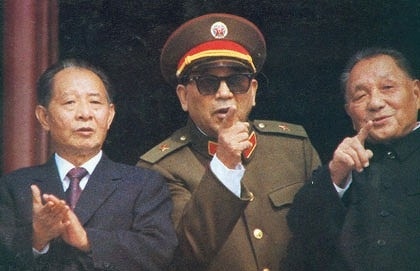 Xu Qinxian joined the 38th Grand Army in 1950, as an underaged enlistee in the Korean War. Officers refused to recruit him until he reportedly bit upon his thumb and signed a petition in blood, according to Deutsche Welle.
Thirty nine years later, Gen. Xu Qinxian, who had been wounded in an accident, watched from his hospital bed as the Tiananman protests unfolded. When his commanders ordered him to lead the 38th division against Beijing protestors, he said he couldn't obey such orders outside of wartime.
In private, he told his friends: "I'd rather be beheaded than become history's criminal."
He was then court-martialed and imprisoned for five years, exiled to Shijiazhuang and banned from entering Beijing.
When faced with court martial, Xu Qianxian said: "The People's Liberation Army has no history of quashing its own people. I refuse to tarnish this history."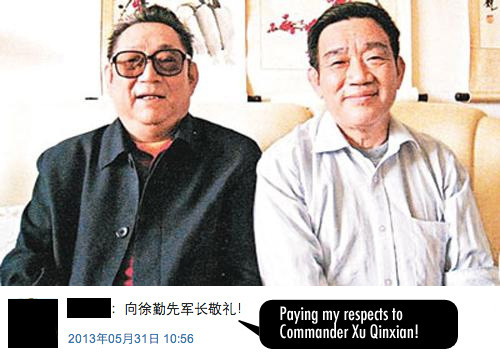 As this documentary shows, many in the army were sympathetic to protestors. Soldiers shook students' hands as they retreated from demonstrations, and the students shouted their support for the People's Liberation Army.
Exiled Beijing University scholar Wu Renhua told Deustche Welle: "Actually many in the army were reluctant to carry out Deng Xiaoping's orders. Aside from Xu Qinxian's famous case, the 28th Beijing Army's commander He Yenran and commissar Zhang Chunming, plus Colonel Zhang Xufeng from the 39th, all resisted orders and suffered punishment as a result."
For two decades, overseas Chinese newspapers speculated that Xu Qinxian had been executed by the military, but Hong Kong's Apple Daily was able to locate him in 2011. In a brief interview with the newspaper, he simply said that travels freely between Shijiazhuang and Beijing, and that he didn't regret his actions.