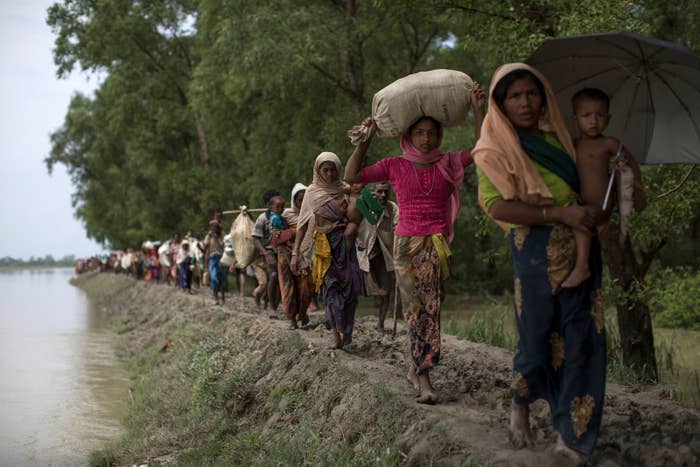 In 2011, I traveled to Myanmar for the first time. I was then Foreign Minister of Australia, and was convinced that engaging Myanmar — a country that had begun unshackling the long and heavy chains of a military dictatorship — would aid in the country's democratic development and economic opening. I then set about seeking to convince other western states that Myanmar was changing, and that there was an opportunity to offer the country our collective hands, our collective assistance, to rejoin the international community. Many joined me in doing just that.
During the recent violence we have seen in Myanmar's Rakhine state toward the Rohingya (and the violence and oppression that has targeted this stateless Muslim group for decades), I have been asked if I now believe that my thoughts back then on Myanmar's prospects for fundamental political and economic change were wrong. My answer is no. Indeed, given the current challenges Myanmar faces, we'd be even more foolish to walk away now.
The atrocities inflicted on the Rohingya are horrific. They must cease immediately. There is no question surrounding that. The Rohingya are seen as illegal immigrants in places they've lived for centuries (Myanmar deems them illegal immigrants from Bangladesh.) Their plight is harrowing and the conditions in which they are forced to live are sub-human. Actions must be taken by Myanmar and its regional neighbors to help build a comprehensive and inclusive solution for the Rohingya.
But in recent news I also see many in the international community placing blame for the treatment of the Rohingya and this spate of violence solely on Myanmar's de facto leader, State Counsellor Aung San Suu Kyi — a Nobel Peace Prize winner for her work on human rights and democracy for which she suffered for decades. This is misguided, misinformed — or at the very least, premature.
This horrible conflict continues to rage, with multiple groups engaged in unspeakable violence against each other. The main victims of all this are the stateless Rohingya who are fleeing the state that refuses to claim them as their own. Some don't survive the journey. Those who do are finding borders closed on the other side.
Myanmar's overall challenge is that it's still in the midst of a fluid and fragile political transition which started less than a decade ago. The country has long been marred by a brutal military dictatorship, a violent and ongoing civil war (that has nothing to do with the Rohingya), and its people are still learning to build peace and overcome mistrust. It is a country that needs to radically strengthen rule of law; increase economic development; and forward the cessation of violence and conflict at the hands of the military, police, armed groups, and insurgents alike. Aung San Suu Kyi has called for all of this and has been laying the groundwork to achieve it, but has confronted continuing opposition from her country's military.
Aung San Suu Kyi is the country's civilian head, but she in not Commander-in-Chief of the military — a military that still has significant grips on the country's institutions, and complete control of all facets of defense, border control, and home affairs. This includes the General Administration Department, which is responsible for the administration of the entire country.
Critically, and many commentators seem to have forgotten this, the generals still have the constitutional authority to take control of the government — a legal coup — should they feel that order needs to be restored.
While there is plenty of blame to place on the military for the current situation in Rakhine state, Suu Kyi is the only one seeking to walk a tightrope, between providing a positive way forward for the Rohingya on the one hand, while not providing the military the pretext for ending Myanmar's fledgling democracy on the other. The consequence of a stumble could be catastrophic for all. Her moves must be thoughtful and calibrated. This doesn't give her carte blanche to turn her head from this tragedy. But she must find a political way through an almost impossible dilemma.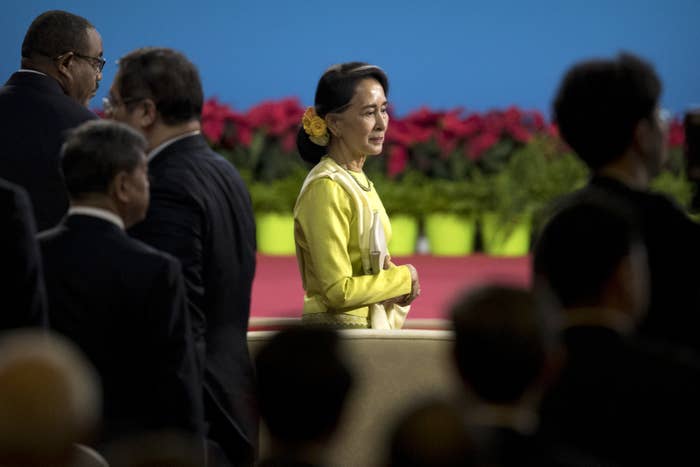 Last year she created the Advisory Commission on Rakhine State, chaired by former United Nations Secretary-General Kofi Annan, with the objective of improving the lives of all in Rakhine. Annan says that Suu Kyi asked the Commission to "be bold" in their proposals. This final report was released the day before an insurgent group attacked Myanmar's border guard posts. The report calls for freedom of movement, for communal participation and representation, for a comprehensive strategy for the closure of internally displaced person camps, for inter-communal cohesion efforts to be intertwined with vocational training and cultural events, for the professionalization of police, for improved bilateral relations with neighboring Bangladesh, and for the creation of a mechanism to implement the Commission's recommendations. The report also recommends steps toward fostering reconciliation between all in Rakhine state, to address the deep-seated, centuries-old mistrust that cannot easily be waged away.
Indeed so deep are these sensitivities that even the Annan Commission's report doesn't use the word "Rohingya," a term not accepted by most in Myanmar. The Commission's recommendations are intelligent, balanced and practical—and would pave a much better way forward for the Rohingya's future in Myanmar.
Aung San Suu Kyi has fully embraced the recommendations, and has begun creating these mechanisms for implementation. But she needs the domestic political capital, the courage of her own humanitarian convictions, and critically, the active cooperation of her own military to continue to succeed. She needs the military and police to professionalize and work to contain and not inflame the violence. She must publicly recognize the horrific realities that are happening on the ground in Rakhine state. She must give voice to them, investigate them, and take all necessary means to prevent their repeat. She would also be wise to invite further assistance from the United Nations, and other multilateral and humanitarian agencies to alleviate the immediate suffering of the Rohingya, and to help with the implementation of the Annan Commission's recommendations.
Myanmar has a long road ahead. Suu Kyi has a lot of work to do to help pave a way forward toward peace, prosperity, and inclusion in her country. But the bottom line is the plight of the Rohingya, and of the 50 million other people in Myanmar, will likely not improve if we care more about censuring and abandoning the only democratic government the country has had in half a century. The way to peace, justice, and human rights will come through democratic rule of law, and not a return to military rule.
- Kevin Rudd is the 26th Prime Minister (2007-2010; 2013) and former Foreign Minister (2010-2012) of Australia. He is the inaugural President of the Asia Society Policy Institute, headquartered in New York.
- Janelle Saffin is an international legal and governance expert, lawyer and teacher, human rights advocate, and former MP in the Australian Parliament. She was The Hon. Kevin Rudd's Special Adviser on Myanmar during his terms in office.