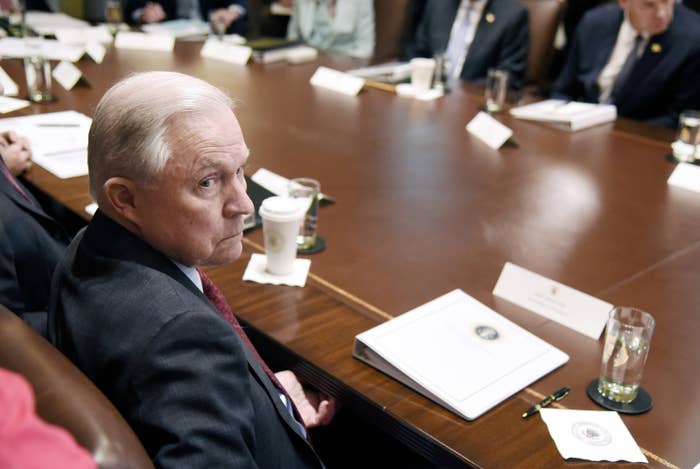 The Justice Department says it is investigating social media companies' alleged political bias amid claims from President Trump and other conservatives that social media is unfair to them.

Referring to Facebook and Twitter, the Justice Department on Wednesday announced that Attorney General Jeff Sessions "has convened a meeting with a number of state attorneys general this month to discuss a growing concern that these companies may be hurting competition and intentionally stifling the free exchange of ideas on their platforms."
The move immediately prompted free speech concerns.
"There has been no allegation that the social media companies have violated the law in handling the speech on their platforms, and thus no apparent reason for the DOJ to become involved. The DOJ's intervention here appears to be an attack on free speech, not a defense of it," said Alex Abdo, a senior staff attorney Columbia University's Knight First Amendment Institute.

The Justice Department declined to elaborate on which laws the companies may have broken or how they were stifling an exchange of ideas. Several state attorneys general declined to say if they were attending the meeting, which sources said was scheduled for Sept. 25.
Companies such as Facebook and Twitter are behemoths in social media, which exposes them to potential claims that they hold a monopoly on particular forms of communication. They've also had difficulty explaining the automated methods they use to monitor the activities of users who threaten violence or spread conspiracy theories, opening them to accusations of bias.
"It's interesting they finally pulled the trigger," Chris Meserole, a Brookings fellow who studies technology and US domestic and foreign policy, said of the Justice Department announcement. "I think the biggest point of vulnerability on social media platforms is anti-competitive behavior."
"To me, it always seemed this is the way it would play out is for folks who disagree with the way the tech platforms are targeting the alt-right in particular or folks like Alex Jones," Meserole said, referring to the far-right conspiracy theorist behind Infowars, a site recently banned by Apple, Facebook, and Google's YouTube, though it still lives on Twitter.
"The leverage they have to get back on them is on they're effectively a monopoly in control of online communication," Mersole said.
Wednesday's announcement came amid a flurry of claims that social media algorithms were fundamentally unfair to conservative users.
Many of those claims stemmed from a July story from Vice News that noted that some prominent Republican users' names did not auto-populate when typed into the search bar. Twitter said that wasn't an intentional attempt to hide conservatives, and that it was an algorithmic decision that makes it less intuitive to find users "who intend to manipulate or divide the conversation."
Vice called this act a "shadow ban," a term that previously referred to a punishment sites used that made a user's comments invisible to others. The phrase has since been adopted by conservatives who use Vice's definition.
Twitter said Democrats were affected as well, though it's declined to name them, and the site no longer lets followers' activity determine if a user's popularity affects whether they'll show up in the search bar.
But that hasn't stopped some conservatives, a number of whom raised the issue of political bias on social media sites Wednesday.
Testifying before the House Energy and Commerce Committee about possible bias at his company after being invited by House Majority Leader Kevin McCarthy, Twitter CEO Jack Dorsey repeatedly insisted Twitter does not intentionally censor conservative voices.
Also on Wednesday, the conservative news site the Daily Caller published an excerpt of its recent interview with President Trump, focusing on the topic. "I mean the true interference in the last election was that — if you look at all, virtually all of those companies are super-liberal companies in favor of Hillary Clinton," Trump told the site.
During a break in a Senate Intelligence hearing on Facebook and Twitter — a hearing at which political bias wasn't brought up — Infowars founder and conspiracy theorist Alex Jones confronted Florida Sen. Marco Rubio, calling him "a snake" and claiming, "Big tech companies are purging conservatives. They're shadow-banning people en masse."
"What about the Democrats purging conservatives?" Jones said during the confrontation. "He's not answering. Republicans are acting like it isn't happening. Thank god Trump is."

"I just don't know who you are, man," Rubio said.
"Infowars dot com," Jones replied. "That's why you didn't get elected, you're snake-like. Marco Rubio, the snake."