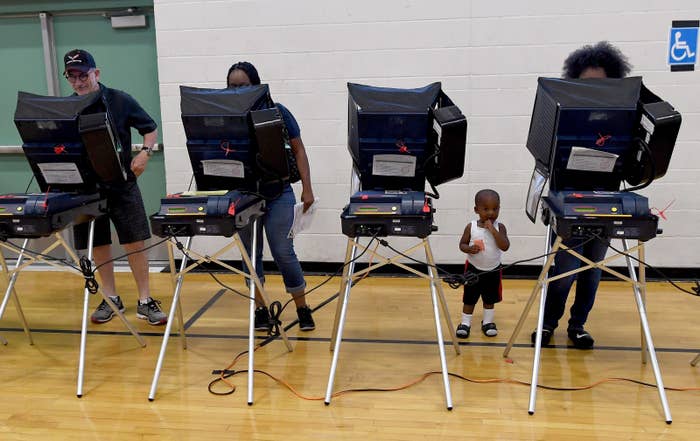 Despite Congress's agreement last week to spend $380 million to help states replace voting machines that don't produce a paper trail, it's likely that tens of thousands of voters will cast their ballots in this year's midterm elections on outdated equipment that the Department of Homeland Security has called a "national security concern."
That's because the newly approved money will be allocated to all 50 states instead of just those that have the greatest need to replace voting machines.
Thirteen states use voting machines that can't be audited because they don't produce a paper trail to check against the machine's electronic tabulations. Of those, only two would receive enough funding under the recent appropriation to replace all their machines; the rest could replace only a fraction of what they need.
For example, the funding would cover less than half the cost of what it would take for Pennsylvania — a state whose results were critical to the outcome of the 2016 presidential race — to replace all of its outdated machines.
The impact of the old machines became clear when Republican Rick Saccone conceded the special election for Pennsylvania's 18th Congressional District, which Democrat Conor Lamb won by fewer than 800 votes, without asking for a recount. The counties that make up the district, like 83% of Pennsylvania, use paperless machines exclusively, meaning there was only a small number of absentee ballots to recount.
Other states where the new funding would meet less than half their needs include Indiana, Georgia, and Mississippi, according to a study by the Brennan Center and Verified Voting, a nonprofit that studies voting machines in the US. For Kansas, Texas, Tennessee, and Kentucky, it would cover some, but not all costs, the study said.
In South Carolina, where no voting machine produces a paper trail, the money would come nowhere near replacing all the equipment in the state — something the state insists is necessary to maintain uniform voting standards. That means the state will not buy any new machines until it has the money to replace all machines. The new federal funding would cover less than half the cost.
"The State Election Commission has been seeking state funding to replace the statewide system for a number of years," Chris Whitmire, the director of public information for South Carolina's election commission, told BuzzFeed News. "We welcome any amount of federal funding, but I believe it is safe to say that the funding will not be sufficient to replace the statewide system."
Based on previous sales records, Verified Voting estimates that it costs between $6,200 and $10,000 to replace all the machines in a precinct. With every state having thousands of precincts, the expenditure is enormous. The money from the omnibus bill would cover only 15% to 24% of the costs for replacing machines in all of Louisiana's 3,904 precincts and New Jersey's 6,385 precincts.
Already, the senators who pressed for the funding to be included in the spending bill, Democrat Amy Klobuchar of Minnesota and Republican James Lankford of Oklahoma, have introduced new legislation to set aside another $386 million.

"We made progress by securing $380 million in funding, but it's not enough," Klobuchar said in a statement. "There are 227 days until the next federal election and primaries have already begun."

In states that already have machines that generate a paper trail, officials were grateful for the infusion of federal money, which they'll receive through the Election Assistance Commission, which distributes funding evenly across the country through a formula established by 2002's Help America Vote Act. "Everyone's going to get something," EAC commissioner Thomas Hicks told BuzzFeed News.
That's good news in West Virginia, which already exclusively uses machines that create a paper trail.
"This is the type of thing that's going to be well received by the states, because we all have upgrades we can make, layers of security we can add," Mac Warner, West Virginia's secretary of state, told BuzzFeed News. "It's not just lip service, it's actually dollars behind words."
Paperless voting machines have long been a particular concern for security experts. While there are no documented cases of a US voting machine being hacked during an election, researchers have repeatedly shown a capacity to do so in a closed environment. So the single best way to mitigate security risks, they say, is to make sure they can meaningfully audit an election's result.
The issue has recently caught Washington's attention. In the days before the omnibus bill was approved, the Senate Intelligence Committee released a six-step plan to secure US elections. "At a minimum, any machine purchased going forward should have a voter-verified paper trail," it said.

In a subsequent hearing, Oregon Senator Ron Wyden said that "our country needs baseline, mandatory federal election security standards, and what I'm talking about here are paper ballots and post-election, risk-limiting audits."
"If there's no way to audit the election, that is absolutely a national security concern," said Homeland Security Secretary Kirstjen Nielsen.