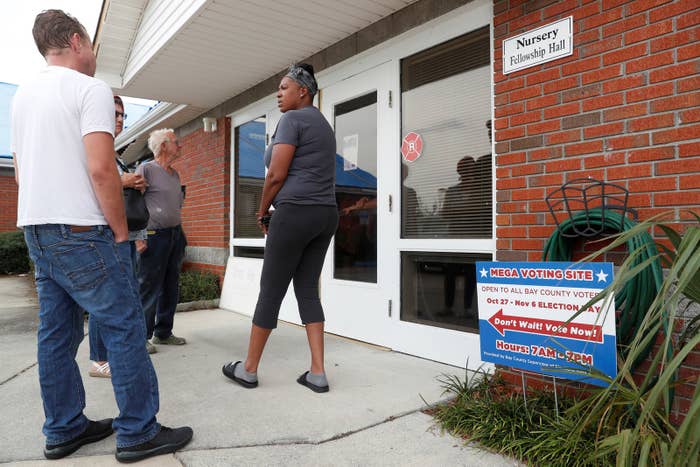 Residents are confused and have had difficulties voting in Panama City, Florida, where black neighborhoods don't have a local polling place open on Election Day, civil rights groups say.
Voting in general has been disrupted in Bay County, where Panama City is the county seat and largest urban area. The county was hit hard by Hurricane Michael and subsequently closed all its standard polling places in favor of six ad hoc "mega voting sites" where any county resident can vote.
Three of those sites are scattered around other parts of the county, and three are in Panama City, though the NAACP says all three of the latter are in primarily white neighborhoods. According to the 2010 census, 22% of the city is black.

The NAACP requested that the county open a seventh mega voting site in a part of town more accessible to black voters. Instead, it opened up a "mini mega" site at the Glenwood Community Center, the NAACP's requested spot, but that was only open Monday as early voting took place, and then closed on Election Day.
The county provides buses that take people from some parts of town to a mega voting site. But those operate only from 10 a.m. to 5 p.m., significantly reduced hours compared to most polling places.
Voters have complained about the lack of communication about how and where to vote, as well as a fear that they'd get stuck in line at a mega voting site and not catch the last bus home, said Adora Obi Nweze, president of the Florida chapter of the NAACP.
"There's not been a whole lot of explanation," Nweze told BuzzFeed News.
"We don't have a voting site present within the black community," Dinah Crayton, the first vice president for the Bay County branch of the NAACP, told BuzzFeed News. "Because of the hurricane, a lot of people have lost their cars, they've lost their jobs, and they lack the funds to put gas into their cars."
Bay County officials didn't return requests for comment.