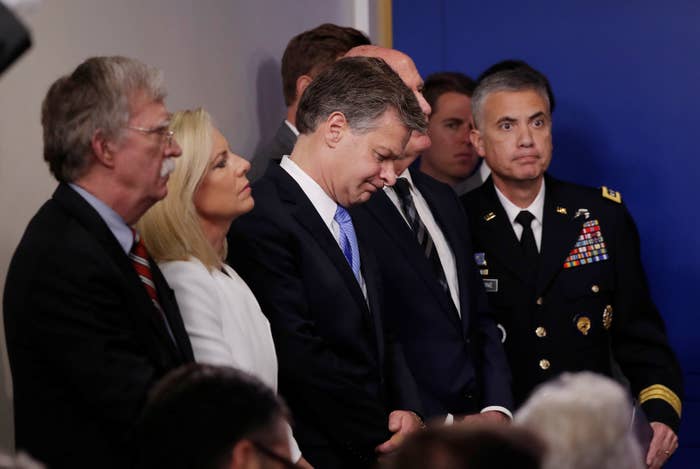 On Thursday, the White House convened a press conference with its top intelligence officials to present, for the first time since Trump took office in January 2017, a united stance on election security.
But while the heads of the FBI, the Department of Homeland Security, and the National Security Agency each presented a promise that they had clear jurisdiction for securing certain elements of the US election process, the news conference made one thing clear: There remains no single, overarching coordinator of US election security.
"In a normal White House, there would be a point person at the White House, on the National Security Council, to coordinate all the different agencies and to work with the states and the social media companies to make sure our democracy isn't so vulnerable to attack," Sen. Mark Warner of Virginia, the vice chair of the Senate Intelligence Committee, told BuzzFeed News.
"Today's display, while intended to reassure the American people that the White House is on top of this problem, instead to me emphasized that there isn't any one person in charge, and that there is apparently still no formal process for interagency coordination to address this threat," he said.
In March, President Trump hired John Bolton to head the NSC. Bolton reportedly clashed with his cybersecurity coordinator, Rob Joyce, causing Joyce to leave for the NSA the following month. Bolton then controversially eliminated the position entirely.
"For almost any cybersecurity-related issue, the federal government is most effective when it brings all of its capabilities to bear in a coordinated fashion," Michael Daniel, who served as NSC cybersecurity coordinator during President Obama's second term, told BuzzFeed News. "If agencies are not working together, then at best the government's response will be weaker than it could be and at worst agency actions could actually interfere with each other."
In a letter released Thursday responding to five Democratic senators' request for White House commitment to election security, Bolton made no mention of an overarching coordination of election security, though he mentioned the NSC has held two meetings on the subject. "As you know, elections are administered by states and localities, and the federal government's appropriate role is one of supporting their efforts," Bolton wrote.
Each of the agencies has been clear about their roles, if not always forthcoming about specifics, when it comes to protecting elections. The FBI manages a Foreign Influence Task Force, which director Christopher Wray said at the press conference is set to counter a range of activities, including planting fake news stories and engaging in illegal campaign finance operations.
DHS takes the lead on protecting election infrastructure, such as aiding states on protecting voter registration databases. And while the NSA and Cyber Command's actions are more shrouded in secrecy, the agencies' director, Lt. Gen. Paul Nakasone, said Tuesday, "My guidance and the direction from the president's secretary of defense is very clear: We're not going to accept meddling in the elections, and it's very unambiguous."
But despite those agencies' efforts, no one was the clear commander of the briefing. That reflects that no one is responsible for coordinating the agencies' widely divergent responsibilities.
Warner said the lack of an official clearly identified as responsible for coordination could lead to an inability to respond to a multifaceted threat in November, Warner said.
"We're just three months away from Election Day, and we still don't have a whole-of-government strategy for dealing with this problem," Warner said.
The White House did not respond to a request for comment.