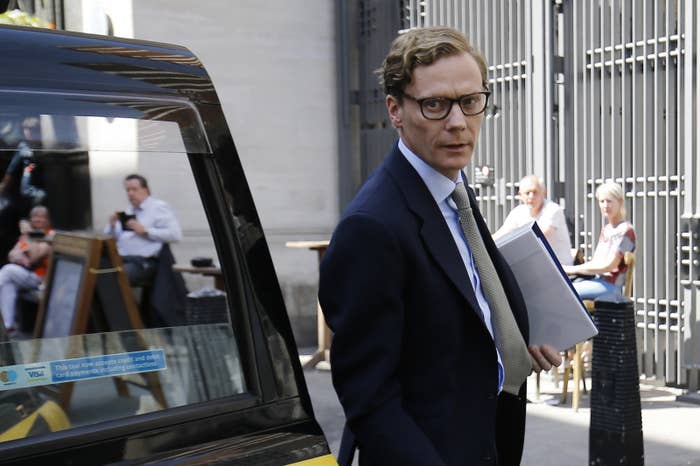 In its waning days, Cambridge Analytica tried to spin itself off into a company that would perform "government work" in the US, former chair Julian Wheatland said Thursday.
Speaking under oath in a federal bankruptcy court meeting in Manhattan on Thursday, Wheatland testified that the company, Anaxi Solutions, was created as a subsidiary of Cambridge Analytica, a political consulting firm that worked on President Donald Trump's election campaign. It operated out of offices in Arlington, Virginia, and was staffed with employees paid by Cambridge Analytica's parent company, SCL Group.
Earlier this month, Cambridge Analytica, SCL Group, and other affiliated companies began bankruptcy proceedings in the United Kingdom and the US, following intense scrutiny over revelations that the political consulting firm had misappropriated Facebook user data and used it for political clients. Those revelations, first reported by the Observer and the New York Times in March, set off a firestorm around user data and privacy, triggering apologies from Facebook, public appearances by its CEO Mark Zuckerberg, and backlash from governments and citizens on both sides of the Atlantic.
Cambridge Analytica has not been able to weather that storm of public sentiment. It lost most of its commercial clients, according to two sources familiar with the situation, and it filed for Chapter 7 bankruptcy last month. The company, which was majority controlled by the family of Republican donor Robert Mercer, has flatly denied using any of the illicitly obtained Facebook user data on the Trump campaign.
Anaxi, which, according to court filings, was founded in April 2017 to provide "data analytics and communication services to government departments," never saw much success. It was still in the early stages of marketing its services to potential clients when it was seized in bankruptcy proceedings. Starting such a company requires creating a "pipeline of opportunity," Wheatland said Thursday, noting that it would have taken about 18 months of relationship-building before it would have started to get contracts.
It wasn't clear exactly what kind of government work Anaxi was hoping to perform. An attorney representing Wheatland declined BuzzFeed News' request for comment.
Anaxi lasted about a year until it was merged with most of SCL's other companies and seized by the US government in April. Beyond Anaxi, the company's previous bankruptcy filings showed that executives, including former Cambridge Analytica CEO Alexander Nix and funder Rebekah Mercer, had been involved in creating another company called Emerdata, which was registered in August 2017. Nigel Oakes, the founder of SCL Group, previously told Bloomberg News that Emerdata had been created to acquire Cambridge Analytica and SCL and put them under one name. That plan is no longer being pursued.
Cambridge Analytica also faces a Justice Department investigation, first reported last month by the New York Times and confirmed by a source to BuzzFeed News who called it preliminary and exploratory, as well as investigations by the offices of the Massachusetts and New York attorneys general.