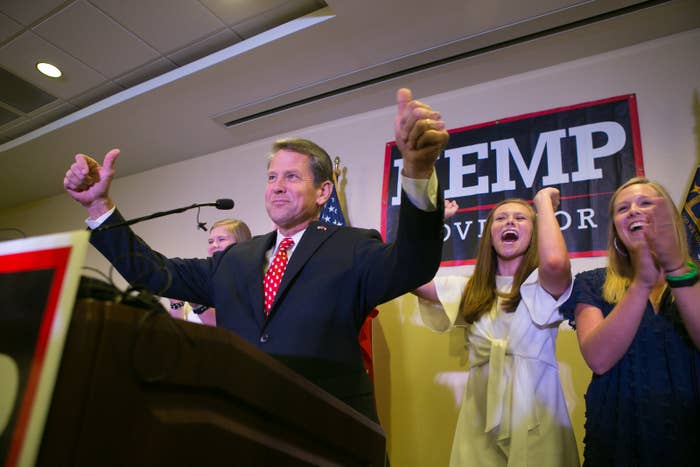 Georgia Secretary of State Brian Kemp, the Republican candidate for governor who in 2016 wrongly claimed the Obama administration had tried to hack him, says he's investigating state Democrats for trying to hack him Saturday night.
Two days before the election, and without citing any evidence, Kemp's office announced Sunday morning that Democrats had engaged in a "failed attempt to hack the state's voter registration system," and quoted press secretary Candice Broce as saying "the Democratic Party of Georgia is under investigation for possible cyber crimes."
Kemp has drawn criticism, including from former president Jimmy Carter, for using his office in ways that could benefit his race against Democrat Stacey Abrams, with whom he's locked in a tight race.
The new hacking claims echo ones Kemp made in the aftermath of the 2016 election, in which he accused the Department of Homeland Security of making "an unsuccessful attempt to penetrate the Georgia Secretary of State's firewall."

That accusation prompted an Inspector General's investigation, which found that what Kemp thought was a DHS hacker was actually an employee of the Federal Law Enforcement Training Center who was checking Georgia's firearms license database.
"It was an accusation built on a lack of understanding of how the internet works. We gave them lots of evidence to explain why they were wrong, including feedback from Microsoft," Neil Jenkins, a senior DHS official at the time, told BuzzFeed News.
Kemp later thanked "president Trump's leadership" for resolving the matter. His office didn't immediately answer a request for evidence of the attempted hack.
Democrats have strongly denied the accusation.

"Brian Kemp's scurrilous claims are 100 percent false, and this so-called investigation was unknown to the Democratic Party of Georgia until a campaign operative in Kemp's official office released a statement this morning," Georgia Democratic Party executive director Rebecca DeHart said in an emailed statement.