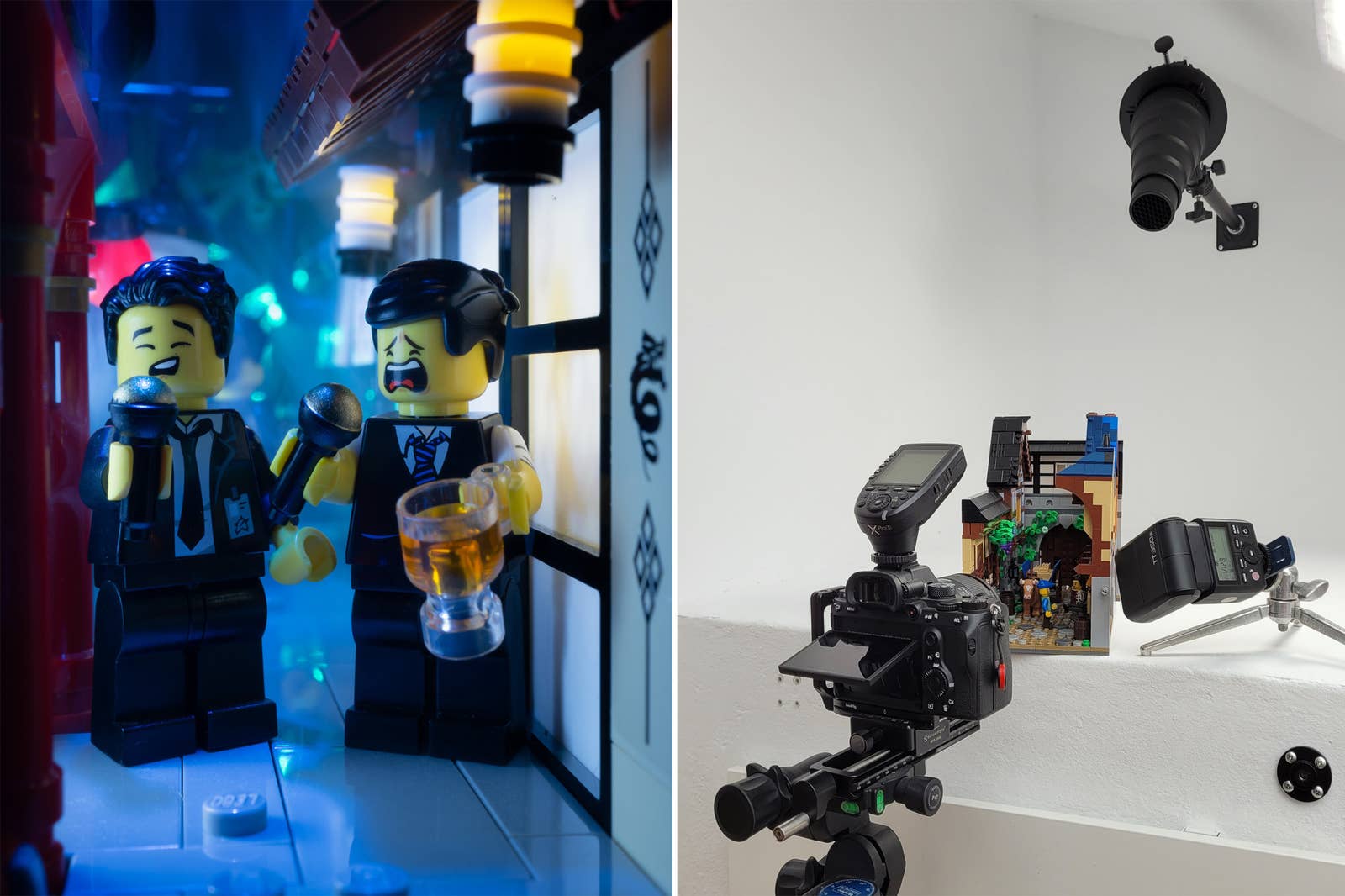 Legos, the much-loved plastic toys that you construct with, are instantly recognizable around the world. With no signs of slowing down, the Danish company reported a 17% increase in sales during the first half of 2022 alone, partly due to partnerships with movie franchises such as Star Wars and Harry Potter. Though Lego sets have become more intricate, one foundation is still a key component: the Lego brick. But how did the current form of the brick come to be?
Prior to 1958, Lego had a previous version of its beloved interlocking brick. Earlier versions of the brick in the 1930s and '40s were made of cellulose acetate, but this had limitations regarding construction and durability. After taking five years to find sturdier components to make the Lego brick, the company settled on an ABS (acrylonitrile butadiene styrene) polymer, a nontoxic plastic that is easy to mold and sturdy in its final form. On Jan. 28, 1958, Godtfred Kirk Christiansen, managing director of the Lego Group and son of Lego founder Ole Kirk Christiansen, filed a patent application in Denmark for what we know today as the modern Lego brick. Filing the one patent would prove to be a pivotal moment for the company, leading to a seemingly infinite amount of Lego sets for decades to come.
To celebrate what is known to many fans as International Lego Day, BuzzFeed News spoke with Anna Bitanga, who is an official Lego community ambassador and photographer.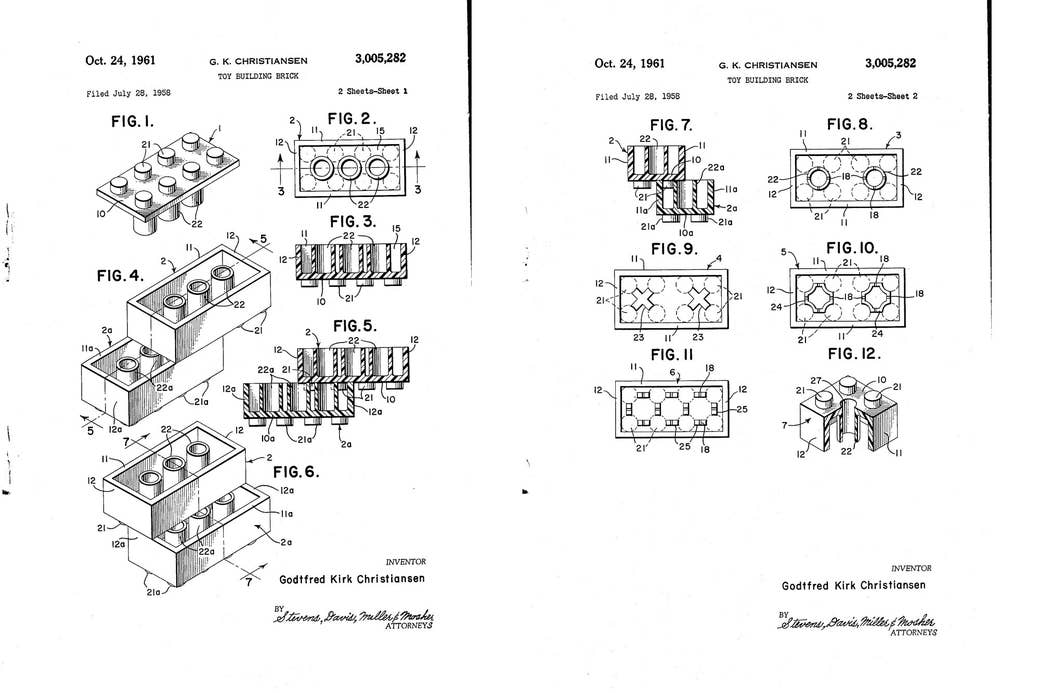 How did you get into photographing Legos?
I started shooting Lego minifigures as a way to keep taking photos creatively while I was busy raising a 2-year-old. I think it was around 2013. I'd seen an article about how a landscape photographer took photos of his Lego photographer minifig with his phone as part of a 365-day project, and that brought me right back into the Lego hobby. I took the same idea but with a different purpose: to keep shooting portraits when I didn't really have the time for photography. Faced with a choice between a bulky diaper bag and a bulky camera bag, I went for the baby wipes. But I could easily slip my phone and a minifigure in my pocket and take quick shots of that little plastic toy while my kid played in the park.
How did you get involved with the company?
I started sharing my photos on Twitter and Tumblr, and found a few people who were also shooting Lego minifigures and models artistically. I found even more people on Instagram and stumbled onto a Lego photography shoutout account there called BrickCentral. After a few years of being in the Lego photography community, I took over BrickCentral in 2019.
The Lego Group has a program called the Lego Ambassador Network, which allows the company to work with Lego fan communities. I thought BrickCentral would be a good fit, so I applied to join and we were accepted. So I became the Lego community ambassador for BrickCentral.
Did you grow up playing with Legos as a child?
I loved Lego as a child! My favorite theme was space. My brother and I both loved building with Lego bricks: I was more of a collector and he was a My Own Creation (MOC) builder. My parents bought us the same sets so we could do both things...or not fight. Maybe it was the latter.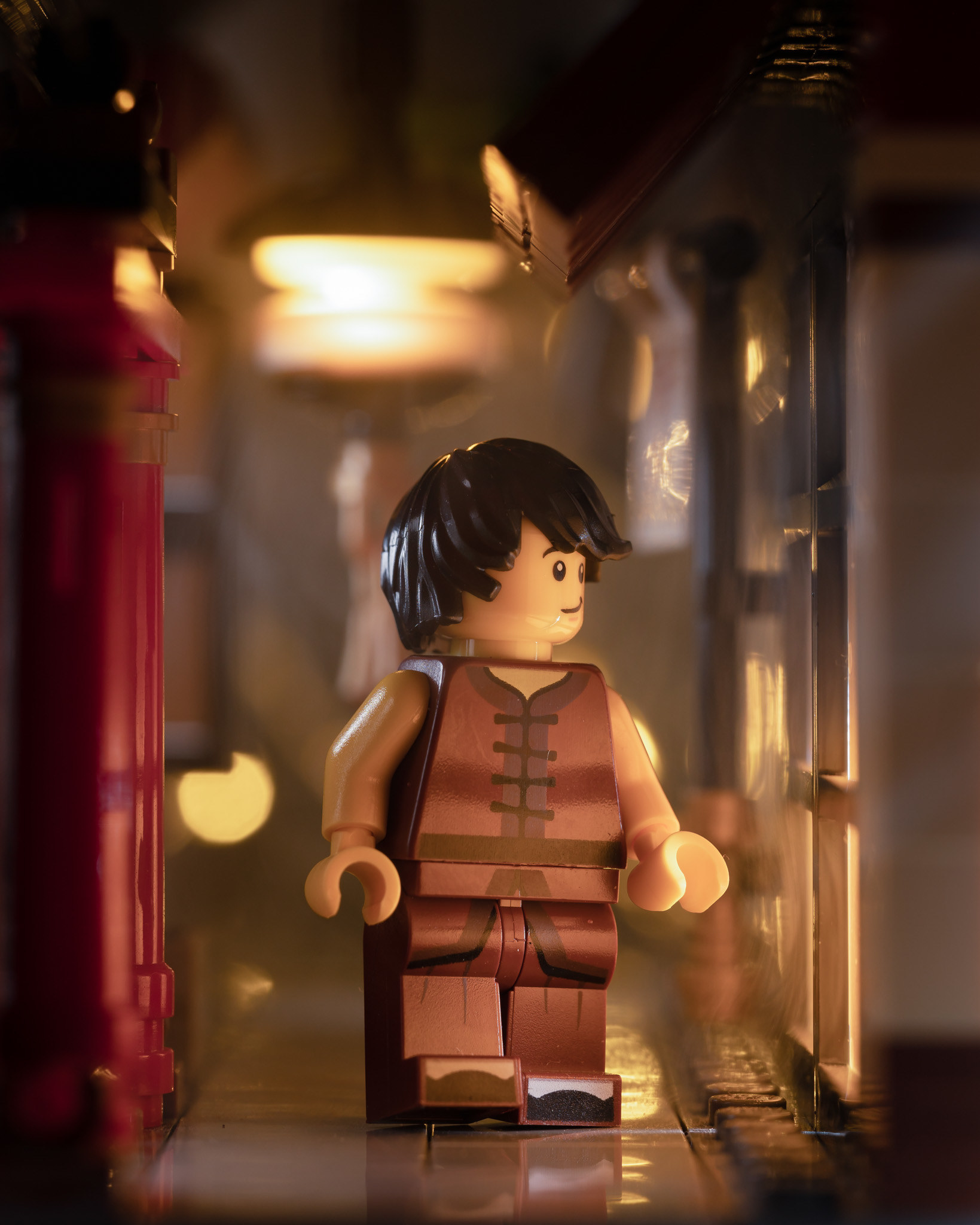 What have you learned from photographing Legos? What joy does it bring to you?
Photographing Lego toys is a lot of fun. I get to play twice: build a set and then take photos of it. I love to get into a zone when I'm just building, whether that's an official set from instructions or free-building with a loose idea in mind. I'm already imagining what photos I'll be taking of the model while I'm building it, or I start changing things in the models so I can create opportunities for lighting or camera angles. It's such good fun to try to figure out ways to bring details of a model out or bring a minifigure to life. The whole process is kind of like a puzzle sometimes, and I happen to love puzzles.
Are there ever challenges when shooting the Lego scenes?
Shooting Lego toys can be really challenging because of the highly reflective and largely planar surfaces. Glare is a big problem. Lighting and getting close can be tough too because of the tiny scale of the buildings and how tight the interiors are — if they're minifigure-scale, that is. I often have to take models apart or use more specialized gear like macro lenses with different focal lengths to get a decent composition.
Taking a large Lego set outdoors to shoot in a natural environment can be a chore. I have a huge Ikea bag reinforced with Lego delivery boxes to keep the sides from falling in and to keep the base level. I don't want my Lego set to fall apart or slide around while I'm heading to a location. The last thing I want to see is a few loose bricks at the bottom of the bag. Where did these come from?!
I sometimes get weird looks from people when I'm out with my Lego — I suppose it's unusual to see someone walking through a forest awkwardly lugging a big blue Ikea bag. I've also appeared in lots of tourist photos around New York. Someone will be curious what I'm doing, see the Lego, and then start taking pictures of me taking pictures of Lego.
Taking minifigures outdoors for photos is much easier, so that's the most common kind of Lego photography. But they are super light and topple over very easily if the slightest breeze blows. Minifigures can be tricky to pose and need extra supports like wires or pins to keep them steady on uneven ground. Using supports often means having to edit them out in Photoshop later, unless you can hide them with perspective.
The last big challenge for me is having to crouch down for the entire photo shoot. It can be really uncomfortable, even though I have an articulating screen. I tend to shoot at ground level, so I'm always hunched over, making sure I have precise focus on these tiny subjects while not casting my shadow on them.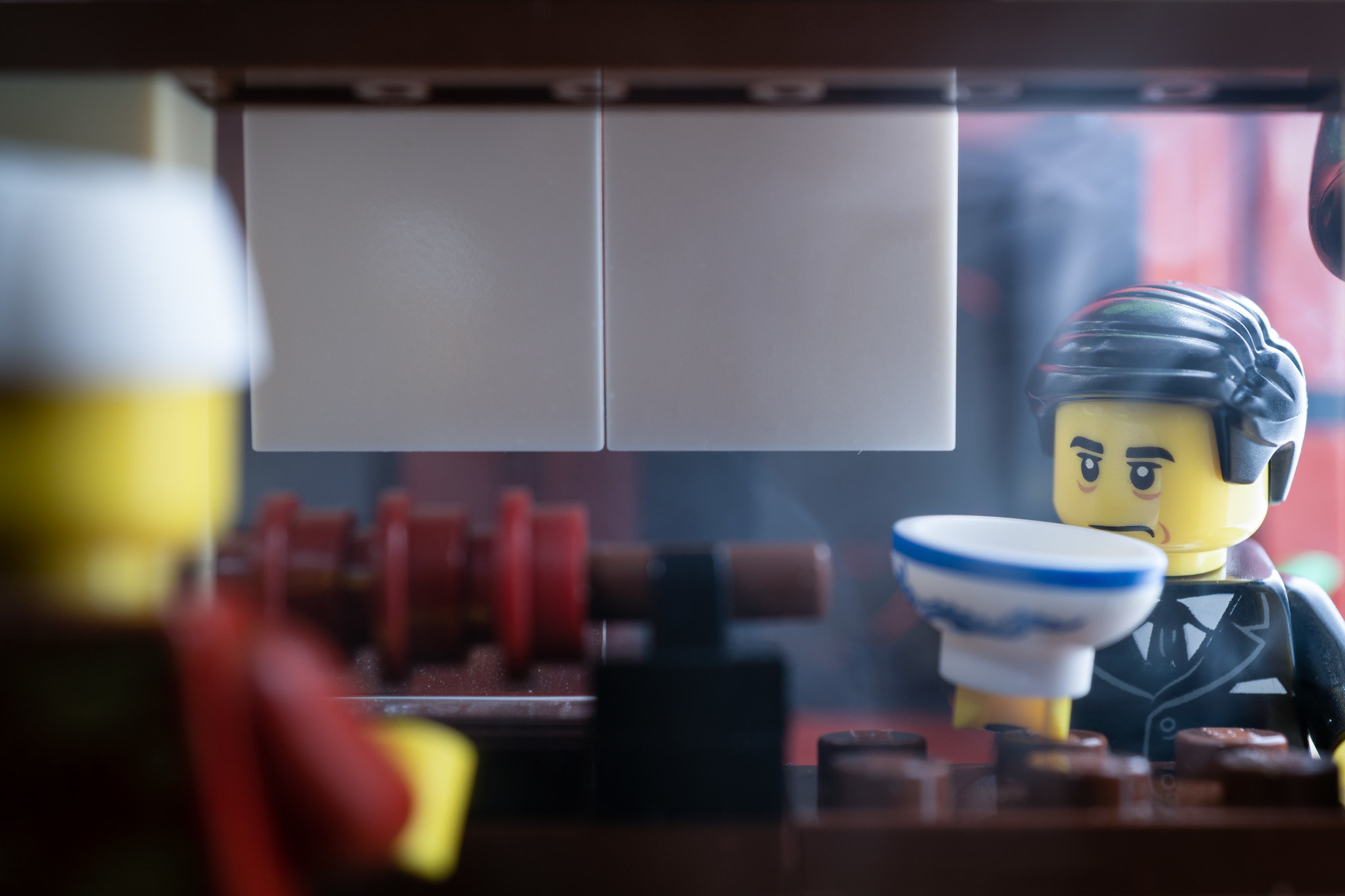 How long does it usually take to make a scene?
It can take me an hour just to make my custom character. I have drawers of parts and I love to just try different combinations of heads, torsos, legs, and accessories.
If it's an official set, the build time is as long as it takes to get it assembled. The longest I've spent building an official set was maybe 9-12 hours, but those sets are big like Lion Knights' Castle.
If I'm making a MOC, that takes me weeks. I'm not a very talented builder and I don't usually have all the parts I need for my plan, so I need to improvise or order online. I've tried building digitally a few times, but the model tends to get away from me since I have access to infinite parts.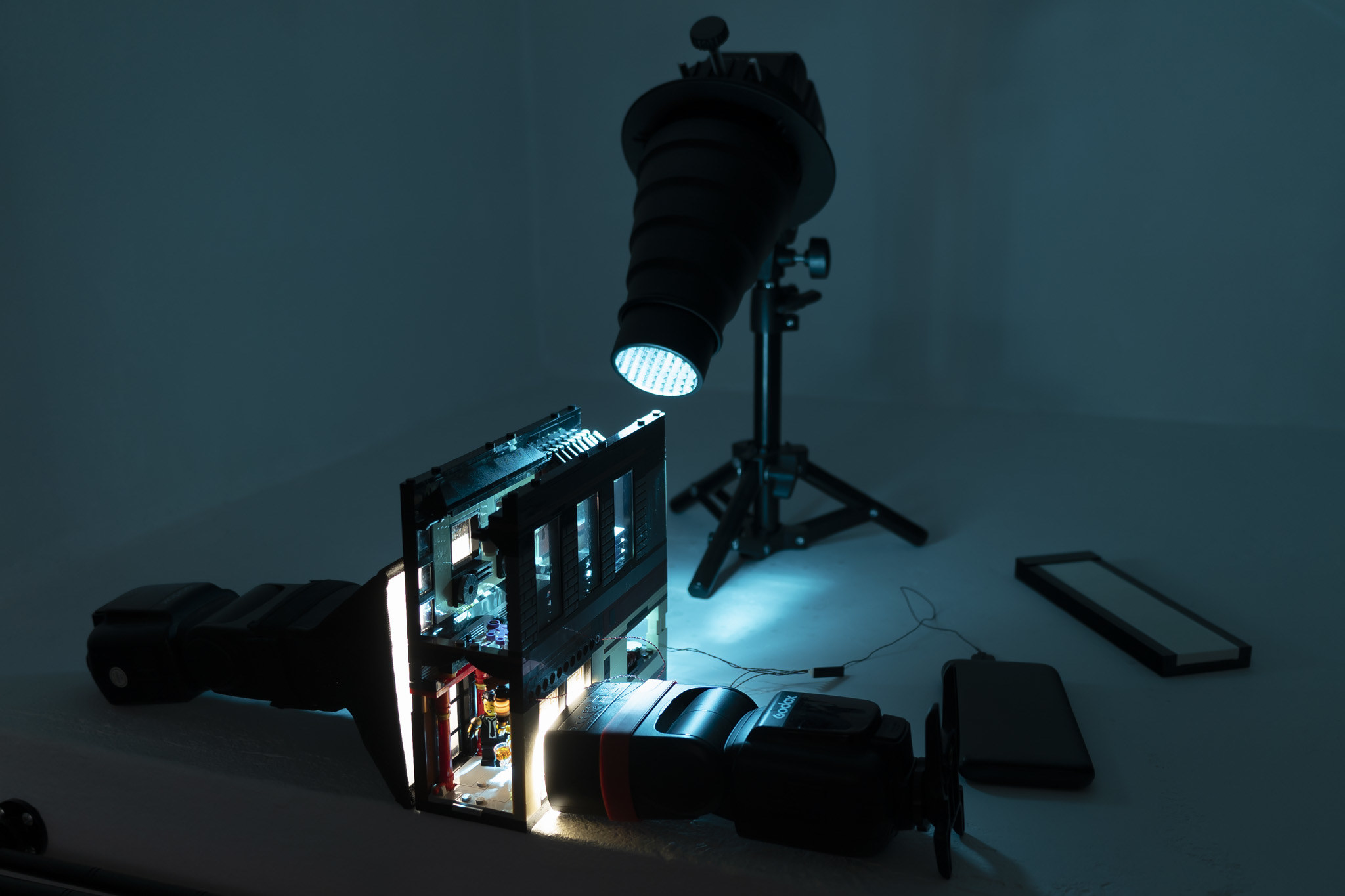 Are these sets you're making off the top of your head, or are they scenes from Lego? Are there building instructions like normal Lego sets?
My MOCs are usually a result of me wanting to free up more space in a Lego bricks bin: "Oh, I can't close this white bricks bin anymore. What can I build that will use up a lot of that color?" That's probably not the typical approach, but it works for me.
I'm just digging through the bins to see what I can use, so I don't have instructions. I wanted to make instructions for this medieval alley MOC I made, which I started physically (to use up bricks in another overflowing bin of light bluish gray) and then recreated digitally with Lego's digital builder called Stud.io. I don't have a lot of experience in the software, though, and I find it distracts me a lot. It also makes my wish list bloat.
One day, I'll learn how to make instructions, but I have to set aside time to learn how to do it, and right now, it's not a priority. Especially since all my file names are galens-row-final-final-final-v3.io.
How do you decide which scene you're photographing?
Most of my photos are focused on a character — ideally, one that I've created. New muses and interesting minifigures always get me pumped to shoot. I think about where this character might be found and when: indoors or outdoors, in the forest or underwater, in the morning or late at night, and so on. Then I'll decide what I need to build or bring with me to support the concept.
How long does it usually take to photograph a scene? What equipment are you using?
I take photos indoors and outdoors from simple minifig portraits to complicated interior shots, so the time and effort I spend on a photo can be anywhere between 20 minutes and three hours. I usually shoot with either my Sony a6500 or a7iii with a macro lens and CPL filter. I have a bunch of macro lenses, but I tend to shoot with a 30mm or 40mm to get more of the environment in the frame.
I lean more on flash for lighting, even when I'm outdoors during the day. I can't always get the sunlight I want where I want it to be because of trees blocking it or clouds passing, so I take a little flash attached to a selfie stick. It's my sun-on-a-stick.
Artistically, I like to backlight my models and create shadows in my Lego photos too, and flash helps me do that. I like to bring out the form rather than flatten everything.
What would you like people to take away from your Lego scenes?
I would like people to look at my Lego photos and think how fun it is to bring Lego to life in a photo. I want them to try to do the same because it's a different way to play and create with Lego.