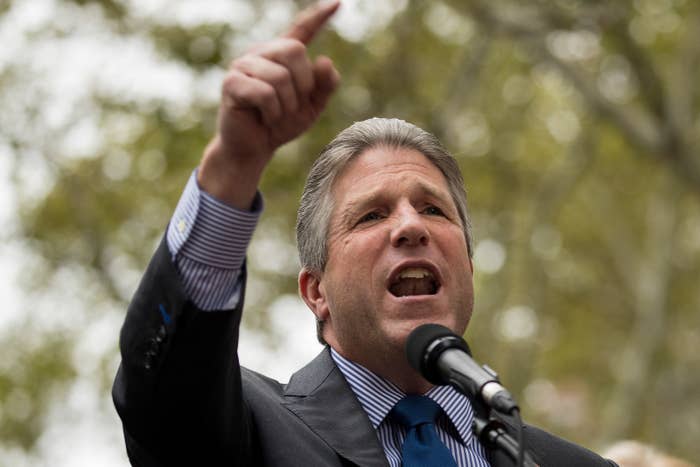 New York's largest police union demanded that the New York Police Department take legal action to block BuzzFeed News from releasing a database of secret disciplinary records. That database, which includes the names and disciplinary allegations for thousands of NYPD employees between 2011 and 2015, was published early Monday morning.
In a letter sent last week to Police Commissioner James O'Neill, union president Patrick Lynch wrote, "in the interest of our members' safety, a goal which we assume the department shares, we demand that the Department and City immediately take all possible steps to prevent BuzzFeed's disclosure of stolen Confidential Files including, but not limited to, seeking an injunction in court."
The NYPD closely guards information on how it disciplines its officers for misconduct, citing a controversial state law that shields police officers' misconduct. The database covers a wide range of offenses, from showing up late to work to drunk driving, to holding a handcuffed prisoner down while another officer stomped on the person's head. The files were provided to BuzzFeed by a source who requested anonymity.
"As he has in the past, Mr. Lynch is accusing those who shine a light on bad behavior in the NYPD of stoking violence," said Matt Mittenthal, a spokesperson for BuzzFeed News. "His words are irresponsible, out of step with other police departments, and reminiscent of a time when police acted without accountability to the public. We are perplexed by why Mr. Lynch is so concerned about the privacy of powerful, armed public servants who have been found to lie, harass, and threaten people in their custody — and by what else the PBA is seeking to conceal with this preposterous legal threat."
Asking a court to prevent a media organization from publishing something in the public interest is an extreme step and something the US Supreme Court has repeatedly prohibited. "The Supreme Court has long since determined that 'prior restraints on speech and publication are the most serious and the least tolerable infringement on First Amendment rights.' The chances of a court entering such an order in this matter seem all but non-existent," said Floyd Abrams, a First Amendment expert.
The union also sent a letter to the New York City Conflicts of Interest Board, which prosecutes ethical misconduct involving city officials and employees, demanding an investigation to identify and punish BuzzFeed News' source.
Although many other large police departments, in states such as Illinois and Florida, routinely make disciplinary information available, the union said releasing these documents could put officers and their families at risk of retaliatory attacks. In a public statement, Lynch cited an attempted mail bomb attack on an NYPD member last year.
The database, while not a complete record of NYPD's disciplinary decisions from 2011 to 2015, provides the most complete accounting to date of how the department polices its own. At least 250 employees faced accusations of using excessive force, threatening someone, getting into a fight, or firing their gun unnecessarily. Some got only minor penalties. After striking someone on the head and threatening to kill two people, Detective Denise Rinaldi lost 20 vacation days.
Of the more than 100 employees in the files who were accused of lying on official reports, under oath, or during an internal affairs investigation, only a handful were fired, while others were docked anywhere from a few days to a month of vacation time. Officer Alexis Valdez, for example, lost 30 vacation days when he was found to have given false testimony to a grand jury.
The NYPD and the PBA did not immediately respond to a request for comment.
To learn more about the NYPD's disciplinary system and why we released these records, please read this story.
Are you an officer or NYPD employee who has been through the NYPD disciplinary system? Have you ever encountered one of these officers? If so, we'd love to hear about your experience. To learn how to reach us securely, go to tips.buzzfeed.com. You can also email us at tips@buzzfeed.com.