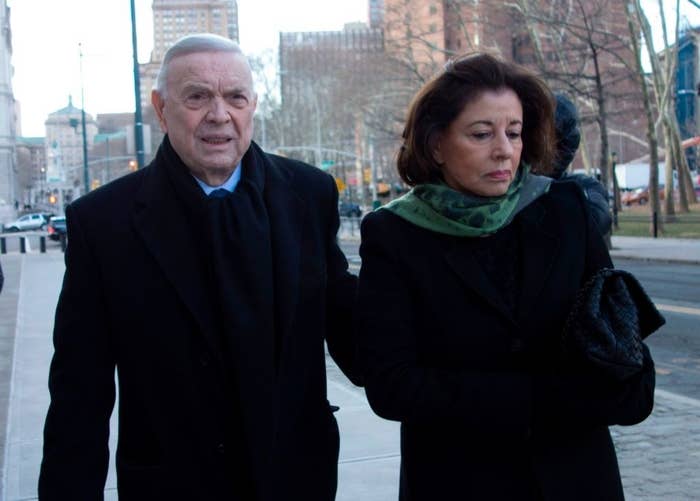 A former Brazilian state governor who went on to run the country's powerful national soccer association was sentenced to four years in federal prison in Brooklyn on Wednesday for his role in a far-reaching criminal conspiracy to corrupt the world's most popular sport.
José Maria Marin, who served as president of the Brazilian Soccer Confederation from 2012 through 2015, was convicted last December on six counts of racketeering conspiracy, wire fraud, and money laundering. Federal Judge Pamela K. Chen also imposed a $1.2 million fine and $3.3 million in forfeiture.
Marin has already served 13 months of his sentence after spending time in a Swiss jail and in a Brooklyn jail since his conviction. Assuming he qualifies for a credit for good behavior, Marin should face approximately 28 months in prison, his lawyers said.

"The conduct of Mr. Marin has destroyed public confidence in professional soccer," Judge Chen said in a three-hour hearing in Brooklyn federal court.
Although Marin delivered a wrenching and deeply emotional plea for mercy, Judge Chen indicated only his advanced age prevented him from receiving a much stiffer sentence. "He and his co-conspirators were the very cancer on the sport he claims to love," she said.
The sentencing marks a significant milestone in the long-running US investigation of corruption in international soccer, known as the FIFA case, which began in secret eight years ago. Although more than two dozen individuals and companies have been convicted in the case, only two other men have been sentenced before now, and both were relatively minor figures who pleaded guilty voluntarily.
Marin is the first person convicted at trial in the case to receive a prison term, and as such, his punishment has been regarded as a likely bellwether of how harshly Judge Chen would deal with the numerous remaining defendants. A second South American soccer official, Paraguayan Juan Ángel Napout, convicted on three criminal counts by the same jury, is due to be sentenced Aug. 29.
"The entire world may be watching what happens here today," Judge Chen said from the bench. "A meaningful sentence is very important."
Marin, dressed in a khaki short-sleeved prison jumpsuit and slip-on shoes, was returned to detention following the hearing and was not allowed to touch his wife, who was present in the courtroom.
"We're disappointed in the ultimate sentence but respect the process and the judge's consideration of the arguments," said Jim Mitchell, one of Marin's attorneys.
Marin, an 86-year-old lawyer, served as governor of Brazil's São Paulo state in 1982 and 1983, and ran a family-owned radio business. He briefly played professional soccer and entered soccer politics in the early 1980s, rising to become president of Brazil's top soccer body, known by the Portuguese acronym CBF, in 2012. Along the way, he accumulated a fortune in excess of $14 million, and in a notorious incident caught on camera, once pocketed a medal intended to be awarded to a youth soccer player.
Citing health reasons, Marin resigned the presidency in April 2015, only to be arrested scarcely a month later in Zurich as part of a spectacular early-morning raid that revealed to the world the existence of the American probe. Prosecutors accused him of using his position to improperly receive more than $3.3 million in bribes and to solicit more than $7 million more in exchange for sought-after commercial rights to soccer tournaments, including the Copa América, Copa Libertadores, and the Copa do Brasil.
Relying on secret recordings, witnesses, emails, bank statements, and other financial records, the prosecution showed the jury how Marin demanded payments in exchange for signatures on rights contracts, received funds via a complicated, globe-crossing series of wire transfers, and then spent some of that money on a lavish lifestyle that included shopping sprees at luxury stores including Hermes and Bvlgari. And unlike the vast majority of officials brought to justice in the trial, Marin refused to plead guilty, insisting on a trial.
After six days of deliberation, jurors convicted Marin on six of seven counts, including racketeering conspiracy, indicating he knowingly took part in a conspiracy to corrupt the sport. Prosecutors described that corruption as "endemic" to the sport, with officials from around the world meeting to negotiate bribes that deprived the sport of "hundreds of millions of dollars" that could have been "spent on things such as development and women's and youth leagues."
Marin "is part of a small exclusive group of people who ran the show," said lead prosecutor Samuel P. Nitze, asking the judge to impose a 10-year sentence, which he noted was still far below the sentencing guidelines. "This was not a one-time screw-up, this was conduct that went on over a number of years, over and over."
Marin's defense attorneys, by contrast, argued that Marin was largely a passive participant in the sport's corruption schemes, and that he should be released in time to celebrate his 60th wedding anniversary. Marin's wife, Neusa, has been living in Brazil since her husband's conviction and has not visited him in jail, a fact that Marin's attorneys attributed to her delicate emotional state, but which Judge Chen leaped on in justifying her sentence.
"The argument that he and his wife should be reunited is undercut to me by the fact that she wouldn't even go to visit him in jail," she said.
In addition to the prison sentence, Judge Chen imposed a $1.2 million fine on Marin and also ordered him to forfeit $3.3 million he was shown to have received in bribes during the trial.
The case, run by a team of prosecutors in the Eastern District of New York in concert with agents from the IRS and FBI, is one of the most ambitious international corruption and money laundering investigations in US history, and is still ongoing.
Its revelation sent a shockwave throughout the soccer world, toppling three generations of leadership in FIFA's regional confederations overseeing North and South America, and leading to the resignation of the sport's governing body, Sepp Blatter. In its wake, law enforcement in Switzerland, Spain, France, Germany, and Australia, among other countries, have opened their own investigations into the sport, and numerous high-profile figures in the sport have been charged with crimes in those jurisdictions.
FIFA, for its part, has undertaken numerous reforms, provided information to US prosecutors, and conducted a massive internal investigation to identify other potential issues. In a recent filing, lawyers for the Swiss institution said it had spent more than $28 million on that review, and requested restitution of those costs from Marin and the other officials convicted in the case, accusing them of orchestrating "an unprecedented campaign of corruption."
Lawyers for the two bodies overseeing soccer in North and South America, called CONCACAF and CONMEBOL, respectively, also submitted restitution requests, dubbing themselves "victims" of the crimes of their former top officials. In total, four different groups claiming they are owed restitution have asked for upward of $120 million.
On Tuesday, Judge Chen said she would conduct a hearing on Oct. 4 to determine who, if anybody, is a victim of the crimes brought to light in the case, how much money they are owed, and what share of that total each convicted defendant in the case should have to pay. Her final ruling on that will come no later than Nov. 20.
Marin, who paid for his education with money he earned as a soccer player, wept openly during his statement to the judge, raising his voice and noting repeatedly that he had only been president of the CBF for less than two years and prompting the judge to call a brief recess.
"Throughout my life, soccer has been a great love, a source of pride, and a way to pay for my education," Marin said. "Now suddenly it has become my downfall and nightmare."