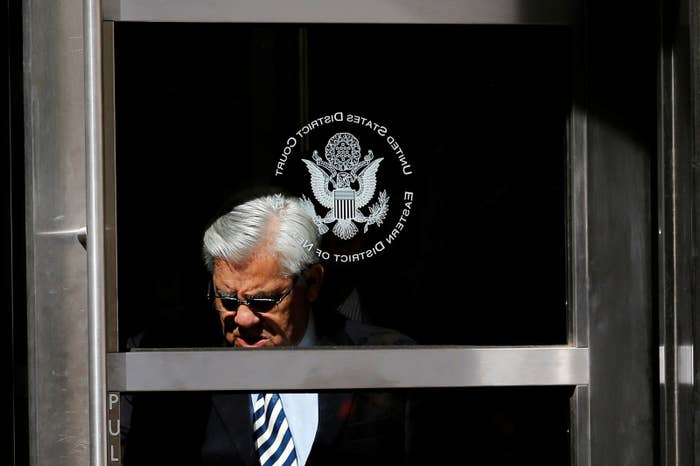 Between 2010 and 2014, Guatemalan soccer official Hector Trujillo helped to secretly negotiate hundreds of thousands of dollars in bribes from a Miami-based sports marketing firm in exchange for the broadcast and commercial rights to the Guatemalan national team's World Cup qualifier matches. He kept nearly $200,000 of that money for himself, using an intermediary in the US to hide the origin of some of the payments, and bragged that he would never be caught.
On Wednesday afternoon, a federal judge in Brooklyn sentenced the 63-year-old Guatemalan to eight months in prison for his actions, making Trujillo the first person to be sentenced in the government's sprawling, multiyear probe of corruption in international soccer.
The investigation, known around the world as the FIFA case because of its focus on soccer's highest governing authority, has transformed world's most popular sport, helping root out corruption that was widely suspected but considered to be impossibly entrenched.
Over the past half-dozen years, prosecutors and federal agents methodically uncovered an intricate and clandestine web of vote rigging, bribes, and kickbacks at nearly every level of the game, including the selection of which country will host the World Cup, the planet's most popular sporting event. The corruption, prosecutors found, was "endemic," dating back to at least the late 1980s and permeating almost all aspects of the sport.
Since the case became public following the sensational arrests of top soccer officials from around the world at a five-star Zurich hotel in May 2015, it has sparked a string of criminal investigations in other countries, as well as the resignation of Sepp Blatter, the once-untouchable president of the Fédération Internationale de Football Association, or FIFA.
In the course of the investigation, some two dozen people have pleaded guilty to a variety of racketeering, fraud, and money laundering charges, sweeping out several generations of leadership from some of soccer's most powerful organizations and transforming the dynamics of the multibillion-dollar business that undergirds the sport.
Trujillo, however, is the first to receive his punishment.
In addition to his prison sentence, Trujillo, a lawyer who had been an alternate to Guatemala's Constitutional Court and a member of the executive committee of the Guatemalan soccer federation, was ordered by Judge Pamela K. Chen to pay $415,000 in restitution to the federation. That financial penalty comes on top of $175,000 in illicit gains Trujillo agreed to forfeit when he pleaded guilty to one wire fraud count and one conspiracy charge last June.
"He committed these crimes because he was greedy and felt entitled to abuse his position," prosecutors claimed in a sentencing brief submitted earlier this week. Trujillo's lawyers had asked the court for no prison time.
Compared with many other defendants, some of whom doled out or took tens of millions of dollars in bribes and kickbacks over the past quarter century, Trujillo was a relatively minor player, accused of being involved in just two corrupt acts and never attaining higher office in soccer.
As such, his sentence sends a message to three other defendants who continue to plead not guilty and face trial beginning on Nov. 6 in US District Court for the Eastern District of New York.
Those men, Paraguayan Juan Ángel Napout, Brazilian José Maria Marin, and Peruvian Manuel Burga, all held more prominent positions in the sport's hierarchy and stand accused by US prosecutors of accepting substantially more money. Napout, for example, was at the time of his arrest a FIFA vice president and president of the regional confederation overseeing all South American soccer and is accused of conspiring to receive millions of dollars in bribes in exchange for commercial rights to two immensely popular soccer tournaments played in North and South America, the Copa América and Copa Libertadores.
Should the three men be found guilty in the trial, expected to last six weeks, they could face significantly more severe sentences, particularly given the fact that almost every other defendant in the case ultimately elected to plead guilty in a bid to receive reduced penalties.
But the stakes in the trial are also high for the prosecution, which has invested a huge amount of taxpayer time and money in the case, one of the most ambitious international money laundering probes in history.
A not-guilty verdict could hasten the closure of the investigation, which is still ongoing, and could also spell lighter sentences for other defendants, most of whom have cooperated with the investigation. It could also undermine the Justice Department's increasingly aggressive pursuit of complex prosecutions employing anti-racketeering laws, known as RICO, as their foundation.
Among other arguments, lawyers for Napout, Marin, and Burga are expected to tell the jury that the case is plagued by prosecutorial overreach, with the US attempting to apply its laws to foreign countries and thus criminalize behavior they suggest is commonly accepted practice abroad.
Indeed, attorneys for Trujillo made much the same point in a pre-sentencing memorandum filed earlier this month. "It is noteworthy that accepting these payments was not unlawful in Guatemala," Trujillo's lawyers, Florian Miedel and Joshua Paulson, wrote. "Like much of the world, Guatemala does not prohibit private bribes or kickbacks."
Prosecutors, for their part, will likely counter that much of the criminal conduct in fact took place inside the US, as the defendants used American financial institutions to wire bribe payments to one another, and in many cases held the money in banks or real estate within the country's borders.
That was the case for Trujillo, who, along with two other Guatemalan soccer officials, traveled to Miami in 2010 to negotiate the first bribes in exchange for ceding rights to the Central American country's qualifying matches for the 2018 World Cup to sports marketing firm Media World. The payments, totaling $200,000, were wired from a bank in Miami to Guatemala.
The second round of bribes, negotiated with Media World in 2013, covered commercial rights to Guatemala's 2022 World Cup qualifiers. That payment — also for $200,000 — was wired the following year to the bank account of a Seattle-based construction firm owned by a friend of Trujillo's, an apparent attempt to launder the money.
In both cases, Trujillo divided the bribes and shared them with other Guatemalan soccer officials who allegedly were in on the conspiracy. In July 2015, he and one of those men met in Chicago with a Media World executive who had secretly agreed to cooperate with the prosecution and was wearing a wire. Trujillo was recorded admitting to taking the payments and confidently proclaiming that he didn't think the payment would appear suspicious because he used a sham contract to hide his tracks.
Just over four months later, Trujillo and the other Guatemalan officials were indicted. And on Dec. 4, 2015, in one of the more cinematic moments in a case loaded with dramatic twists, federal agents dragged him off a Disney Cruise ship docked in Port Canaveral, Florida.
Trujillo, who does not speak English, had been vacationing with his wife, children, and grandchildren and was remanded to detention for over a month before being released on bond. He has been held under house arrest, mainly in Miami, ever since. After completing his prison term, Trujillo will be subject to deportation to Guatemala.
Until the time of his arrest, he was an alternate judge on the Constitutional Court, one of Guatemala's most important legal bodies. His attorneys, whom he found through Super Lawyers, a legal advertising service, claimed Trujillo had been a candidate to Guatemala's Supreme Court at the time of his indictment, and that because of the US criminal case, "it is unlikely he will ever be able to recover his reputation."
Trujillo's lawyers did not deny he participated in illicit activity, calling his acts an "ethical lapse." But they also argued that he was unfairly targeted by US prosecutors otherwise focusing on the most powerful officials in global soccer simply because of his high-profile status as a judge in Guatemala.
Prosecutors contended that Trujillo's role as a public official placed a higher burden on him. "Even as he benefited from the prestige of serving on the Guatemalan constitutional court, hoping to be appointed to the highest court in his country, the defendant accepted kickbacks," the prosecutors wrote in their sentencing brief.
Although most of the more than 40 other defendants in the case gained repute because of their positions in soccer, one, Rafael Callejas, had served as president of Honduras from 1990 to 1994. Another indicted official, former FIFA vice president Jack Warner, was a high-ranking cabinet minister in Trinidad and Tobago until mid-2013. He is currently fighting extradition, as are soccer officials in Argentina and Paraguay.
Jury selection in the trial is set to begin on Nov. 6, with opening arguments scheduled for the following week. A second defendant, UK and Cyprus citizen Costas Takkas, is scheduled to be sentenced next Tuesday. He pleaded guilty to one count of money laundering conspiracy in May for his role in arranging millions of dollars in bribes to another FIFA vice president, a citizen of the Cayman Islands named Jeffrey Webb.
Even as they pleaded for leniency for their client, Trujillo's lawyers also nodded to the signal importance of the case, which, though controversial, has been widely hailed by soccer fans around the world who had tired of the sport's rampant corruption.
"For years, rumors abounded of game fixing in international soccer, as did speculation that the opportunity to stage the world's most prestigious and popular sporting event, the World Cup, was available to the highest bidder," Trujillo's lawyers wrote. "While opinions may differ about the propriety of the United States prosecuting foreign nationals for conduct that took place largely abroad, there can be no question that the international soccer federation, FIFA, needed a serious wake-up call, and it got one."