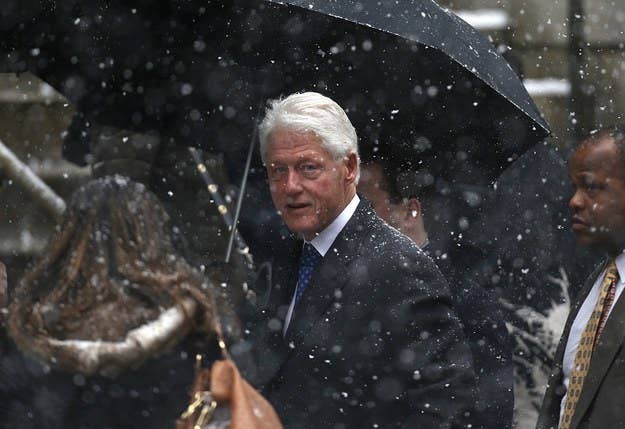 Over roughly the past month, coverage of Bill Clinton's travels with financier and convicted sex offender Jeffrey Epstein have made their way from a thick stack of court documents into something approaching political mythology, propelled by a string of innuendo-laced reports hinting that the former president must have been in some way complicit when he voyaged with a billionaire known for preying on underage girls.
It's a story with plenty to gape at, from horrific and excruciatingly detailed allegations against Epstein to the frequent presence of a former president who was, after all, nearly chased from office for a (consensual) affair with an intern.
But sometimes stories that seem too good to be true — just might be. A detailed review by a team of BuzzFeed News reporters of more than 2,000 pages of pleadings, depositions, affidavits, police reports, flight logs, and other documents filed in state and federal court found that many of the most provocative allegations about Clinton have little to no factual foundation and are exaggerated at best; that the documents — which appear to be the source for nearly all current reporting on this subject — themselves never suggest that Clinton was doing more than using his wealthy friend as a kind of global taxi service; and that many of the most lurid insinuations have been floated without any visible support from verifiable information.
While it's still possible that some Rosetta stone of Clintonian depravity will surface from a pair of ongoing lawsuits involving Epstein, the fact that nothing even close to that has been dug up over the course of a half-dozen years of heated litigation should not be encouraging for Republican operatives and other Clinton critics hotly anticipating the very worst.
One sign that the connection is a bit weak: The lawyers who have used the Clinton link to help publicize their cases have been markedly vague on details.
When asked to present actual proof, Jack Scarola, the Florida attorney responsible for filing some of the most attention-grabbing documents that have come to light in recent weeks, warned darkly in an email of "extortionate threats, power, wealth or political pressure."
"The time will come when all your questions will be answered," said Scarola, who represents another trial attorney suing Epstein in Palm Beach County Court. "But that time is not now."
Unwilling to wait, perhaps, publications on both sides of the Atlantic have gleefully dipped into those documents to publish breathless descriptions of Epstein's "black book," which contains a host of Clinton phone numbers (along with just about every other powerful figure in the Western world); dissections of handwritten flight logs for the financier's private 727 aircraft that frequently capture Bubba at 30,000 feet; and extensive allegations from a woman, Virginia Roberts, who claims she was Epstein's sex slave as a teenager and whose recollection places the former commander-in-chief on "Orgy Island" in 2002 to participate in a sexual romp, possibly with women who were not yet of age.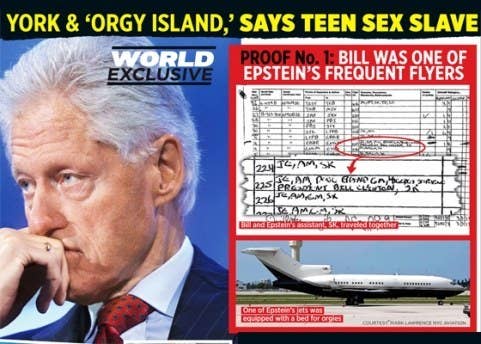 Tellingly, many of those articles — which have notably increased in tempo in recent weeks following Roberts' late December accusation that noted attorney Alan Dershowitz was one of the men she was forced to have sex with — contain language underscoring the fact that none of this proves anything. "It should at this stage be stressed that the Mail has no evidence to corroborate this and other claims made by Virginia Roberts," the Daily Mail wrote in April. "Though her LinkedIn page claims a certificate in Swedish massage, there is no evidence that she ever actually treated Epstein to one," Gawker (in the most straightforward and clearest reporting on the documents to date) wrote last week. And the National Enquirer did not appear to rely on the court record for its conclusions, instead to the interpretation of an unnamed source who noted that "Bill's name is all over the legal papers, which are chock-full of sordid claims."
Clinton's discretion on matters of sexual restraint has attained permanent notoriety, so maybe it's natural to assume that particular leopard doesn't change his spots. But at this point, there is simply nothing to back those sordid claims up.
Here's what we do know:
Jeffrey Epstein is a secretive billionaire financier and Democratic donor who says he never attended college but whose "background is in physics." He owns properties in New York, Florida, New Mexico, London, and Paris and also owns an island in the U.S. Virgin Islands. He has at least two private jets, including the 727.
He has known Bill Clinton since about 1995, and his relationship with him grew stronger after he left office. There is no question they were friendly. Epstein's so-called "black book," which is less like something out of the Heidi Fleiss affair and more what most people would call a "phone directory," contains 21 numbers for getting in touch with Clinton, as well as emails and addresses.
But that 92-page directory also contains exactly the range of eye-poppingly famous and powerful contacts one might expect of an incredibly rich, connected person who owns Manhattan's largest private residence, from Tony Blair to Elie Wiesel to Courtney Love.
Epstein was long rumored to be a sexual libertine; "It is even said that he likes beautiful women as much as I do," real estate personality Donald Trump once said of his old friend. "And many of them are on the younger side."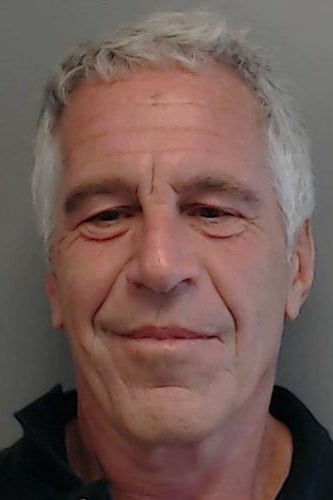 Epstein, in his Florida sex offender photo; at right, a phone message to Epstein from a modeling agent offering Russian lessons from a "2x8" year old girl.
In 2006, that reputation caught up with him, when he was arrested by the Palm Beach Police on charges of sexually molesting numerous underage girls. Police reports in the court record show that detectives found Epstein regularly paid very young women to give him massages that he turned into sexual encounters. He allegedly had a preference for very young women, whom he carefully groomed into increasingly extreme situations, including what some, including Roberts, allege to be sexual slavery.
In total, 40 women were identified as possible victims of sexual abuse by Epstein, many of them teenagers at the time, including some younger than 14 years old. Epstein was originally charged with a variety of crimes, including sexual assault, rape, and witness tampering.
He avoided most of those charges as well as federal prosecution in late 2007 by agreeing to plead guilty in Florida court, a deal that Dershowitz, who was one of Epstein's lawyers, helped negotiate along with an all-star legal lineup that interestingly also included famed Clinton-hunter Ken Starr.
In the end, Epstein got 18 months in prison for a single count of soliciting an underage prostitute, of which he served 13 months. He is now a registered sex offender who lists his primary residence as the U.S. Virgin Islands.
In a pleading late last month in federal court, attorneys for Roberts allege that "Dershowitz helped negotiate an agreement with a provision that provided protection for himself against criminal prosecution." Dershowitz has denied these charges vigorously, calling them "salacious and false" and, possibly more importantly, "completely irrelevant" in a Jan. 12 filing.
Despite what some called among the most exhaustive investigations in Palm Beach Police history — which dug up such evidence as an Amazon receipt for Epstein's purchase of titles including "Training With Miss Abernathy: A Workbook for Exotic Slaves and Their Owners" — there is nothing in the police record suggesting any other men were involved in Epstein's predatory behavior.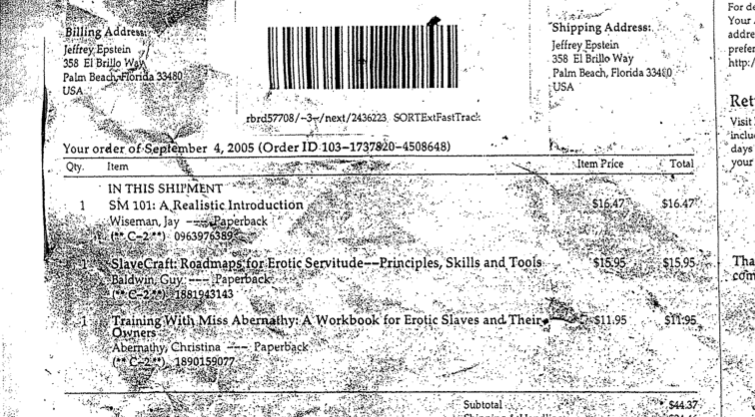 The criminal case provoked numerous lawsuits from women alleging they were victims of Epstein's proclivities, followed by secret settlements with more than two dozen of them. One firm bringing some of those cases employed a young lawyer named Bradley Edwards, who managed some of the cases. In 2009, a founding partner at the firm, Scott Rothstein, fled the country before ultimately returning to plead guilty of running a $1.2 billion Ponzi scheme built around recruiting investors to buy stakes in litigation settlements that turned out to be phony.
As details of the fraud emerged, Epstein sued Rothstein and Edwards in Palm Beach County Court for racketeering, alleging, among other things, that they dangled Bill Clinton's association with Epstein as a lure to investors, implying that settlements would be fast and sizable. Epstein ultimately dropped his suit in 2012, but by that time, Edwards had countersued for malicious prosecution and abuse of process.
That case, along with a claim by Virginia Roberts against the federal government over the 2007 prosecution deal in district court (which she filed as a "Jane Doe" in 2008), are still pending and are the source of most of the scant information about Clinton that has appeared. Scarola, who in the past sued Chiquita over payments to violent leftist Colombian rebels and won a $1.45 billion verdict over Morgan Stanley (that was later overturned), is the lawyer bringing the suit in county court in West Palm Beach, while Paul Cassell, a former federal judge known for his critical take on mandatory-minimum sentences, mans the federal case four blocks away.
Neither Cassell nor Edwards responded to requests for comment.
It is primarily from pleadings in those cases that the press has been getting a glimpse inside the lifestyle of Epstein, and, by extension, Clinton. "Edwards had sound legal basis for believing former President Clinton had relevant and discoverable information," part of one pleading reads. Roberts, in her case, alleges that Epstein forced her "to be sexually exploited by Defendant's adult male peers, including royalty, politicians, academicians, businessmen, and/or other professional and personal acquaintances," which, Edwards elsewhere claims, are "categories Clinton and acquaintances of Clinton fall into."
Police reports entered into the record go into stomach-wrenching detail about Epstein's alleged exploits with the girls and women he recruited and paid for massages that became sexual acts, and mention other women participating as well. Epstein's longtime friend, the socialite Ghislaine Maxwell, is accused of taking part, while his personal assistant, Sarah Kellen, is described procuring young woman for him.
But neither of those women has ever said a word about Clinton being involved. Maxwell, for her part, has never been deposed. She canceled a deposition in 2010, claiming she had to return to England indefinitely due to family illness, but was soon thereafter photographed by Us Weekly at Chelsea Clinton's wedding in Rhinebeck, New York.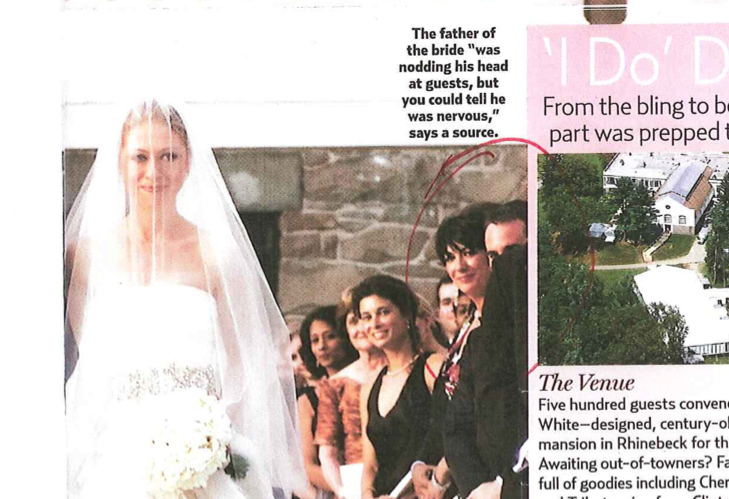 For her part, Kellen, who won immunity from prosecution along with Epstein in 2007, did sit for a deposition, but repeatedly pleaded the Fifth, refusing to even say if she'd ever even met the former president.
Epstein's much-discussed flight logs show fairly conclusively that she has.
A review of the handwritten documents shows Clinton taking 13 trips in Epstein's specially outfitted Boeing 727, including a much-discussed trip to Africa with Kevin Spacey and Chris Tucker. In every single instance, the logs show, Kellen was also on the plane, as was Epstein. That may sound suspicious, except for the fact that Kellen has been described as Epstein's right hand, profoundly involved in his professional activities as well as personal ones. Indeed, Doug Band, Clinton's personal aide, was on all but one of the flights the former president took on Epstein's jet.

Among the other people who most frequently flew with Clinton are Maxwell and Adriana Ross (formerly Adriana Mucinska), another Epstein assistant and a former model. The logs also show him flying with former advisor Ira Magaziner, ex-Transportation Secretary Rodney Slater, and fashion model Naomi Campbell.
The pilots' documents also leave numerous and — understandably — intriguing questions unanswered: Clinton was on four flights with women identified as only "Janice" and "Jessica," who have not been identified; he once flew with a person identified only as "one female" and also, during part of the trip throughout Africa, a young woman named Chauntae Davies, who appears in Epstein's phone directly under the massage category and whose expertise in Swedish massage was described in Gawker's story mentioning her last week. And because the entries are hand-written in a very cramped log form, it's impossible to know if important names ended up illegible or left out altogether, nor if there are other logs that have not been revealed.
But based on what's in the court files, there are no further clues about those flights, other than the testimony and public statements of Roberts, who has described the airplane as a kind of high-altitude Gomorrah. What is on the record is a deposition of Larry Visoski, one of Epstein's former pilots, who recalls having Clinton on his plane as many as 20 times. When asked, "Do you remember him being on the airplane with younger girls?" Visoski replies, simply, "No."
Clinton flew literally around the world with Epstein, traveling from New York to London, to Hong Kong, Singapore, Thailand, Morocco, Portugal, Russia, and throughout Africa. In almost every case, according to cross-referenced information on his speaking engagements, Clinton was apparently traveling for professional reasons, and, according to the logs, he never flew with his wealthy friend anywhere near the U.S. Virgin Islands.
That does little to bolster statements by Roberts, who in a 2011 conversation with her lawyers (which both New York Post's Page Six and Radar Online described as an "interview") claimed Clinton traveled to Epstein's infamous retreat on Little St. James Island in 2002.
Earlier this month, it was reported that Roberts is writing a "tell-all" memoir about her experiences. In a sworn affidavit filed in court last week, she claimed to have had sex with Epstein, Dershowitz, England's Prince Andrew, and several other men on numerous occasions, and portrayed a three-year period ending in 2002 when Epstein passed her off to his friends continually. But, she added, "I have never had sexual relations with Clinton, nor have I claimed to have had such relations. I have never seen him have sexual relations with anyone."

Intensive coverage prompted by the court filings has hinted that Clinton abruptly ceased his flying with Epstein in 2005, not terribly long before he was arrested, "perhaps because of events related to Epstein's sexual abuse of children." The implication is that Clinton may have known trouble of the worst kind was coming and decided to get out while he could. In fact, the logs show all of Clinton's flights came in 2002 and 2003, with not a single appearance aloft recorded in 2004 or 2005.
The closest potential link to Clinton in the period closer to Epstein's fall, the public record suggests, comes from one of his longtime confidants, former Treasury Secretary Larry Summers.
The flight logs indicate Summers flew on Epstein's jet as far back as 1998, but also on April 15, 2004, September 14, 2005, and December 21, 2005. The final trip came 10 days after Summers got married, and the log for the flight — from Bedford, Massachusetts, to the Virgin Islands — shows what appears to be his new bride on board, as well as Ghislaine Maxwell, but not Epstein.

Epstein was a significant donor to Harvard University, of which Summers was president at the time. According to a spokesperson for Summers, on a few occasions when Epstein was flying to where Summers was also traveling, he accepted rides on the billionaire's jet.
Attorneys in the two cases have attempted to get the court to permit discovery from Clinton himself, but have been stymied by motions from Epstein's lawyers. Court records show they have also tried unsuccessfully to depose Donald Trump, former New Mexico Gov. Bill Richardson, former Sony Music head Tommy Mottola, and magician David Copperfield. Notably, a list of 73 proposed witnesses in Roberts' trial does not include Clinton.
The tale of Epstein and his sexual activities is undoubtedly a fascinating, and harrowing, one. But with the star witness in one case swearing under oath that she has no such evidence, and everyone else in a position to know keeping their mouths firmly shut, it is at this point extremely difficult to draw even a hazy, crooked, dotted line between Epstein's depredations, in the bedroom or aloft, and William Jefferson Clinton.
BuzzFeed News reporters Alex Campbell, Kyle Blaine, and Megan Apper contributed to this report.