This is an excerpt from Please Like Me, BuzzFeed News' newsletter about influencers and internet culture. You can sign up here. In our column, Niche Drama, we discuss online community micro dramas.

One of the most eye-catching scenes in Netflix's record-breaking Wednesday series shows the titular character, stone-faced and clad in all black, dancing with mechanical flamboyance at a high school soiree.
The show, a reboot of The Addams Family stars Jenna Ortega as the iconic goth daughter. For such a deadpan character, the dance scene stands out. It went viral on TikTok, and people have re-created it, turning the dance into a certified trend.
Some viewers called the dancing scene "weird" and said they felt "second hand embarrassment" for her, but the bad vibes dissipated when Ortega revealed that the dance choreography came from videos of goth kids dancing in clubs in the '80s. She posted some of her inspiration on her Instagram story.

Real-life goths came to Ortega's defense and felt empowered to share their own moves.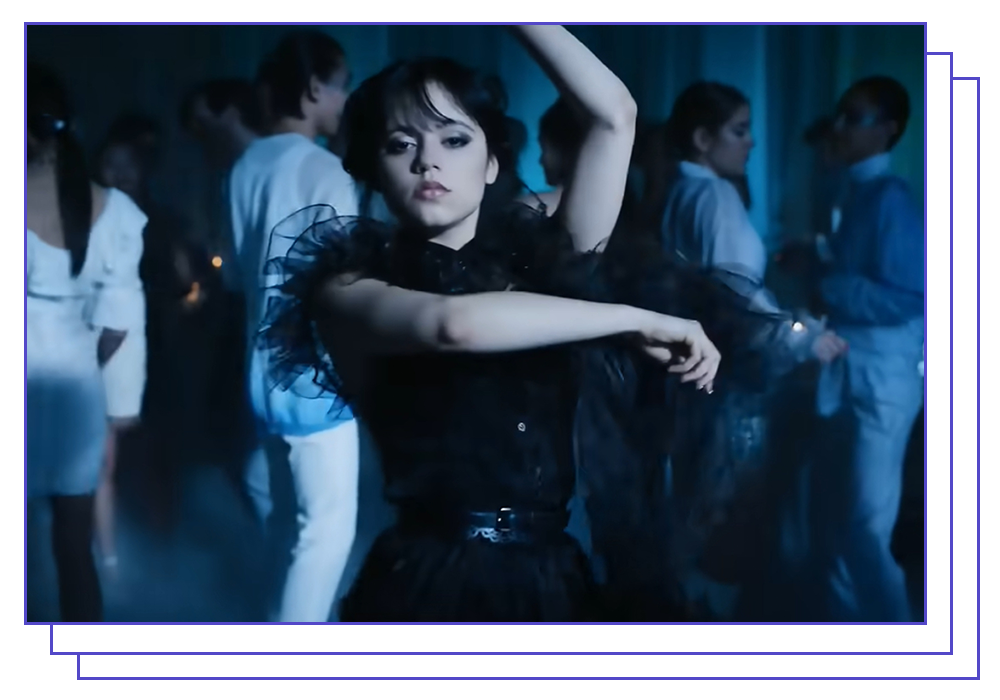 "People are laughing about how cringy Wednesday is in this however, it's accurate to how goth people danced in the 80's to 90's," TikTok user @kiyosplum wrote.
"You can definitely tell the people who watched Wednesday and have never, like, experienced goth culture before because they're making fun of the way she dances," TikToker @tojislovebot said. "Y'all, it's Wednesday Addams. It's not Addison Rae, alright?"
TikToker @mothgothic shared similar dance moves she's been doing "for months now." @gayllupgoff showed off some of their "original dancing as a goth," as did "random actual goth person" @blushbirdie.

Though the show seems to have nailed the aesthetic, some goths resent that fan edits aren't using "REAL goth music." A few people lamented how cool this new reboot has made goth culture, though they faced bullying over their own participation when they were younger.
"Attention, goth girls! Were you compared to Wednesday Addams growing up? Was the greeting 'Hey, Morticia' used towards you in a not-so-friendly manner? Are you tired of seeing the people who mocked your style embracing Addams Family aesthetic? You may be entitled to financial compensation," @rebyhardy said in a TikTok.
In a TikTok, user @suenicorn345 said that she was bullied when she was younger for dancing like Wednesday by people who now love the show.

"They're all doing her dance on their tiktoks acting like they didn't bully me into crying my eyes out after the dance," she wrote.
A commenter compared the widespread love for Wednesday to that of the metal-loving outcast who became the breakout star of the latest season of Stranger Things.
"It's the same thing they did with Eddie Munson," they wrote.
Goth dancing last went viral in a 2014 Vine trend that wasn't exactly favorable. But it's nice to see goths getting time in the spotlight, even if darkness might be their preference.