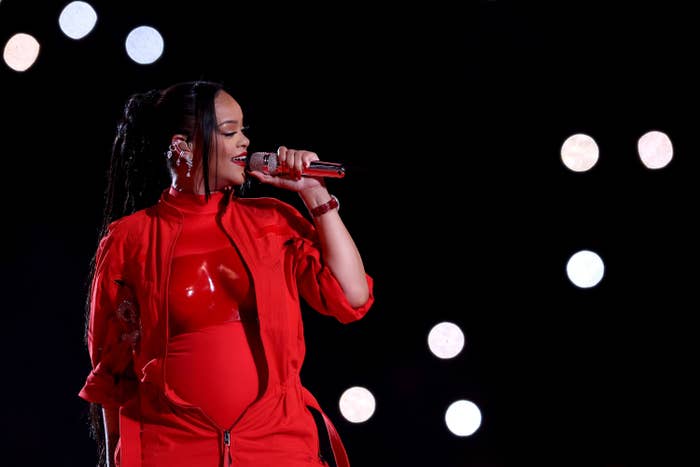 When Rihanna opened the Super Bowl LVII halftime show with "Bitch Better Have My Money," Katie Begley screamed.
The 22-year-old from New Jersey predicted the bold opening number in a viral TikTok hours before the show. She was one of many users who shared predictions for the performance, but she actually got it right.
"I'm going to do not necessarily what she will do, but what I think she should do," Begley said in the video before performing her own rendition of the 2015 hit. Less than 24 hours later, the post had 4 million views.
Commenters were just as shocked after Begley's prediction came true. They asked whether she was a time traveler and if she'd bet money on it.
"I think Rihanna scrolled through each of y'all's videos and liked your intro the best," one user wrote. "You are the only prediction I have seen that was right!!" another commented.
Begley told BuzzFeed News that as a huge Rihanna fan, she and her friends knew they'd have to stay home to watch the halftime show performance. After five years of waiting for the singer to return to the stage, they didn't want any distractions.
"I needed a full screen," she said. "I needed to move around."
In her parents' family room, Begley's mom filmed her and her friends shouting and jumping around as Rihanna performed.
"I didn't think she was going to do it because it's not really PG," Begley told BuzzFeed News. "I screamed. Then I pretty much blacked out for the rest of the performance."
She said she'd never had a prediction like this come true before — she only shared what she would do, if she were a highly successful singer and business mogul making her long-awaited return to the stage. Begley is an Eagles fan, but she said she woke up very happy this morning because Rihanna's brief return softened the blow of the Super Bowl loss.
"I only hope that being onstage for this inspires her to keep performing," Begley said.