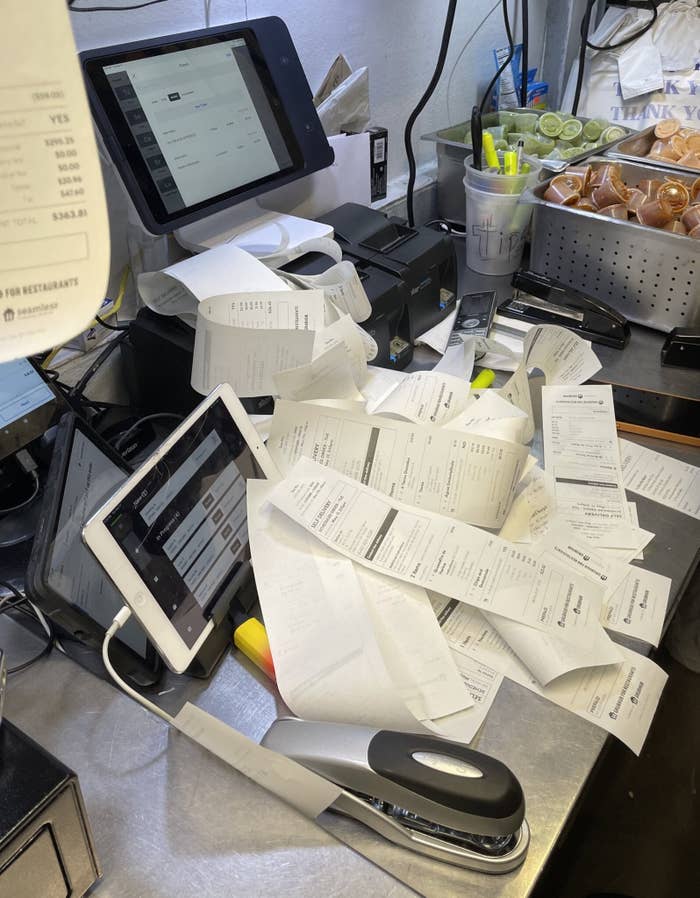 A delivery app marketing campaign offering a "free lunch" — aka a $15 promo code valid for three hours — sent customers and restaurant workers alike into a spiral on Tuesday as thousands of orders jammed the system and disgruntled New Yorkers tweeted through their hunger pains.
Grubhub's New York City campaign on May 17 touted the physical and mental benefits of eating lunch, but yielded dozens of complaints, canceled orders, and service workers telling BuzzFeed News they were "exhausted" trying to keep up.

A worker named Lily in charge of packing orders at a Mexican restaurant in Harlem said since the restaurant's delivery driver couldn't keep up with demand, she ordered an Uber and hand-delivered 11 orders herself.
"INSANITY," she told BuzzFeed News over text.
Grubhub told BuzzFeed News that at times during the promotion, which ran from 11 a.m. to 2 p.m., the app was averaging 6,000 orders per minute.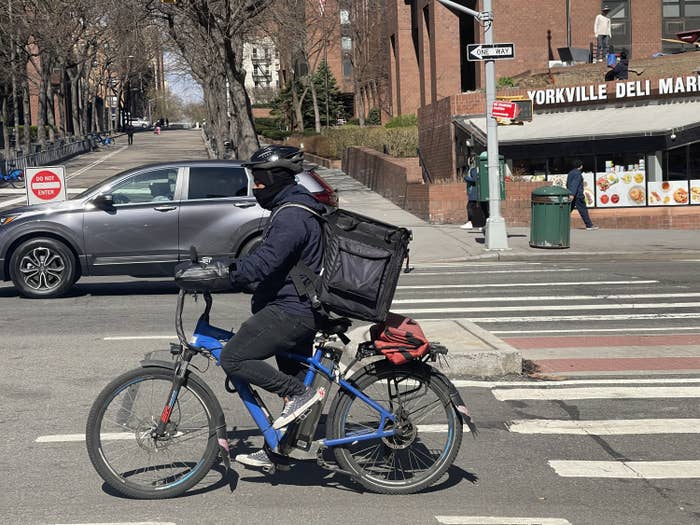 "It got overwhelming," said Brandon Ching, who was working the counter at Greenberg's Bagels, a popular sandwich spot in Bedford-Stuyvesant, Brooklyn. "We were short-staffed today so it really added extra stress to my day."

And customers were frustrated at the delays. Ebenezer Ackon told BuzzFeed News he was in 3,630th place in line to talk to Grubhub's customer service when he gave up; after waiting more than an hour for food, he went to get something from across the street from his apartment.
Blake, who didn't want to use his last name, said the small Brooklyn café he ordered from received 200 orders in five minutes as soon as the promo began, so they reluctantly had to cancel orders — including his.
"It's been a complete disaster," Nathaniel, a Manhattan resident who asked that his last name not be used, told BuzzFeed News. He'd been thrilled that his order from a highly rated sushi restaurant went through, but after an hour of waiting, no response from the restaurant, and nothing from Grubhub, he canceled the order.
"I hope they get blasted for this extremely poorly thought-out promo," he said.
One of BuzzFeed News' own called Blue Ribbon Fried Chicken in Manhattan to check on her order after it was marked "closed" on the app, and an employee said they had done so to handle the 47 filled orders that hadn't been picked up.

Of course, plenty of customers were thrilled with their "free lunch" — remember that giving a company your email address and phone number, both required to make an order, is a valuable thing for a company to have! — filling up previously empty Manhattan salad spots to pick up now much cheaper overpriced salads.
Some people had anticipated a possible crash — one Twitter user said they had their Grubhub order ready the second the promotion began.

"I don't have food. I prob won't get food. This flop is the funniest thing ever. NYers turned Grubhub into a Telfar drop," podcast manager Femi Redwood told BuzzFeed News.
Customers may be frustrated about not getting a product they wanted, but for service industry workers it was a day of nonstop stress.
"We really got slammed by it today," said Ching from Greenberg's Bagels. "It was just nonstop all day."
Normally the deli would get fewer than 10 orders from Grubhub — which Ching noted is one of the least-used delivery apps — per day. On Tuesday, 50 orders came through in an hour. After that Ching lost count.
He didn't know about the promo in advance — one of his regulars alerted him. Although the other delivery apps had fewer orders as so many people took advantage of the Grubhub offer, the increased number of orders definitely impacted the workers.
"We're pretty exhausted," Ching told BuzzFeed News. "We're one person short. Normally we have two people in the kitchen, there was only one — imagine one person doing every Grubhub ticket. Some of us had to jump on the line — our prep guy had to make sandwiches for a little bit, the other manager was making sandwiches. It was pretty much all hands on deck."
Employees at restaurants inside DeKalb Market, a food hall in downtown Brooklyn, expressed varying levels of stress.
The workers at both Dan and John's Wings and Han Dynasty said they didn't know about any sort of promotion, but they had seen a massive influx in pickup orders after noon. By 2 p.m., both restaurant counters were flooded with dozens of orders waiting to be picked up and fielding calls about missing orders.
Manuel, a Grubhub delivery driver who did not give his last name, told BuzzFeed News it was a "crazy lunch day" but he was just doing the best that he could to deliver as many orders as possible.
A spokesperson from Grubhub sent BuzzFeed News a statement following the fiasco: "It's clear, New Yorkers were hungry for lunch! While we knew 72% of New York workers call lunch the most important meal of the day, our free lunch promotion exceeded all expectations."
Tuesday's campaign received six times more orders than a similar promo last year, they said.
The company's statement mentioned that "initial demand temporarily overwhelmed" the app and served customers an error message that was "rectified so New Yorkers could enjoy their much-deserved lunch."
As the so-called free lunch transformed into a free early dinner or a missed opportunity, New Yorkers were memeing their way through their hanger.
"A lot of us haven't eaten because we've been waiting for our orders just for them to get cancelled," Leilani, a Manhattanite, told BuzzFeed News. "I don't understand what Grubhub was expecting tbh."

Erin Fred from the Upper East Side told BuzzFeed News no one ever answered her calls for help, but Grubhub did ask her to complete a satisfaction survey about her experience.