It turns out that Bernie Sanders's reaction to being caught in the background of a TikTok is exactly what you'd expect: disgruntled confusion.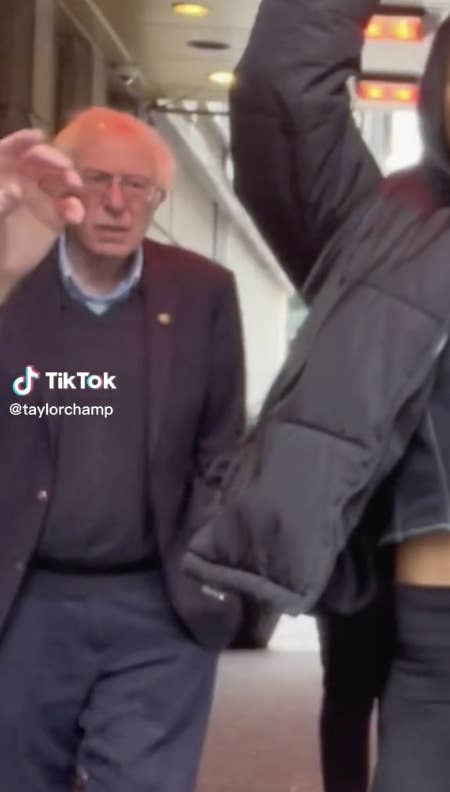 The 81-year-old loveable curmudgeon (who happens to be the longest-serving independent member of Congress in American history) was spotted sidestepping a dance video uploaded by golf influencer Taylor Champ. In the footage, Sanders appeared to be leaving a New York City hotel as Champ performed choreography with a door attendant.
"POV: Bernie changed his mind about being for the young people," one TikTok commenter wrote. "Y'all he's not mad he just has RBF (resting Bernie face)," another commented.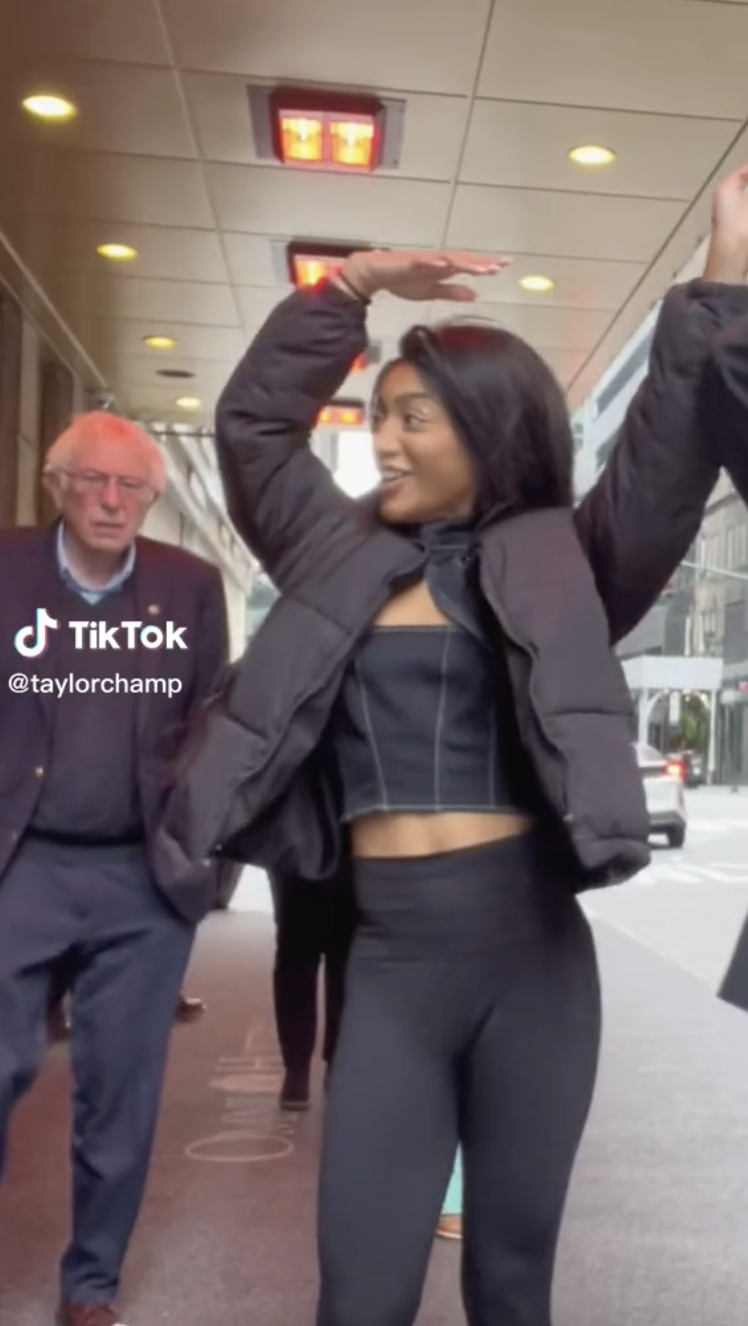 The video, which was posted on Monday, has nearly 2 million views on TikTok — not to mention all the other times it's been shared on Twitter and Instagram. Sanders's new book, It's OK to Be Angry About Capitalism, came out the day after the post went viral. He's been promoting the work with public appearances and interviews, one of which produced an iconic take about Valentine's Day. Why is a romantic celebration in the middle of a workweek?!
Champ wrote in a follow-up TikTok that she didn't even know that it was Sanders in the background of her video (or his wife, Jane Sanders, moments after that) until they were already gone. The door attendant she was dancing with broke the news to her.
"I had no idea," she told CNN. "I would have said 'hi'! I would have gotten out of the way. I felt so bad."
Chances are Sanders didn't mind being able to quietly go about his business, and he probably didn't mean for her to take the scowl personally.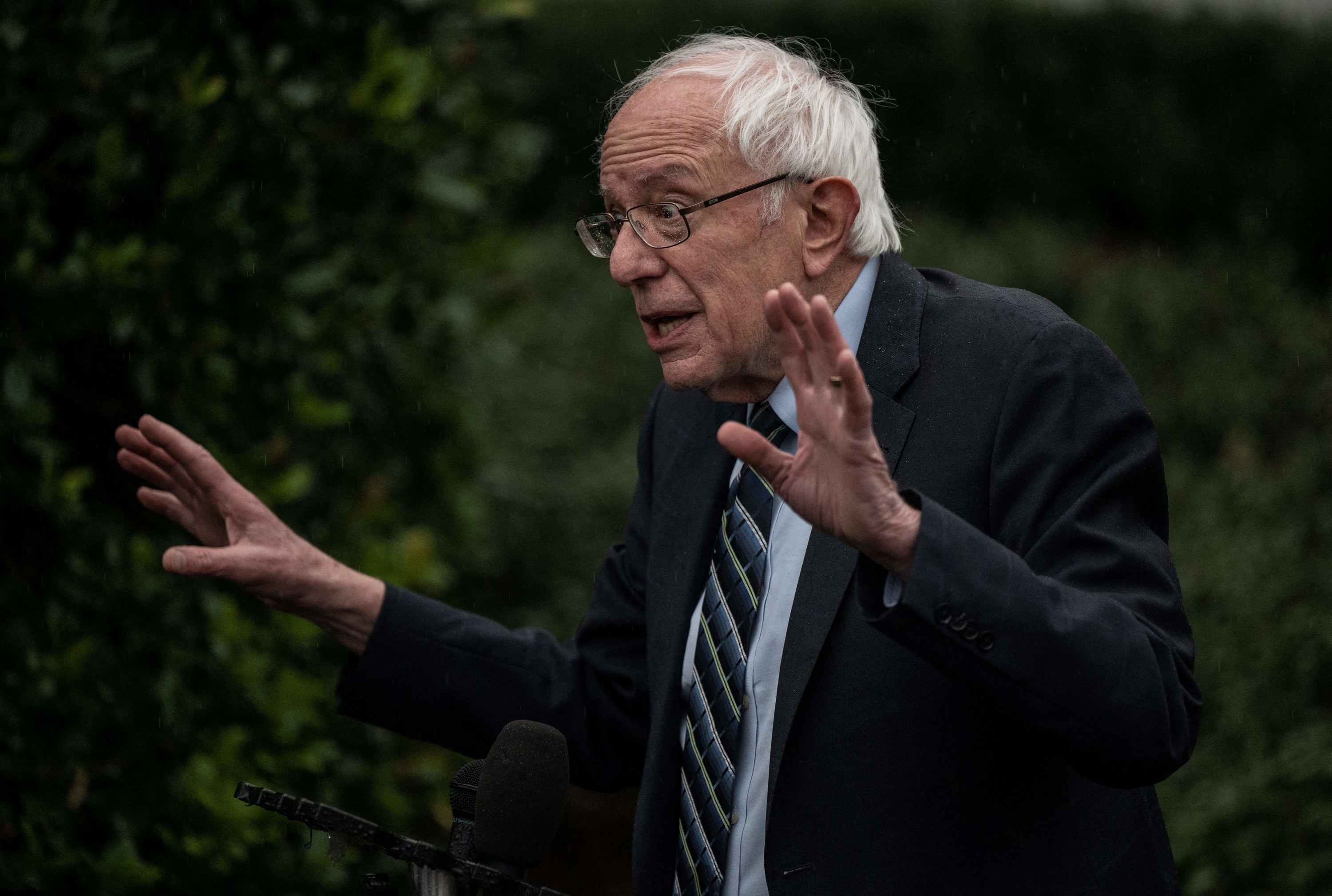 Sanders' team did not respond to a request for comment from BuzzFeed News, but his account left a comment on Feb. 22 apologizing for the interruption and complimenting Champ for her "great moves."
The senator has been dealing with questions about his demeanor for years now. After looking irate as Hillary Clinton delivered her Democratic presidential nomination acceptance speech in 2016, Sanders addressed his so-called RBF.
"I always have that look on my face," he said on CBS's Face the Nation. "That's nothing new."
General prickliness might be nothing new for Sanders, but his latest viral moment is a bit of a vicarious release for those of us who have been mildly annoyed by influencers recording things in public. He truly is the voice of the people.