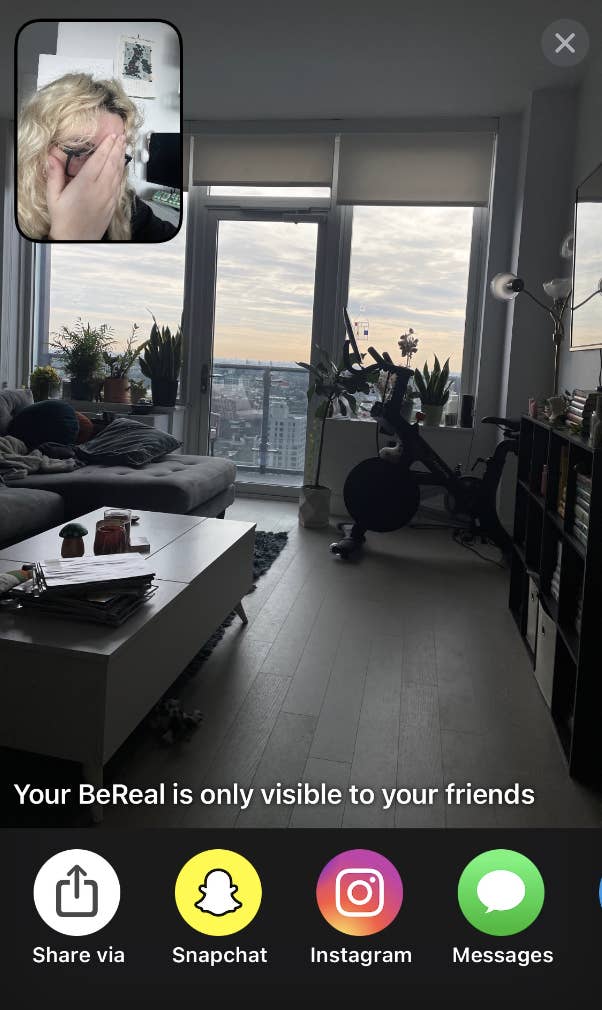 BeReal is a once-a-day photo-sharing app hailed for its "anti-Instagram ethos" and beloved by Gen Z. It's also pretty boring.
Like Wordle, you can only really engage with BeReal once a day, but you don't get to pick the time. You have to wait around for the foreboding message to randomly appear, and when it does, you only have two minutes to post.
After a user clicks on the notification, BeReal takes a photo using their phone's front and back cameras at the same time. The photos are then automatically posted to a feed for your friends to see, with the objective of making social media more authentic. Unlike Instagram, there's no highly edited, stage-directed moment where you choose the best of 40 photos taken from three angles. But that doesn't mean users aren't performing on BeReal — or that the content is engaging.
And the lack of curation sometimes means finding out news you'd rather not know.
Kelly P., a 25-year-old photographer from Ohio who didn't want her last name used out of concern it could cause even more real-life drama, told BuzzFeed News she learned through the app that all her friends were hanging out without her.
"It showed me last night that a bunch of our friends were celebrating one of my best friend's engagements without me," she said.
"Literally made me feel worse than Instagram," she said. "I was like, What is this alternate reality I'm living in?"
There was no description beneath the photo because BeReal has no captions. But it gave Kelly a pang of jealousy she didn't know what to do with.
As someone already struggling to get my screentime under 12 daily hours, the thought of keeping my notifications on and phone within constant reach in order to perform authenticity immediately seems self-defeating.
There are a lot of other rules to follow, too: no filters, no scheduling posts, no drafts, no backlog of posts on your profile, no hashtags, and no retaking posts more than once a day. You have to post to see your friends' posts for the day. You can post late, but everyone will get a notification about it.
Zesha Saleem, a 20-year-old writer, can't stand the "urgency" of the app. She told BuzzFeed News it gives her "2016 Snapchat streak vibes."
"If I don't post, all my friends message me, 'Why aren't you posting? Where are you?!', whereas with Instagram and Twitter, I can step away without feeling like I'm missing out," she said. "With BeReal, I just post for the sake of posting."
And yet, it's still extremely appealing to millions. According to a report sent to BuzzFeed News from app data platform Data.ai, BeReal has been downloaded 3.2 million times worldwide since January 2022, bringing its total to 5 million. The app first launched in France, but has seen a major spike in downloads in the US, the UK, Spain, Denmark, and Mexico in the past three months.
Michael Meares, a 22-year-old from North Carolina, told BuzzFeed News he hasn't missed a day in a month and plans to keep it that way.
The randomly timed notifications and the smaller network he has on the app make it seem more like a group chat and remove the pressure to perform. To him, the stakes are low enough that it's a net good in his life.
"I have like seven to eight friends on the app, and I just went to New Orleans with them last weekend, so our BeReal posts were always in the background of each other's," he said. "It only takes like 10 seconds, and I don't have enough friends on there that I get sucked into using the app much more than that."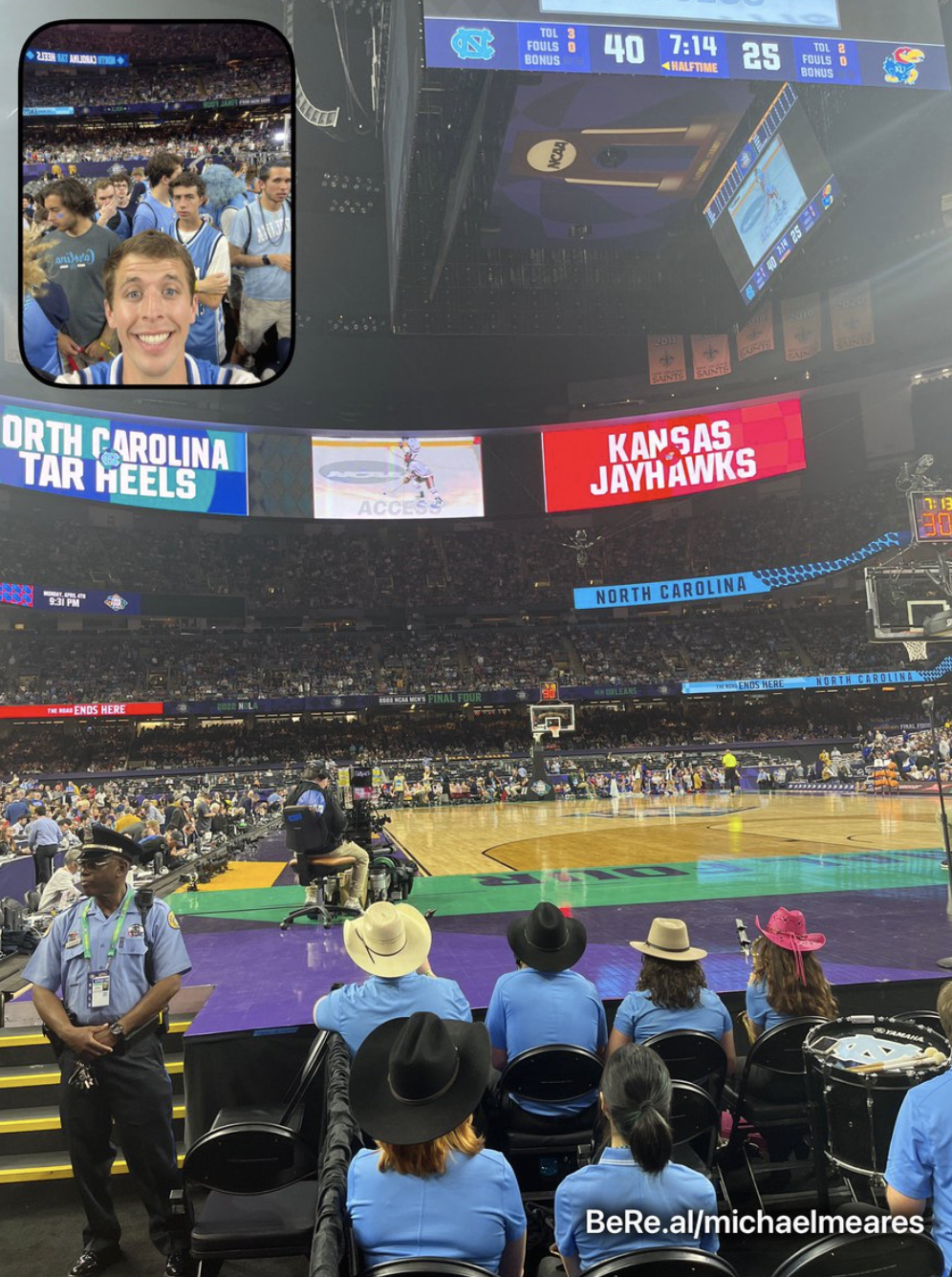 His feed — like the app's "discovery" tab — is mostly photos of people working or studying. He was delighted when he was at the NCAA men's basketball championship game on April 4 when that notification came, though.
To 28-year-old Elle Harrigan, it's a "cute lil' daily check-in with the besties." Many of them she doesn't get to see IRL very often, and she enjoys the low-key baby and pet updates.
"I love seeing snippets of their daily lives," she told BuzzFeed News. "It catches me when I'm in bed a lot of the time, which on other apps might make me self-conscious, but my friends are also in their beds a ton of the time."
Matt Wisner, a 23-year-old writer and professional runner, told BuzzFeed News that the "girl in [his] friend group with the lowest Instagram follower account" suggested they all download the app, and he complied even though he knew he'd hate it.
"We all just sort of churn out these boring and dispassionate posts for each other," he said. "I scramble a little bit to manufacture the most interesting thing I can during the two-minute countdown I'm given, but at this point, I don't even care about being late.
"I don't click on the notification until…there's nothing left to do on my phone but check the silly little BeReal app," he said.
Wisner added that he's "not worried about looking ugly," but lamented that the selfie function feels like "high school picture day when the photographer counts to three but takes the photo on two" so his eyes were shut in a recent post.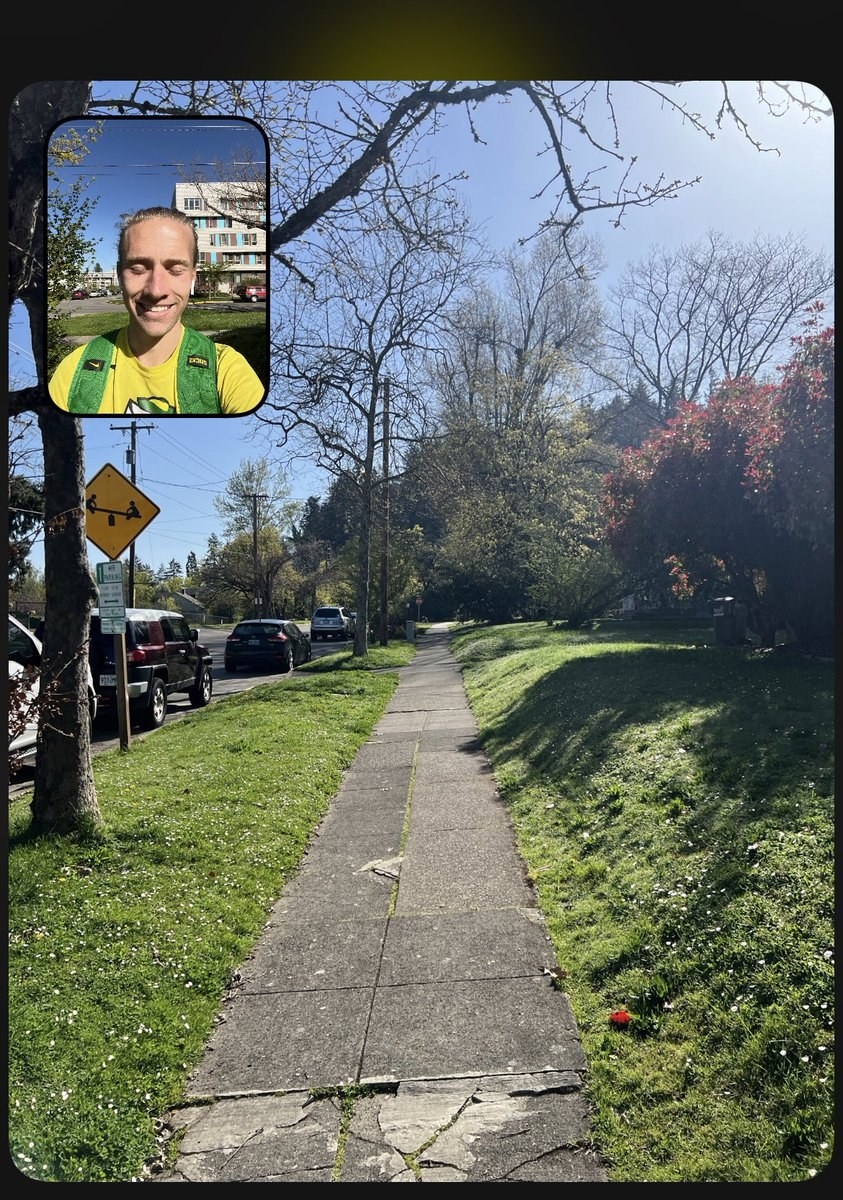 Right now, my "discovery" feed is filled with posts geotagged to Iceland and Finland, with a lot of photos of bedrooms and computer screens, branded with the disclaimer that they are "27 hours late." There's no reward for popularity, no algorithm based on interests, and it refreshes constantly. That makes it difficult (if not impossible) to go viral on the platform, so there are no influencers to compare yourselves to.
That spirit of comparison is still present, though, it's just more intimate. For some, the FOMO and jealousy present on Instagram are only worsened on an app where it is harder to strategically post or fake things. We've learned to accept that Instagram is a highlight reel. BeReal presents a whole new minefield through which we must navigate self-expression and relationships, claiming authenticity but still requiring its performance.
Writer and Georgia resident Maeve Browne told BuzzFeed News that the "fake authenticity is worse than acknowledging curation." She said it feels "fake deep" and abandons the best part about catching up with your friends — knowing someone has set aside time for you.
We're following the influencers who want you to follow them. Sign up here for weekly dispatches from our Please Like Me newsletter.

"It's disinterested voyeurism at best, and clingy boundary-pushing at worse," she said. "It's cosplaying as the solution to wasting time online, but the alternative it offers is also wasting time online with less interesting content."
One day, I worked so fast to make sure I was getting my post out on time that I accidentally shared a photo with a full prescription label in it, which was a little too authentic for my tastes.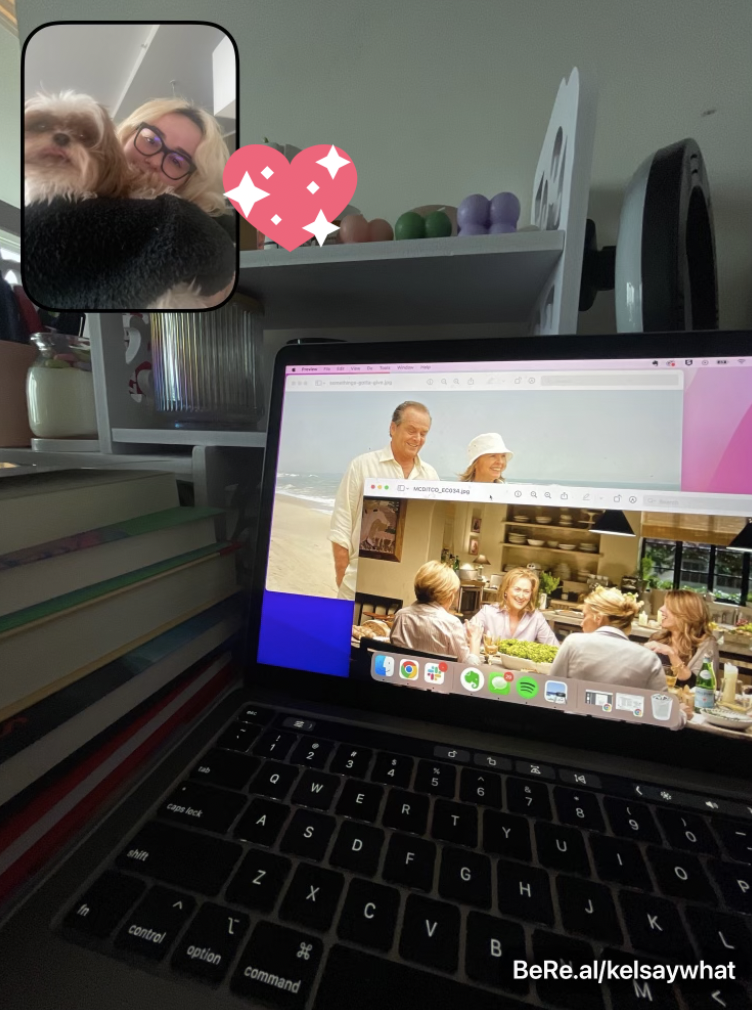 After a week of using the app, accidentally doxing myself to my five friends was the greatest excitement that befell me. I'd hoped BeReal would inspire me to get out and do more interesting things, but the notifications keep coming in the middle of a workday when I can't even glamorize the banality of life. My friend's feeds looked like mine — constant shots of Google Docs and YouTube videos.

To me, having to post authentically and in the moment isn't as inspiring as it is humbling — most of the time, life is a boring and small thing, only worth sharing to get my friends to interact with me. Rather than an antidote to social media, BeReal still relies on minor dopamine hits for us to keep using it.
But when an app figures out a way to defy itself by exploring what compels us to post and share our lives at all, I'll be the first to sign up.