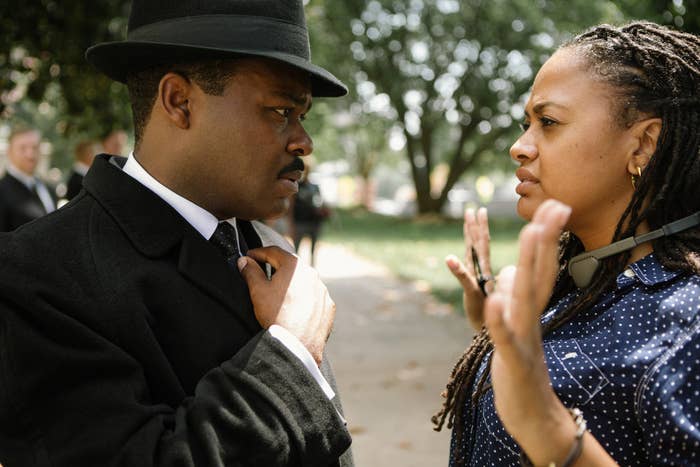 Ava DuVernay was a big name this past awards season. She was the first black female director nominated for a Golden Globe for her work on Selma, about the three marches from Selma, Alabama, to Montgomery, Alabama, in 1965 that led to the passing of the Voting Rights Act. But when it came time for the Oscar nominations and her name wasn't called for Best Directing, it was an exclamation point on how white the awards were this year...and usually are. After the uproar, she became the unofficial spokesperson for Hollywood's diversity problem.
But DuVernay has been talking about these issues for years. In fact, she's been doing more than talking. "I didn't get out and have a whole bunch of conversations about diversity and inclusion. The real work was to do the work," DuVernay told BuzzFeed News of the thousands of media requests she fielded during awards season. "We've been doing the work, the filmmakers have been doing work, the audience has been doing the work, the volunteers have been doing the work. [We're] not talking about it but being about it."
Five years ago, DuVernay started a movement, which was formally launched in 2011 as African-American Film Festival Releasing Movement (AFFRM), dedicated to getting films by black filmmakers made and in theaters or online. Since its inception, AFFRM's Array Releasing has distributed eight feature films by filmmakers in theaters and on digital platforms. And now, post-Selma, with more name recognition and a more mainstream fanbase, DuVernay is leading the second annual membership drive for AFFRM. The membership drive is currently underway and will continue until June 5.
"This is the first time I've tried to get people to focus on the work of other filmmakers that I do with AFFRM," she said. "Time will tell if this is successful, whether folks want to point and stare at the black woman filmmaker who made a certain kind of film and pat her on the back, or if they want to actually roll up the sleeves and do a little bit of work so that there can be more of me coming through."