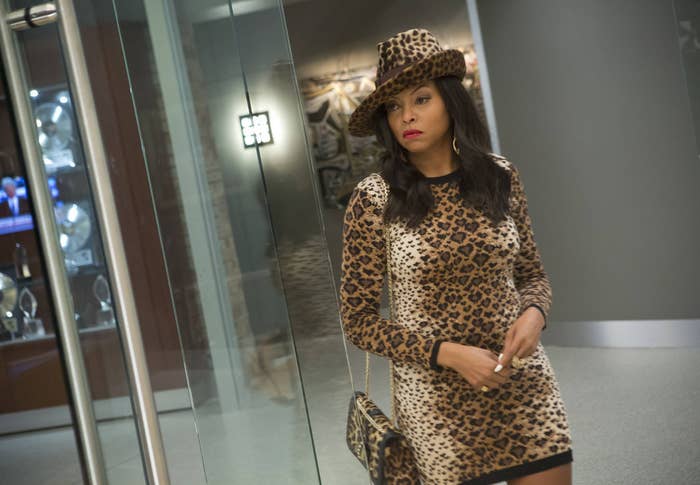 When Taraji P. Henson first surfaces on Fox's new series Empire, she's dressed head to toe in orange, and her hair is pulled back into a rather unglamorous ponytail. As her character prepares to leave the prison that's held her captive for nearly two decades, she utters her first line in a gravelly voice: "Thought I'd never see this day." And for Henson herself, that couldn't be more apropos.
On the new Fox series, the Oscar-nominated actor delivers one of her finest performances to date as Cookie Lyon, a newly sprung inmate who's spent the last 17 years serving time for a drug-related crime while her ex-husband and their three sons reaped the spoils of her street-running days.
The ensemble cast of Empire is peppered with other Oscar-nominated actors — like Terrence Howard (Cookie's aforementioned ex Lucious Lyon) and Gabourey Sidibe (Lucious' assistant Becky) — and Henson has already shared the screen with the likes of Brad Pitt (The Curious Case of Benjamin Button), Idris Elba (No Good Deed), and Don Cheadle (Talk to Me). But this is most certainly Henson's moment. On the Lee Daniels-created series, she operates as if she has something to prove with every step of her stilettos, every word that leaves her lips, and every silent but symbolic glare. The result is the kind of performance that makes critics and Hollywood insiders take notice. Daniels created this new show with Danny Strong, screenwriter of his critically acclaimed 2013 film, The Butler.
"She's just incredible, isn't she?" Daniels told BuzzFeed News of Henson, noting that she was the only actor he envisioned playing Cookie. She was the first to join the Empire cast, and then the rest of the ensemble followed, some (like Howard, with whom she starred in 2005's Hustle & Flow) at Henson's suggestion.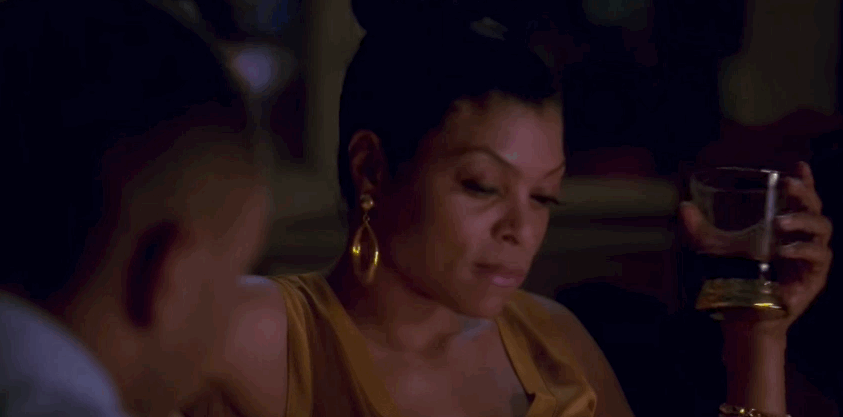 But that's not the usual for Henson, who told BuzzFeed News in a phone interview that Hollywood often makes her feel as if she isn't capable of carrying a film or a television show. If you ask any fan of her nearly two decades' worth of work, however, they'll suggest otherwise.
"When you hear people on the street saying, 'Well, why didn't you get offered that?' … it makes me wonder, Yeah, why didn't I? I have the credentials. I have everything. But you still won't green-light a movie with my name attached? It always has to be somebody else," Henson said. "I know what it is. I'm not blind. I'm not ignorant. I see it. I know it. I've identified it. But I'm not going to let it make me bitter. I'm not going to let it dictate who I am in this industry. I'm just going to buckle down, and keep fighting the good fight and … keep trying to prove myself."
Henson paused, seemingly reflecting on the opportunities she's lost and those she's won, before adding, "But the upside is that I love what I do ... I don't even care about winning an award or being nominated. I love the craft of acting. I love the way that my work affects people — people have cathartic moments. That's my job as an artist. The feedback I get from the people that like me make me feel like job well done."
Certainly, Empire — a modern, black version of Shakespeare's tragedy King Lear, set in the world of hip-hop music — and Cookie are in line with Henson's previous "jobs well done." Her characters consistently feel like real people the audience actually knows, thanks to the measured way in which she portrays black women who've endured hardships.
"I pick projects and characters that scare the lights out of me," Henson said. "I've picked projects that make me want to run away and say, 'I can't! Oh my god! People are going to be mad. They're going to be just all… Argh!' I've done the ghetto baby mama, a pregnant prostitute. These are things that are so far left of who Taraji is, but yet, a part of those girls dwell in me. Showing their pain may be exposing my pain. That's what the people connect to. With my choices, I know I'm going to have to probably dig into some ugly places in my life to bring the character to life."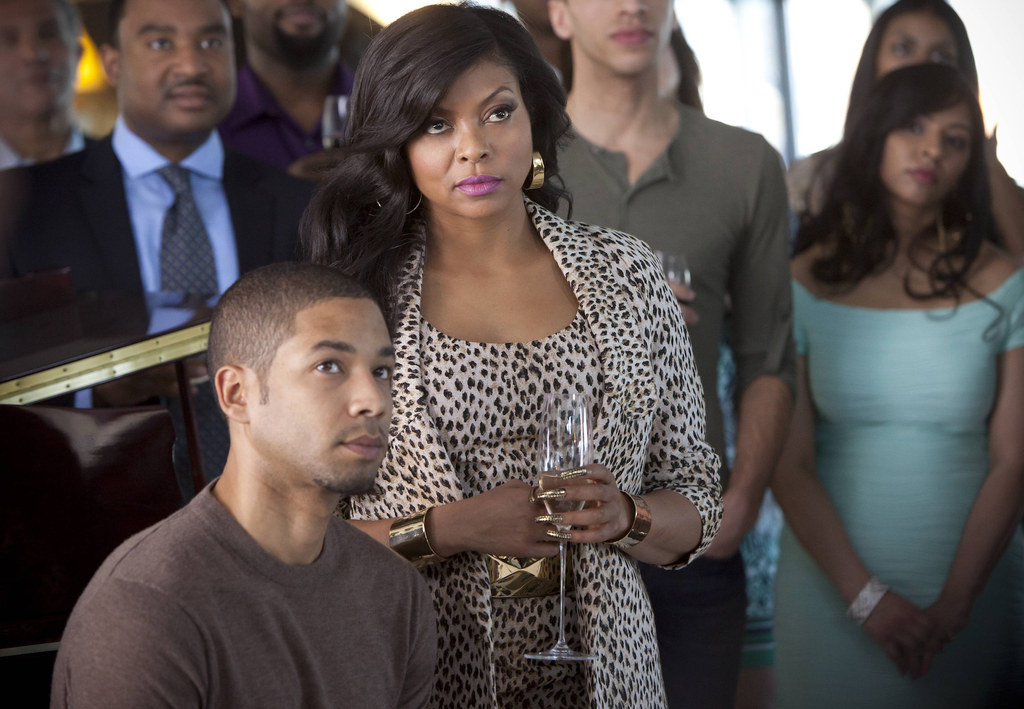 On Empire, Henson's Cookie is the ex-wife and former business partner to Howard's Lucious, a former drug dealer turned famous rapper, who's parlayed an indie record label into a major commercial enterprise. Naturally, newly freed Cookie wants a big piece of the pie. It's a campy primetime soap opera that's heavy on the drama and relies on the strength of an actor like Henson to prevent it from going over-the-top. In her hands, Cookie is not a caricature; she is a complicated woman who is far from one-dimensional, and that's largely due to the emotional sensitivity Henson brings to Empire.
"I understand that mentality. I am from the 'hood. It wasn't upper middle class; it was lower middle class. It was a garden apartment in the 'hood," she said. "Mama got robbed twice. We weren't in the system, but I understand it because I went to school with those kids. That's where I lived. The projects were right behind my garden apartment. I lost a lot of friends in the '80s to that drug game. I have compassion for it because I was around it, so I can't judge it. I can't say, 'Ooh, you're a dirty bird because you did this, you did that!'"
Though Henson was wary of doing television again after two seasons on CBS's Person of Interest, the single mother said it was that personal connection to and compassion for Cookie that eventually made her say yes to Empire. The father of Henson's son (Marcel, who is now 20) was killed just three years after their child was born. At the time, Henson only had $900 to her name, and the desire to create a better life for herself and her son, much like her latest character.
"She did whatever she had to do," Henson said of Cookie. "She sacrificed her life for her family. I'm not condoning selling drugs at all. I think it's the worst thing you could ever do. I'm just against it. But when you go into a community where there is no education, no hope, despair everywhere you look, there is nothing — no job, no people coming in there to have your back, saying, 'Come on, let me help you…' No help. No hope. Nothing. Then, that's all you've got. At the end of the day, yes, she sold drugs. But she went to jail and did her time, and guess what? She broke the cycle. Her children don't know the 'hood."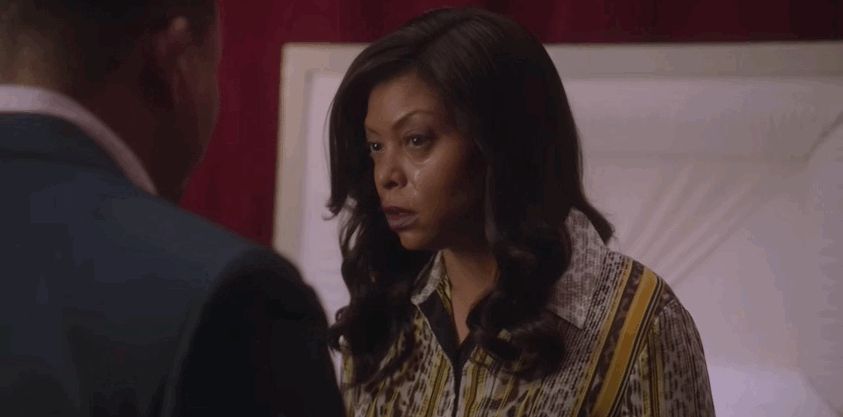 Henson also admitted, however, that Cookie scared her more than any role she'd taken on before. This is really going to piss off the NAACP, she remembered thinking. People will be mad. It was a major concern for the 44-year-old Howard University graduate, who is constantly tweeting about some of the biggest race-related stories that have captured America's attention over the course of the last two years, including the deaths of Trayvon Martin, Eric Garner, and Mike Brown.
Her passion comes from personal experience. "I have a son who was racially profiled, who was pulled over by a police officer. And then, he called five other police officers for backup. My son weighs 100 pounds, soaking wet. He has been to the most prestigious schools in California, OK? He is not a thug. That is Taraji P. Henson's son — a very privileged child — and he still got treated like a thug," Henson said. "I understand the separation between the law and people in the 'hood, poor people. This is not me on a soapbox with a megaphone, just spewing statistics. I know it is. My message is not, Run shit down, act the fuck up, and act crazy, or All white people are crazy. All cops are bad. No, my daddy was a cop; my uncle was a cop. But right is right, and wrong is wrong."
And on the set of Empire, Henson is leading by example. "If Samuel L. Jackson had a baby with Bette Davis, it would be Taraji. There is nothing that she can't do," Jussie Smollett, who plays one of Cookie's sons on Empire, told BuzzFeed News via phone. "To me, Taraji's the perfect leading lady."
Though Henson said Hollywood might not think so yet, she also knows that if she continues nabbing roles like Cookie Lyon, everything will fall into place. "I'm not going to sit around and keep saying, 'Oh, it's hard, it's hard!' Because if you keep saying it, it's going to be hard," Henson said. "I'm not going to sit around and wallow in the muck and keep pointing out the problem. I'm just going to get up off my ass and keep fighting the good fight every day — taking roles, independents, this and that, and just keep chipping away at it. And, hopefully, one day, my work will have broken down yet another wall."
Empire premieres on Wednesday, Jan. 7, at 9 p.m. ET on Fox.