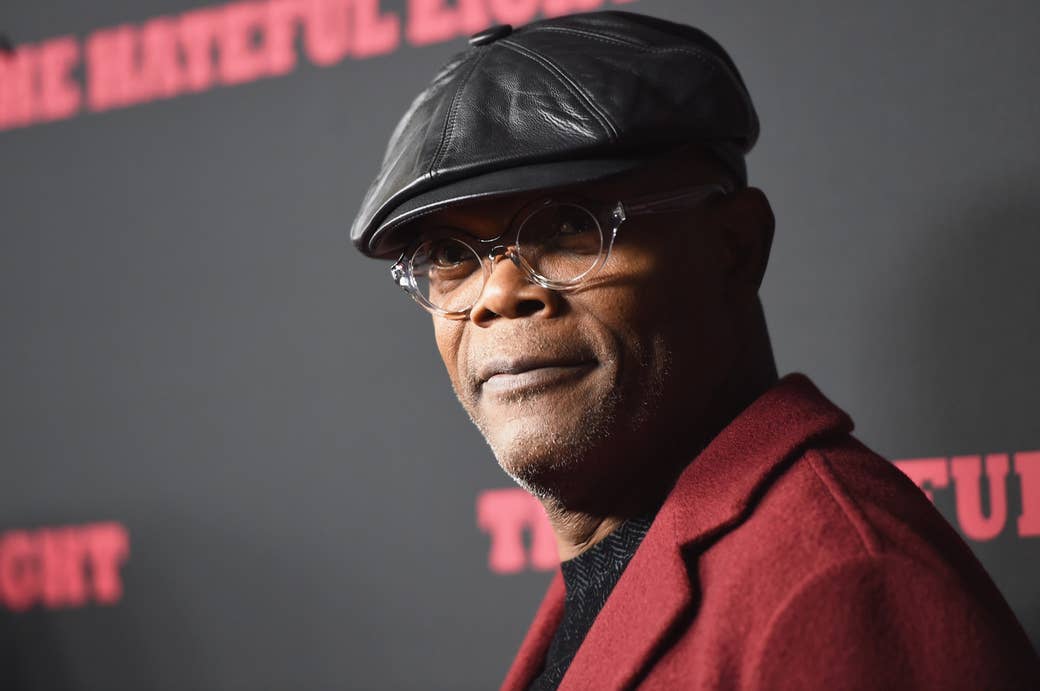 Samuel L. Jackson took a long, slow drag from his ornate black and gold vape pen, cocked his head to the side, and exhaled a cloud of smoke. Then, he snapped his head to the forefront, and braced himself, knowingly.
The veteran actor was already aware of where his conversation with BuzzFeed News was about to go next. But Jackson — the star of Quentin Tarantino's upcoming movie The Hateful Eight and the director's frequent collaborator — was ready for it.
"Once again, I'm sure there will be people who want to nitpick this whole nigger thing," Jackson drawled inside a Beverly Hills hotel one recent Saturday afternoon. "But it ain't like that ain't the time."
The Hateful Eight is another Tarantino period piece starring Jackson (see also Pulp Fiction, Inglorious Basterds, and Django Unchained). It's set in Wyoming, a few years after the Civil War, and racial tensions are still high. Jackson plays Major Marquis Warren, a bounty hunter who fought in the war. "Occasionally somebody goes, 'that black fellow,' or 'black major,'" Jackson said of the way his character is described onscreen. "But 'black major' sounds [as bad as] nigger."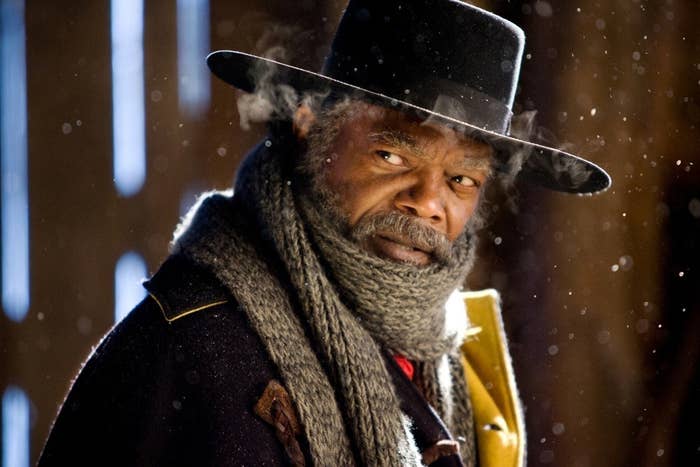 Marquis is the lone black guy for the most part in The Hateful Eight. The Oscar-nominated actor described him as "an interesting and colorful, and kind of smart and very dangerous guy. Kind of hard to find that combination." Then, Jackson added with a chuckle, "The whole blue and gray of the war didn't really matter that much to him. It was kind of like, I get to kill some white people? Really? OK! I'm good with that."
True to Tarantino form, The Hateful Eight's language is rich — in some scenes, the dialogue is almost as dangerous as the guns some of the cowboys are toting. (Marquis has a rather unforgettable flashback scene where words are in fact, the true assassin.) Tarantino is, however, often raked for his frequent use of the n-word; some viewers thought it was so excessive that they counted how many times — 110, to be exact — it was used in Django Unchained, his 2012 film about a slave-turned-bounty hunter (Jamie Foxx) who was determined to find his also enslaved wife, Broomhilda (Kerry Washington).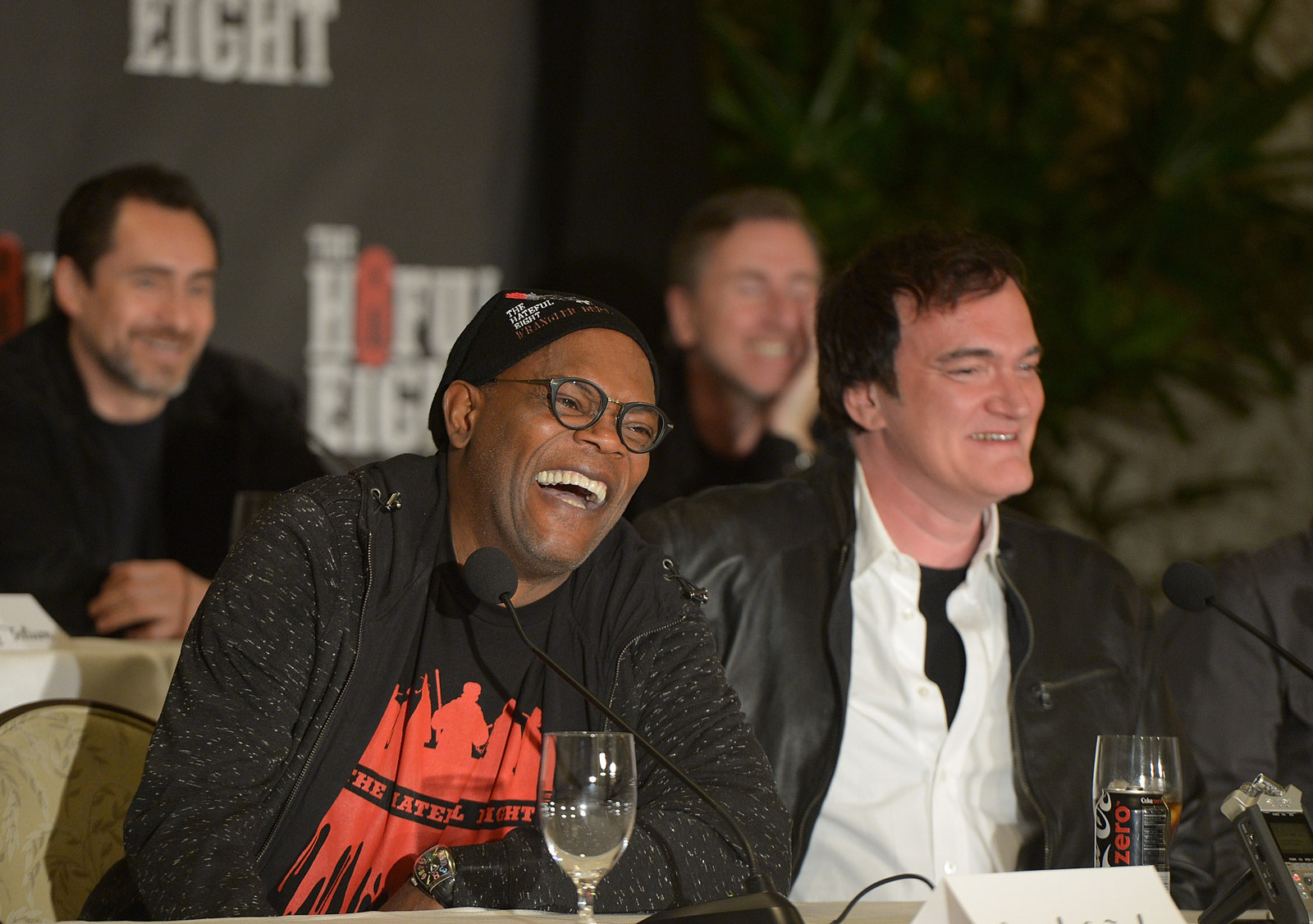 But Jackson surmises that even if The Hateful Eight's characters didn't use the slur as often as they do — and it is a great deal — it'd still sting as much as it does. But does the director push it too far when it comes to using the n-word? Jackson said no; Tarantino is just being authentic. "Quentin captures the language of who those people are and what their time is," he said.
And Jackson would know. He was born in Washington D.C., grew up in a segregated Chattanooga, Tennessee, and attended Atlanta's Morehouse College, a historically black college that also counts civil rights icon Martin Luther King Jr. as an alum. Jackson, who even served as an usher in the famous leader's funeral, understands the space and time Marquis comes from.
"I know from growing up in the South that white people talk about you like you ain't in the room," Jackson said. "When they say [the n-word], they're just saying it so you know who they're talking about because you can't mistake who they're talking about. Ain't nobody else there!"
On the set of The Hateful Eight, the actors and crew existed in their own world — Tarantino didn't allow cell phones — allowing the cast to engage with one another in a more intimate way. So, when it came to Jackson's co-stars — Kurt Russell, Jennifer Jason Leigh, Tim Roth, Bruce Dern, Demian Bichir, Michael Madsen, Walton Goggins, and Channing Tatum — spewing the n-word at him throughout the film's three-plus-hour runtime, he wasn't uncomfortable.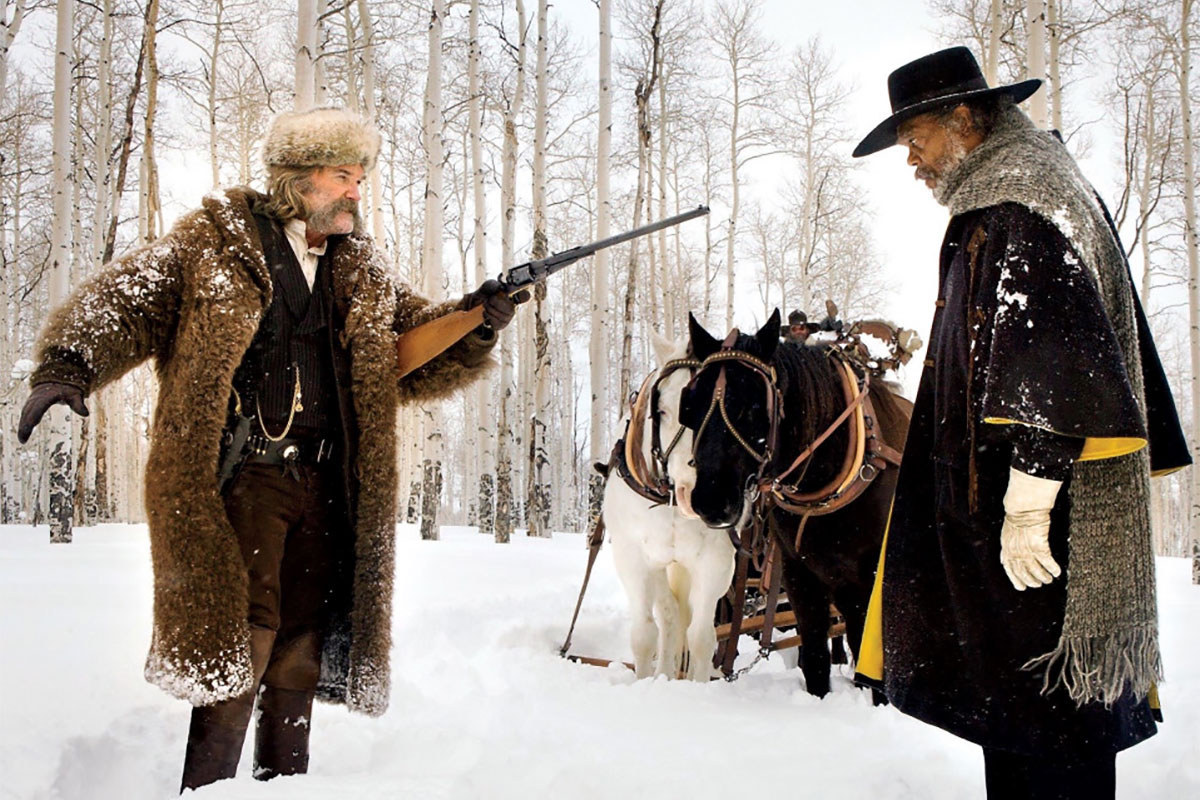 "I trust the actors I'm working with. I know all these guys very well. I know them personally, intimately," Jackson said. "Their everyday lives aren't peppered with that language and I know that. I know the efforts that they make, in terms of human rights affiliations, and things that they do in the world and how they feel about working-class people, and who the working-class people are. We don't shy away from talking about politics when we're sitting around being us."
Jackson added that the downtime on set was a chance to get to know one another even better than they did before — he and Russell have golfed together and he's worked with some of the other actors in other Tarantino movies. Jackson never had an urge to sit down with the other actors to talk explicitly about the loaded word; nor did any of the cast members think it necessary to talk overtly with Jackson about diving into that ugly time period.
"When we came out of that cold room, we sat together and drank coffee and we smoked cigarettes and ... we talked about the politics of the day, if there were any," Jackson said, before taking another drag from his vape pen. "There're different things that we know about each other just because we know each other, you know? We know who's a Republican and who's a Democrat and we argue about that. We're like, Well, why do you feel that way? There are all kinds of things that go on between us that have nothing to do with those characters that are in that film. And the fact that they're consummate professionals, and they can come in there and give 100% to the moment we are in, is what we're interested in."