Keegan-Michael Key has been playing Luther, President Obama's fictional anger translator, for three years on his hit Comedy Central sketch show Key & Peele. But in April, he had the chance to actually put his deciphering of the mild-mannered commander-in-chief into practice when he stood next to the president onstage at the White House Correspondents' Dinner. It was a huge opportunity for Key, and one he couldn't believe was happening.
"I don't know how to quantify at this moment what kind of life currency it gives me," the comedian told BuzzFeed News on the phone from New Orleans, where he's filming his latest project Keanu. "The big thing is, [I] get to be part of a larger conversation. When the special prosecutor in Baltimore said, 'I guess I needed my own anger interpreter…' that's when you look at something and go, Oh my god. This thing is in the zeitgeist. [I] have a responsibility. We have 70-year-old white women and 16-year-old black boys that are fans of our show. And why? Because [we're] touching something human first."
Key and his comedic partner, Jordan Peele, have taken that responsibility seriously in the three years since their series debuted and drew more than 2.1 million viewers, making it Comedy Central's most watched premiere in years. The two biracial comedians and actors have continuously sparked conversation about contemporary race issues, and might even be helping to change minds or at least open them, a notion that, Key said with a laugh, is overwhelming.
"It's still so staggering, I'm not even sure how to unpack it," said the comedian, who can't help but think about race, deeply and constantly. "I literally will think about somebody's skin tone in a sketch. I'm like, Well, we can hire somebody who has this skin tone or that skin tone? And ... maybe this is provocative of me to say, but I want to see more women — African-American women — who have darker skin in roles. You just don't see them as much," he said passionately. "Now, I'm not just going to cast a dark-skinned black woman. She has to be brilliant and fantastic and touching and wonderful and talented."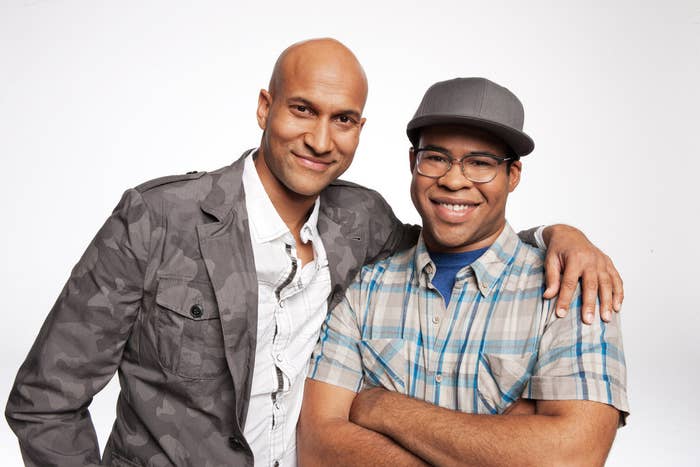 Because, for Key and Peele, it's about the human experience more than anything. In creating characters, their first step is to determine the person's psychological and emotional need. Are they trying to be someone they aren't? Are they afraid? Are they trying to provide for their family? Once they get there, they put a filter on top, Key said, and that's how they create someone as unique as Luther, who earned him that invite to the White House. It's a process through which they aim to do more than make people laugh; they want to make people think.
"The deepest part of a scene should be from a human place first so that anyone can identify with the character's plight," Key said. "I think it's effective to make everyone go, Oh, I didn't know black people could be like that! It sounds silly to say that, because you, in your mind, go, Some people don't understand other people's experience, so the experience is so alien to them that it's almost not human. You can make the humanness of it a touchstone, and hopefully it appeals to all people and it opens up dialogue amongst all people."
And nothing is off limits on Key & Peele, which the former MADtv castmates created after the long-running Fox sketch series came to an end in 2009. The comedians take on classrooms in the 'hood, Mexican gangsters, and a homophobic duo of not-so-vaguely gay Middle Eastern men, but are never overt about what they're trying to say. "The most effective way to make a racial point, the most revolutionary thing to do, is just to not discuss it while you're making the sketch or the movie," Key said.
That's something he has tried to do that this summer, during which he's appeared as a demanding music producer in Pitch Perfect 2, a comic book-loving robot in Tomorrowland, and soon, the perfect father who makes Ed Helms' character question his own worth as a parent in Vacation.
"When you pop up in movies, if you feel like you can execute a scene as best as you can, you really scoured the script, you squeeze every ounce of comedy out of it that you can, if people enjoy it, they go, Who was that guy?! Oh! It's that guy again! I saw him in blah-blah-blah!," Key said. "Then you build."
And build he has. Still though, the fact that he's being asked to bring his character to life for President Obama and the fact that people know who he is at all is still foreign for Key.
"Who are all these people yelling at? What are these people screaming at? It must be George Clooney, because there's George Clooney standing 15 feet away from me," he said, running through the thoughts he had on the Tomorrowland red carpet with his co-star. "And then I realize they're screaming [my] name, and [I'm] like, What is going on?!"
Key & Peele airs 10 p.m. ET/9 CT Wednesdays on Comedy Central.