"Black-Ish" Tackles Gun Control In This Week's Episode
Creator Kenya Barris talks to BuzzFeed News about the controversial storyline. Plus, check out an exclusive clip from the episode!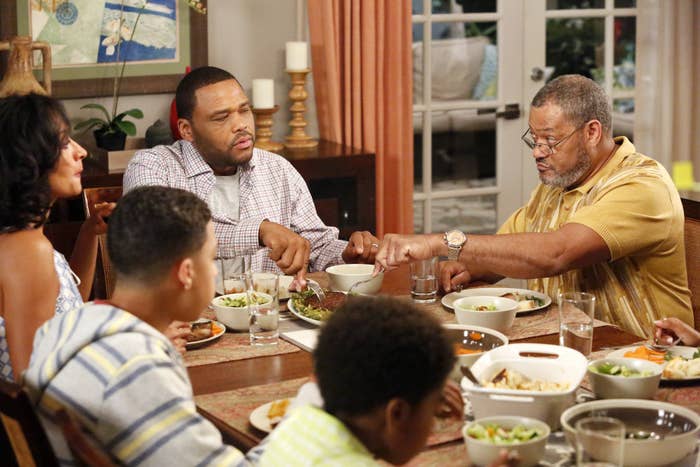 ABC's Black-ish has tackled the n-word, homophobia in the black community, and black Republicans. And this week, the comedy is taking on yet another divisive topic and giving it a humorous spin: gun ownership and gun control.
It's a timely debate told through the prism of a black family living in a predominately white, tony neighborhood. And Black-ish creator and showrunner Kenya Barris told BuzzFeed News in a phone interview that the topic came about organically in the writers' room.
"I was literally in the process of buying a gun, and it shocked a lot of the room. They were blown away," said Barris. "[I was like], This isn't crazy. I'm not buying a gun to kill someone. But it split the room down the middle. For me, that's always a good sign that there's a story in there."
In the episode, titled "Rock, Paper, Scissors, Gun," the Johnson family deals with the aftermath of a neighborhood break-in, and patriarch Dre (Anthony Anderson) wants to buy a gun so that he'll feel safer. Predictably, matriarch Bow (Tracee Ellis Ross) doesn't want a gun in the house, and believes there's a better way to protect their family.
"The notions and ideology of gun ownership has a lot socio-economic and cultural reasons behind it," Barris said. "We're not a political group. And we don't want to … start taking real hard stands on things that people have the right to have different opinions on. We want to have the filter of the family reflect different opinions and do it in a fun and funny way. That's what we try to do with each episode."
Black-ish airs Wednesdays at 9:30 ET/8:30 CT on ABC.