Bill Cosby And The "Safe Black"
Thirty years ago, the Huxtables represented an ideal black family — successful, intelligent, and approachable. In the aftermath of Ferguson, today's America doesn't have much tolerance for those who don't fit into the Huxtable mold.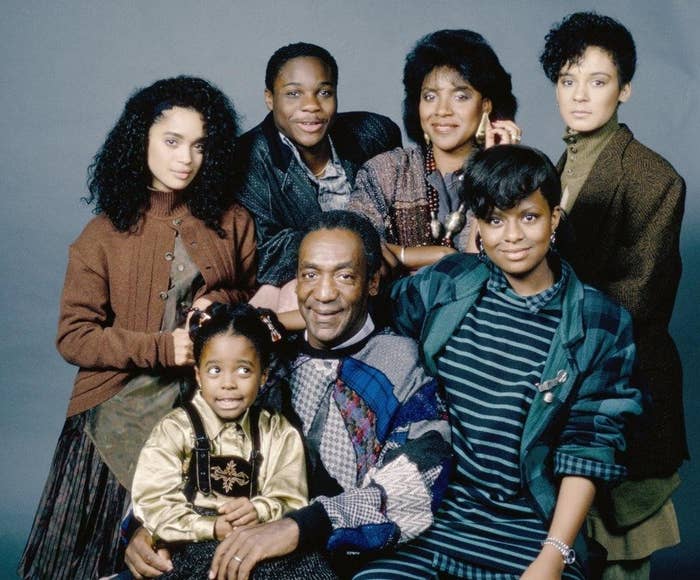 Bill Cosby — and his fictional family who dominated network TV in the '80s and early '90s — was the Safe Black.
Unlike new ABC show Black-ish, which is undeniably about the experience of blackness — the show itself is about being one of the only black families in an affluent neighborhood and the adjustments that come with it — The Cosby Show's Huxtables' blackness was subtle. Instead of screaming out loud week after week of what it's like to be black in contemporary times, the Huxtables' blackness was more… silent. (Can't imagine the Huxtables weighing in on Ferguson; Black-ish's the Johnsons? Yes.) Characters wore HBCU T-shirts and sweatshirts, and you only caught that if you knew the history of the schools. But sure, there were the specialty episodes, like the one that touched on the Underground Railroad (educational, but not over-the-head) and stories of the older characters marching in Washington, D.C with iconic Civil Rights leaders.
The Cosby Show was the type of sitcom that gave way to implied racism; the kind that would have white folks asking of black people: Why can't (he/she/them) be more like the Huxtables? Black folks, we saw the Huxtables as extensions of ourselves. They either represented our families note for note, or they were aspirational to those of us who had our eyes on the suburban prize.
Cosby — and his character, Dr. Huxtable — represented that Safe Black, even though Huxtable tended to transcend race. He was non-threatening, and he was the guy every man wanted to be (a shadetree plumber, a know-it-all, a guy with excellent comedic timing), and the mold for what a husband and father should be. He delivered the type of scolding you wanted to hear from a parent, the advice you needed at the right time, and he did it all while wearing loud, colorful, dad-like sweaters. He was funny. And warm. And… comfortable.
Viewers spent much of the series seeing Dr. Huxtable teach his children significant life lessons: Have responsibility. Value education.
And, perhaps most troubling now: Always do the right thing.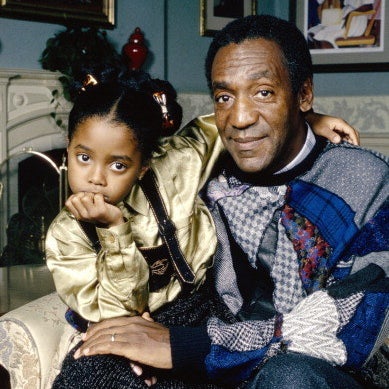 On my eighth birthday, I watched the first episode ever of The Cosby Show. I don't ever remember caring to watch a show other than a Saturday morning cartoon and Punky Brewster — which premiered two nights before The Cosby Show — before this one. But I knew it was coming and I was excited. I wanted to watch this one live. And after petitioning my parents to stay up and watch, I perched myself on a pillow in our den to watch by myself.
The words that my mother, an academic like my father, had gifted to me reverberated in my head, repetitive phrases like "fear of success." It was heady stuff for an elementary school student. But she gave nuggets like that to me all the same. And often. She'd point out real-life examples of people we knew who hadn't made the best choices years before and were suffering the consequences, hoping that something she said would encourage me to put in just a little more effort.
My Dr. Carter was kind of like Dr. Huxtable.
In that very first episode, Cosby's Dr. Cliff Huxtable admonished Theo (Malcolm-Jamal Warner) for bringing home D's, and noted how Theo always had an answer for everything. Theo said that he didn't need to excel in school — he was going to be a "regular person."
"Work at a gas station. Drive a bus. Something like that," he told his dad, an OB/GYN.
His father's question: "You don't need good grades to be regular people?"
Cliff eyed Monopoly money nearby in Theo's room and his parental instinct kicked in. He gave Theo a salary of $1,200 a month, took out money for taxes, an apartment, a motorbike, clothes, food, and a girlfriend. We all know instinctively how this story ends: Theo has no money left, understanding the realities of being an adult and learning that even "regular people" have to have smarts too.
Theo then stands on a soapbox and makes a big old speech about how he wants his dad to love him in spite of not being a stellar student. He may not grow up to be a doctor or a lawyer like his parents, and he doesn't think the pressure to excel is warranted.
The live audience claps its approval.
Dr. Huxtable waits a beat. Then he delivers one of the best speeches of the series, one that sets the tone of what audiences ended up loving for eight seasons.
"Theo, that's the dumbest thing I've ever heard in my life," he said, standing up to address his son. "It's no wonder you get D's in everything! You are afraid to try because you're afraid that your brain is going to explode and it's going to ooze out of your ears. Now I'm telling you, you are going to try as hard as you can. And you're going to do it because I said so. I am your father! I brought you in this world and I'll take you out!"
The end of that speech is a refrain many, many black folks have heard our parents say long before this series began and long after it ended.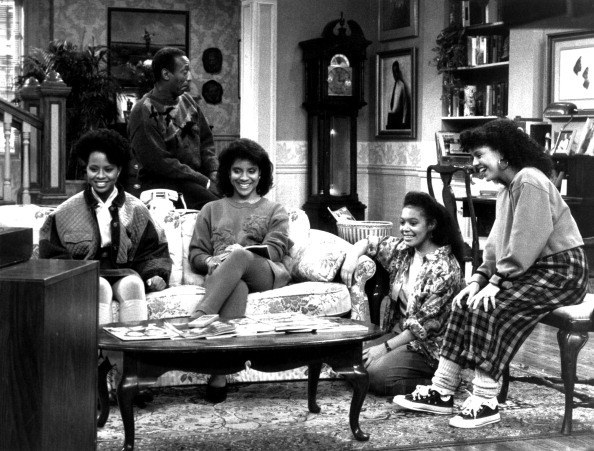 We constantly see the influences of the Huxtables in pop culture. Rappers who weren't even alive at the time The Cosby Show originally aired cite Clair Huxtable as their dream wife. And why not? She was beautiful, classy, professional, and well educated. In Nicki Minaj's new single "Only" (featuring Chris Brown, Lil Wayne, and Canadian rapper Drake), Drizzy raps "ass on Houston Texas, but the face looks just like Clair Huxtable!"
That the Huxtable family was so revered (and still is) isn't shocking. The Cosby Show helped deliver and define prototypes. Denise Huxtable (Lisa Bonet) was the Bohemian BAP (Black American Princess) who went off to an HBCU and always had hot boyfriends; Sondra (Sabrina Le Beauf) was the free-spirited Ivy-Leaguer who was socially conscious enough to name her children Nelson and Winnie; Theo was the kid who questioned whether he could ever measure up to his over-achieving parents; Vanessa (Tempestt Bledsoe) was the rule-breaker who learned what happens when you miss curfew (and drink underage!), and Rudy (Keshia Knight Pulliam) was, well, me.
Over the last 30 years, the show has directly or indirectly influenced black TV characters. Even before ABC premiered Black-ish, which is the country's No. 1 new comedy, the early Cosby Show comparisons were natural. And Fox's Empire, a show that focuses on an affluent black family who went from pulling off street crimes to acquiring wealth by masterminding the music industry, will launch in January.
I imagine that earlier this fall, there was an 8-year-old who sat in front of her TV in her family den to watch Black-ish, because she'd never seen anything like it in her lifetime. What a thrill it must have been to see herself in little Marsai Martin, who plays the smart-as-a-whip Diane. Considering that the reruns of The Cosby Show are, for now, no longer available, she'll never know that Diane is the second coming of Rudy Huxtable, and that it took 30 years to see another such character on television.
"I was thinking that now we're going to have an entire generation of kids who grow up, who will never knew anything but, 'Oh, that's the guy who's been accused of all these horrible things,'" screenwriter Eric Haywood told me. Haywood himself is a student of The Cosby Show and A Different World, which helped shape the characters he wrote in shows like Soul Food, Private Practice, and the forthcoming Empire. "They're not going to remember The Cosby Show because they didn't grow up on it. They're not going to remember the Fat Albert cartoon, because they didn't grow up on it. They're not going to remember I Spy and all those other things. They're going to remember this thing that was in their face on the internet when they were kids. It's interwoven with his legacy, I think, permanently."
I've seen plenty of Facebook friends weigh in on this. Some have announced that they'll be buying The Cosby Show DVD box sets and handing them out as gifts, in protest of the show being taken off the air. Some have proclaimed that they're unfriending anyone who defends Cosby; others ask about the role that race plays in this, bringing up others in the entertainment industry who have been accused, but not prosecuted or found guilty for similar crimes, and how they're still beloved in spite of their possible transgressions.
We recently learned that Ferguson Police Officer Darren Wilson will not stand trial for the murder of unarmed teen Michael Brown. That ruling, delivered late in the evening on Monday, was the latest such happening to suggest that young black boys are being killed for looking anti-Huxtable. Hoodies and presence (Brown was described by Wilson — who himself towers over six feet — as looking like wrestler "Hulk Hogan" and a "demon") equal "Unsafe Blacks."
It has sparked a national conversation about whether black lives matter — and the timing of the Ferguson verdict juxtaposed with Cosby is especially ironic. It's Cosby who toured the world for years, giving talks on the way young black teens should behave and present themselves, even saying in a 2008 interview with the Chicago Tribune: "We missed out by not immediately saying things like: 'You know, these young boys are wearing their pants hanging off their rear ends with no belt.' We never said, 'Boy, pull your pants up and stop this stuff.' Instead we glorified the rappers and their videos and their low-slung pants."
I'd be curious to know what Cosby would have said of Michael Brown. It's Cosby, his pants firmly belted (in public), who in real life appears to have escaped any possible prosecution for crimes he may have committed. The narrative feels common here: Do those who are beloved, who are deemed "safe," who are allowed into your living room, get to slither past the law and march on?
When it comes to Cosby, there are plenty of us still who will choose to remember those poignant life lessons that our own parents taught us, and how we later saw them on the small screen delivered with a laugh track by Cliff Huxtable.
And not, despite what he might have wanted us to believe, Bill Cosby.