How ABC's "Black-ish" Became America's No. 1 New Comedy
The Anthony Anderson-led sitcom pokes fun at cultural, racial, and generational nuances, scoring mainstream success in the process.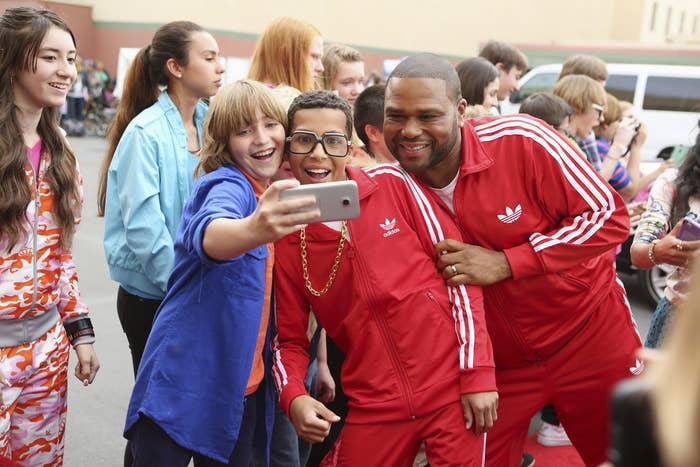 Last year, Anthony Anderson's 12-year-old son came home and made a grand announcement: "Dad," the kid told the 44-year-old actor, "I don't feel black."
Anderson was in disbelief. He couldn't believe he was having this particular conversation with his brown-skinned son. But when he took a quick mental step back, he understood where his boy was coming from. His black experience was different from the 12-year-old black experience that his father had had. Anderson grew up in Compton, California, a South Central Los Angeles neighborhood mostly known for its violent reputation, as heard in 1980s rap lyrics from seminal group NWA.
But his son Nathan — "the only chocolate drop in his grade for three years!" Anderson quipped — didn't know much about that life. Nathan's was an existence of privilege and afforded to him because his father, a Howard University graduate, had successfully navigated a career in Hollywood that paired him with top talent like Leonardo DiCaprio, Matt Damon, and Jim Carrey (and with a paycheck unlike what he might have imagined growing up in Compton, which means he, his wife, and their two children get to live better).
"I was trying to dodge a drive-by, trying to dodge gang violence and shoot-outs and fights just for wearing a different color," Anderson told BuzzFeed News of his own childhood.
Smartly, Anderson sat Nathan down and redirected, thinking this was one hell of a teachable moment for his son and, well, himself.
"He comes back and sees my family in the 'hood and he see their struggles. That's not his struggle. I had to let him know … yours is different. But that doesn't lessen who you are. That doesn't make you be less black than the next person because your circumstances are different than what theirs are. He got it."
But his kid wasn't done. He told his dad that he wanted a bar mitzvah for his 13th birthday.
Anderson said he told his son that a bar mitzvah wasn't of their heritage, but he caved in and compromised, throwing him a remixed "Hip-Hop Bro Mitzvah" (Anderson even trademarked the name), complete with white shell-top sneakers, a mural created by a graffiti airbrush artist, a hip-hop dance crew, and two DJs who spun for Nathan's eighth-grade class until 2 a.m.
His son got a celebration that was on par with what his classmates got to have. (And friends declared it was the best bar mitzvah ever!)
That real-life occurrence helped to give life to Black-ish (and also provided a plot for the show's well-received pilot episode) and, most crucially, solidified the stakes of a situational comedy about a well-off black family trying to of keep it real in a world where the president of the United States is black.
"What you're seeing on our show so far, each story has come from a real place, and that's what's resonating with the people," Anderson said. "This is not manufactured."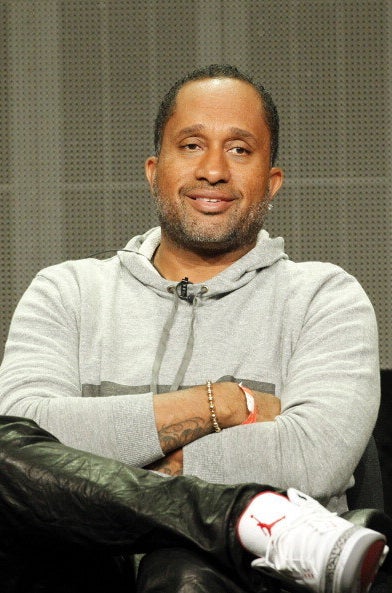 Series creator Kenya Barris; the cast of Black-ish (from left): Marsai Martin as Diane, Marcus Scribner as Andre Jr., Yara Shahidi as Zoey, Anthony Anderson as Dre, Miles Brown as Jack, and Tracee Ellis Ross as Rainbow.
Series creator Kenya Barris shook his head before answering the question that perhaps he's gotten most since Black-ish hit the small screen: How did Barris get a show about a black family being black to appeal to everyone?
"I don't know," he said, seated in his office on the ABC studio lot in Burbank, California. "I am a huge fan of diversity, but I'm not a fan of forced diversity. At least not in front of the camera. I think behind the camera you have to make some seats — or else those seats, no one will ever see — but in front of the camera, I feel like, rather than force diversity, I just want an honest depiction of whatever you're going to do. And then I have no complaints. I'm a big fan of Seinfeld and Friends but I don't know that New York. That's not a New York I've ever been to. My mom is Dominican, I'm West Indian and black, and I see that in New York. I don't see that ever reflected in any of those types of comedies."
So Barris, who made his mark working with his friend Tyra Banks to create the popular reality series America's Next Top Model, set out with one hell of a mission: to create a show that didn't happen to be black, but was absolutely black. The sentiment was bold. But Barris wanted an honest depiction of what his own family looked like — his wife is a medical doctor (so is the show's fictional mom), and their children are living a life similar to Anderson's family — and the more he talked to other people, the more he realized this story reflected a lot of people's reality.
There was familiarity there. Educated black families found themselves living in areas where they were one of few who looked like themselves, and they attempted to instill a sense of culture in their children. The struggles of the civil rights movement felt antiquated to their children, yet there were plenty of contemporary issues to be mindful of, like pride, history, and a strong understanding of why they get to live such a privileged life.
There are varying generational and cultural differences, even though the racial background is the same. This is a world where parents are constantly harping on kids to never forget where they came from, missing the fact that they themselves have provided a world in a palatial colonial inside of a gated community. The bars may be gilded, but they're still bars all the same.
Before last year, Anderson and Barris had never formally met, but they shared the same manager. One day, they sat down together and realized that they had a great deal in common. A month later, Barris came back to Anderson and said he had a show for him; the two of them later went to veteran actor Laurence Fishburne and brought him on what they considered would be a bold and provocative project for network television.
Barris, Anderson, and Fishburne all have shared experiences. All black men who are married with children, they teamed up and shopped their idea for a sitcom to networks, hoping someone would understand their vision without compromising it. And they knew that black people were underserved on network television and they were ready to do something about it. Larry Wilmore was brought in as executive producer early on but had to leave Black-ish in September when he landed a Comedy Central series, The Minority Report, which will premiere in 2015 as a replacement for The Colbert Report.
They found that willingness to take a risk on them at ABC, which insisted that they stay the course and not to get deterred by early critics; the title of the series had already ruffled the feathers of mostly black potential viewers.
"I was up at night like, Oh my god! What have I done? What have I done? Oh my god, I've ruined myself!" Barris said. "And then that's when I stupidly read the internet stuff and I'm like, Oh my god! They hate me. They hate me! This was all before it even came on. I thought I had ruined my family's opportunity. But I've never seen a network get behind a show with as much fearlessness as they have. Luckily, we worked and they're continuing to let us — they're even actually pushing us. 'What's the Black-ish take on this?'"
"Even from the title of the show, which got so much criticism early on — and I understand it, totally, I understand where it comes from," he continued. "If I was on the other side I might have felt the same way — they stuck behind us. They said, 'It's out of context. When they see the show, then they'll understand that it's a mission statement for what the show is.' We could have named the show The Johnsons or something like that, but I wanted you to know when you turn this on, that you're getting something that we felt like would be an outlier in the television space … you haven't seen this story ever before. And the way we were going to do it, we wanted to tell people it was what it was, and we weren't trying to hide behind a bland, generic title."
That said, Barris, Fishburne, and Anderson — who all have executive producer credits on the show — were taken aback by the show's initial success; they understand their audience isn't overwhelmingly black. It's a mainstream audience, the same viewers who tune in for lead-in Modern Family are watching this show and learning — and conversing about blackness in a collective way that the culture at large hasn't quite seen before.
In fact, Black-ish is the network's most-watched new sitcom and delivered the highest rating among young adults in 14 years for a Wednesday at 9:30 p.m. time slot. It's the No. 3 sitcom on all of broadcast television, outranking NBC's and Fox's comedies. (By comparison, CBS's long-running and top-rated Big Bang Theory earned more than 18 million viewers during its most recent season premiere.) It also is the No. 1 series at the 9:30 p.m. slot, topping its closest competitor, CBS's Criminal Minds. To put it into a numerical context, Black-ish's pilot episode pulled in more than 11 million viewers — making it the No. 1 new comedy during the 2014–15 season — and each of its subsequent episodes has grabbed at least 7 million. In today's increasingly fractured television landscape, those are truly significant numbers.
"I'm surprised," Fishburne said in a recent interview with BuzzFeed News. "I mean, happily, happily, happily surprised. It's wonderful. I think the secret behind it striking a chord with everybody is family stuff is universal. Family dynamics are universal. Doesn't matter what culture you come from, doesn't matter what country you live in: Family dynamics are universal. And I think that's what has grabbed people, because our family feels like an authentic family. It feels just like your family, right?"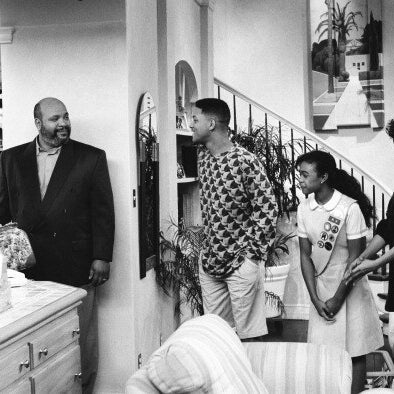 Scenes from the past, from left: The Fresh Prince of Bel-Air, The Jeffersons, and The Cosby Show.
At its core, Black-ish is about finding humor in a middle-aged dad mostly being on the outside and trying to right the wrongs that he, himself, brought to the family — the wrong in this instance being rearing his children in a safe, uppity neighborhood. Being black in a largely white world has long been a story arc of Hollywood, and navigating race and culture and circumstance is a trick that's worked in television for decades. But Black-ish enters new terrain. It picks up where The Jeffersons, a CBS show that premiered in the mid-'70s and lasted 11 seasons, left off. In that classic series, a successful dry cleaner owner — who moved his family from the working-class section of Queens to a "deluxe" apartment on Manhattan's Upper East Side — shared punch lines and back-and-forth quips with the white people in his life (and his neighbors, an interracial couple). In the '80s, NBC found success with The Cosby Show, which helped the network establish a lock on Thursday night programming. The Huxtable family just happened to be black, but the doctor and lawyer patriarch and matriarch did much to help alter depictions of black families on television. In 1990 came NBC's Fresh Prince of Bel-Air, which centered on a fictionalized version of rapper Fresh Prince (we know him now as box office star Will Smith), who leaves the rough streets of West Philadelphia to live with a wealthy aunt and uncle in the tony Los Angeles suburb. Much of the series, which lasted for six seasons, was focused on the culture clash between his highfalutin family and his struggle to adapt to that life.
But, despite the similar trappings of wealth and success, Black-ish forces us to think about identity in a different way than its predecessors.
The Johnsons are the mythical and majestic black family living in an all-white neighborhood; they're akin to a site you may see on a Ripley's Believe It Or Not–type tour. Dre (Anderson) is a successful marketing executive; his wife Rainbow (Tracee Ellis Ross) is biracial and is a successful anesthesiologist. And his children are products of their environment. "Field hockey?!" Dre asks his son Andre Johnson Jr. (Marcus Scribner) — though he thinks Andy sounds "more accessible" — when he informs him of the sport he's going to try out for, surprised that he's not playing basketball, more in line with the sport toward which we might see a black teen gravitating. Dre and Bow's other children are super-popular teenager Zoey (Yara Shahidi), who has surmised that being black makes her even cooler; 6-year-old Jack (Miles Brown), who thinks his father can do no wrong, and Jack's twin sister Diane (Marsai Martin), who is precocious to a fault, a wise adult woman living inside of a 6-year-old's body.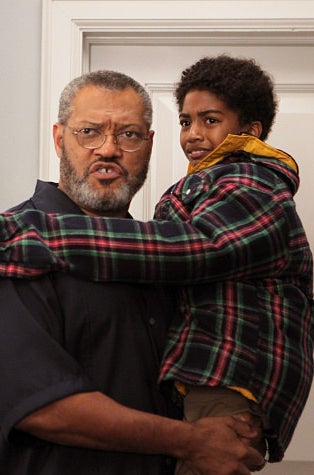 So far in the series, we've seen the family go back to their father's Compton roots to favorite childhood restaurant The Beef Plantation (where the beef tastes like the cow died of natural causes) and be less than thrilled, considering it's inimical to what their own childhoods are like. Andre thinks his children are spoiled, so he empties their refrigerator save for ketchup, bologna, and baking soda, a recreation of what his fridge looked like as a kid.
"It's not empty," he tells his kids when they complain, "there are five meals in here!"
It's those little cultural nuances that score major points with viewers. The show is unapologetically black and the show holds no punches when it comes to how Anderson's Dre Johnson deals with his family's cultural assimilation, and the material privileges that come along with that transformation.
But don't mistake Black-ish for representing The Black Experience, something that Barris was quick to shoot down. "We're not the voice of black America," he said. "We are one voice in black America. We're a voice of a very eclectic community."
Black-ish comes at an interesting time in America, and so far, many of the episodes have been topical and extremely timely. There was a more universally themed spanking episode that resonated with viewers strongly; another episode focused on The Nod, a secret head nod that black men greet one another with when entering a majority white room, a more narrowly focused theme that was a major hit amongst viewers.
The show ponders what happens when your children are being brought up in a world where black success is everywhere — Oprah Winfrey is the queen of all media, Barack Obama is the president of the United States, and Will Smith is one of the world's most bankable stars. But yet, the subtleties of racism are still omnipresent. And somehow Barris and his diverse writing team are able to find funny in racially and culturally uncomfortable moments.
"I think he has an incredible brain," Tracee Ellis Ross said of Barris. "I think he understands comedy like many people do not. The thing that really drew me to the role was the fact that this couple loves each other, and the comedy was based on love and not on hating each other, and that I loved. And then there were so many other things, like the fact that we were not afraid to deal with race and culture. That we were pulling apart this monolithic experience of being black in this country. We were tapping into the universality of that experience as opposed to the specificity that alienates people, but instead draws people in."
So now that Black-ish has a lot of viewers, the pressure is on.
"Just as I was walking over here, I saw Ben Sherwood, and it was so crazy to see the CEO of the company walk up and give you a hug — I'm like, 'You know me?!' And he was like, 'Keep telling your stories,'" Barris said. "I feel like that is our goal: to keep telling our stories. I just want to make a funny show, and I don't want to let my people down. I don't want to let the community that raised and fostered me, and … gave me these values and this whatever it is inside of me — I don't want to let that community down. I don't want to let anyone down."
As for Anderson? This is the most comfortable he's been in his career, he said, which is ironic considering we're often seeing sometimes awkward variations of his personal life play out on screen week after week. But that's what's so liberating about this role, he said. He gets to soar without a safety net while telling his personal stories on television.
"The best compliment that I get across the board are from non-black viewers that say, 'When I see your show, I see my family up there,'" Anderson said. "That's what we set out to do. Yes, we're telling a story from a black perspective and from this black family, but we're telling everyone's story … We're just telling the stories from a real perspective, regardless of who the narrator is."
Black-ish airs Wednesdays at 9:30 p.m. on ABC.