Taylor Swift's Twitter And Instagram Were Hacked
At least one hacker claims to be based in North Korea.
Taylor Swift may be relaxing in Hawaii but her social media team is having a stressful day thanks to some ~lulz-seeking~ hackers who have successfully commandeered the star's Twitter and Instagram accounts.
It started with this suspicious tweet encouraging fans to follow @veriuser.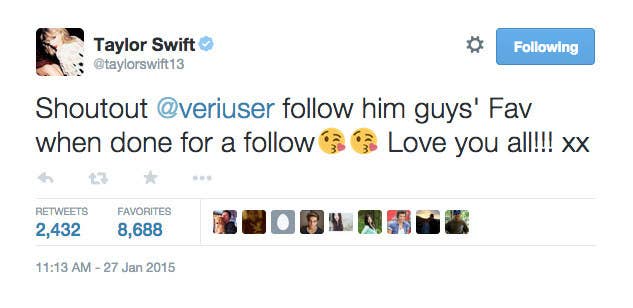 Followed by an urge to "follow my boy @lizzard."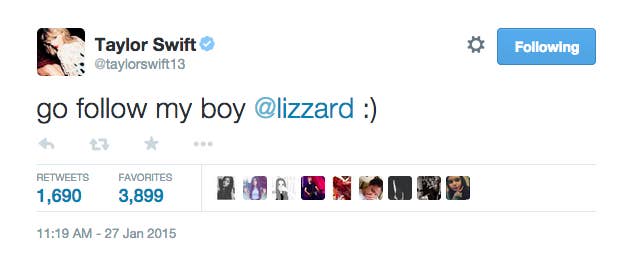 According to @lizzard's profile, he's the "Leader of Lizard Squad" and a member of "LulzSec, Anonymous, UGNazi, ISISGang, GoP, globalHell, stc, zf0, htp, el8, GoD. lurk moar" located in North Korea.
In other words, he likes to cause digital chaos for the fun of it. (Or at least publicly associate with those who do.)
Team Taylor was quick to take down the fake tweets but the hackers just moved on to Instagram.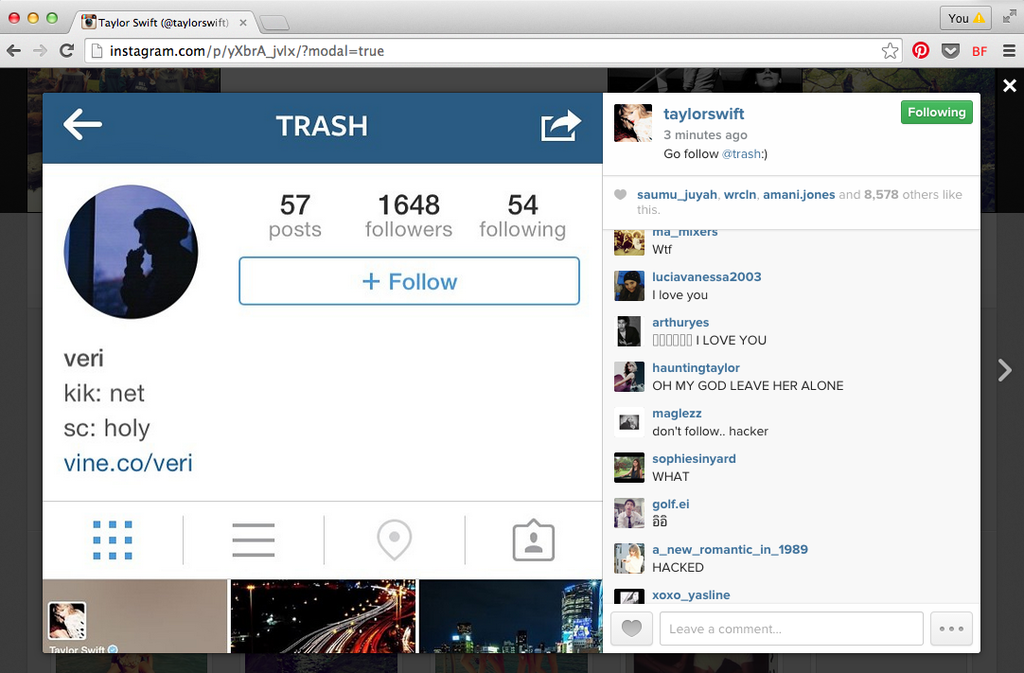 And @lizzard is now saying he'll leak nudes in exchange for bitcoins.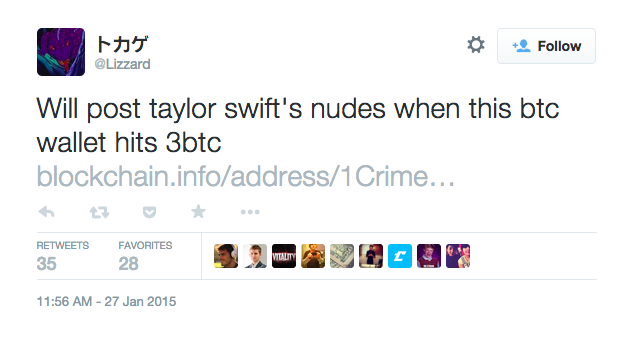 Representatives for Taylor Swift and Twitter have not responded to BuzzFeed News' request for comment.
Twitter has suspended @lizzard's account.
Swift took to Tumblr to address the hack in two posts.
In the first post, the pop star wrote: "Well, now I'm awake. My Twitter got hacked but don't worry, Twitter is deleting the hacker tweets and locking my account until they can figure out how this happened and get me new passwords. Never a dull moment." It featured the cheeky tag "#HACKERS GONNA HACK HACK HACK HACK HACK."
In the second one, tagged "#THIS IS WHY I'M SCARED OF TECHNOLOGY" and "#WHO'S PARANOID NOW??", the singer took a more resigned tone: "Now instagram. This is going to be a long day."
Swift, back in control of her Twitter account, responded to the hackers' claim that they stole nude photographs: "PS any hackers saying they have 'nudes'? Psssh you'd love that wouldn't you! Have fun photoshopping cause you got NOTHING."
Twitter declined to comment on an individual account due to "privacy and security reasons."