Tinder's Founders Claim They Were Swindled By Its Owners In A New Lawsuit
Former and current executives at Tinder have filed a lawsuit claiming the parent company swindled them out of valuable stock options and covered up sexual harassment.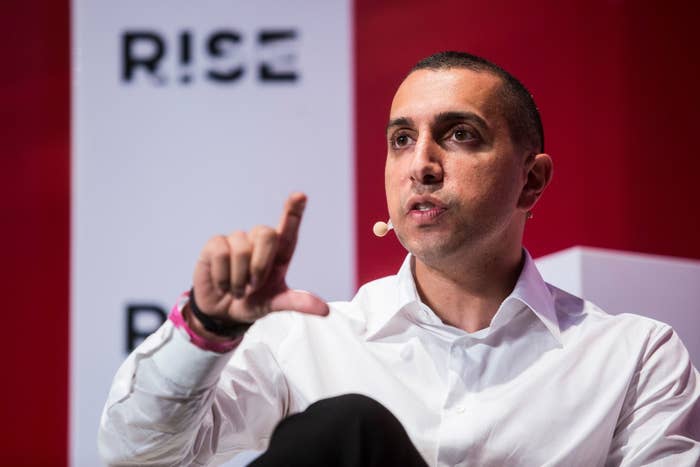 Founders and current and former executives of Tinder are suing IAC, the parent company that owns the dating app, claiming that they were swindled out of money. While the lawsuit does not specify a monetary claim, a person with knowledge of the suit told BuzzFeed News it is for "billions and billions."
Tinder founders Sean Rad, Jonathan Badeen, and Justin Mateen, along with several other early Tinder employees, filed a lawsuit Tuesday claiming that IAC/Match Group seriously undervalued Tinder in a scheme to keep from paying out lucrative stock options to the founders and executives. Rad and Mateen no longer work at Tinder.
Tinder was launched from IAC's Hatch Labs in 2012 and was owned by IAC and Match.
According to the lawsuit, the Tinder executives had stock options that were supposed to be based on internal valuations (not public) in 2017, 2018, 2020, and 2021. When the first scheduled internal valuation was made in July 2017, IAC/Match valued Tinder at $3 billion based on "false, misleading, and incomplete financial information" — a number the lawsuit claims was way too low, and was the same as a valuation conducted years earlier despite growth in users and revenue. The plaintiffs did not provide an alternative valuation in their complaint.
Then, on the same day as that first valuation, IAC "secretly merged" Tinder and Match "secretly and without any notice to Tinder optionholders," converting all Tinder options into Match options at the low $3 billion valuation. The Tinder executives claim that this move was solely to cheat them out of the valuable options, since the valuations that would have happened in 2018 and beyond immediately ceased.
"The Defendants executed their dishonest scheme in private, behind closed doors, and outside the view of the public markets and regulators," the complaint states.
IAC said in an emailed statement:
The allegations in the complaint are meritless, and IAC and Match Group intend to vigorously defend against them.

Since Tinder's inception, Match Group has paid out in excess of a billion dollars in equity compensation to Tinder's founders and employees. With respect to the matters alleged in the complaint, the facts are simple: Match Group and the plaintiffs went through a rigorous, contractually - defined valuation process involving two independent global investment banks, and Mr. Rad and his merry band of plaintiffs did not like the outcome. Mr. Rad (who was dismissed from the Company a year ago) and Mr. Mateen (who has not been with the Company in years) may not like the fact that Tinder has experienced enormous success following their respective departures, but sour grapes alone do not a lawsuit make. Mr. Rad has a rich history of outlandish public statements, and this lawsuit contains just another series of them. We look forward to defending our position in court.
The lawsuit also alleges that the Greg Blatt, CEO of Match, groped Rosette Pambakian, one of the Tinder executives (and a plaintiff in the lawsuit), at a holiday party in 2016. It claims the sexual harassment was not properly investigated and was swept under the rug because Blatt was part of the scheme to keep the stock valuation lower. The lawsuit also alleges that other secret settlements regarding sexual harassment had been made by IAC in the past.

In 2014, cofounder Whitney Wolfe accused Mateen of sexual harassment in a separate lawsuit.
CORRECTION
Jonathan Badeen's name was misstated in an earlier version of this post.