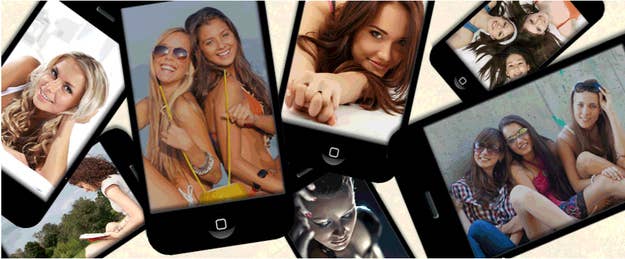 The appeal of Snapchat — the entire point — is that it's private. Except that in one huge way, it's not.
Snapchat is a photo messaging service that's had a recent explosion of popularity due its appeal to sexters. When you send a photo to a fellow snapper, the photo disappears on the other person's phone after just a few seconds and doesn't save on either of your phones. Here's the best part: If the recipient takes a screenshot of the photo, the sender is notified. Sure, it can't stop you from screenshotting, but the notification is a pretty good deterrent. The whole thing is perfect for worry-free sexting — use this app instead of text or e-mail, and your dirty business won't leave behind a trace.
Except that Snapchat has a little known and incredibly stupid feature: Every user has a public Web profile that shows their top three most-messaged friends.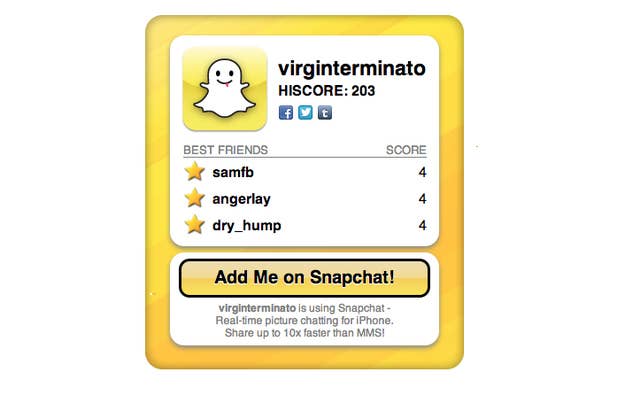 Imagine this scenario: Your very loving and sweet girlfriend looks at your Snapchat profile and sees that you've been messaging someone else more than her. Or that you've been messaging ANYONE other than her. You just blew it, buddy. Welcome to Dumpsville, population: you and your iPhone. With no saved message trail, you can't even prove your innocence if you were really just sending pics of your cat. Now no one is ever going to love you, and you're going to die alone with that cat (OK, maybe it'll be a new cat by then, but there will definitely be a cat and it's going to eat your corpse when no one finds your dead body for days).
For anyone looking at your Snapchat profile, it's pretty easy to find out the answer to the inevitable who the fuck is this bitch you've been Snapchatting?!? question. Since Snapchat presents itself as private — basically offline — many people use the same username as they use for other social media accounts. When I browsed through a few of my friends' accounts, a quick Google search of their usernames pulled their Instagram and Twitter accounts right up.
It's confusing as to why Snapchat would even have a Web presence for user profiles at all — it's a service that's made for phone-to-phone private communication. When you click on a friend's name within the app, it takes you out of the app to their Web profile. Though the snapchat.com site doesn't have a log-in, you can simply type in a username to see the Web profile: http://snapchat.com/username
This means people who aren't your friends on Snapchat can look up your profile. Does my boss/boyfriend/aunt/crush have a Snapchat account? Just try plugging in their Twitter or Instagram handle to the URL to see if an account pops up.
Your profile shows not only the number of snaps you send, but also your three "Best Friends," which is determined automatically by whom you snap with most frequently. There's also a points system, which isn't based just on the number of snaps you sent; you give bonus points to people you snap three times in a row, and you get fewer points if you send snaps to multiple people. Basically, Snapchat is attempting what sounds like a bad joke about The Worst Idea in Tech: "Let's gamify sexting."
Honey, all those snaps I sent? I was just doing it for the points, I swear.